e2L Learning Model
The e2L Learning Model provides defined structure and protocols that guide the design and facilitation of each learner's experience across your entire district. This learner-driven learning model includes behavioral protocols that clearly define and describe what learning should look like and what both teachers and learners should be doing during each step of the model.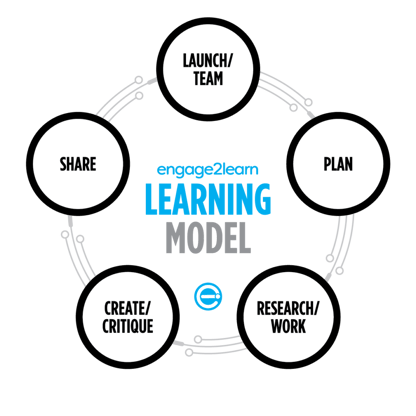 Sign up for a free eNet Membership below and you will receive instant access to the following…
A detailed implementation guide for how to plan your e2L Learning Model Rollout
FREE online course that provides an overview of facilitating the learner experience with the e2L Learning Model
Learner and Educator protocols for each step of the model
Parent/Family Protocols & Pro-tips
Learner and Educator protocol posters and one-pagers
If you are already an eNet Member, simply click the "login" button below.
eNet Members Only!
Sorry, but this content requires a membership to the e2L Network (eNET). Don't worry, eNet Memberships are completely free for public school educators! Just use the buttons below to either log in or join the network.