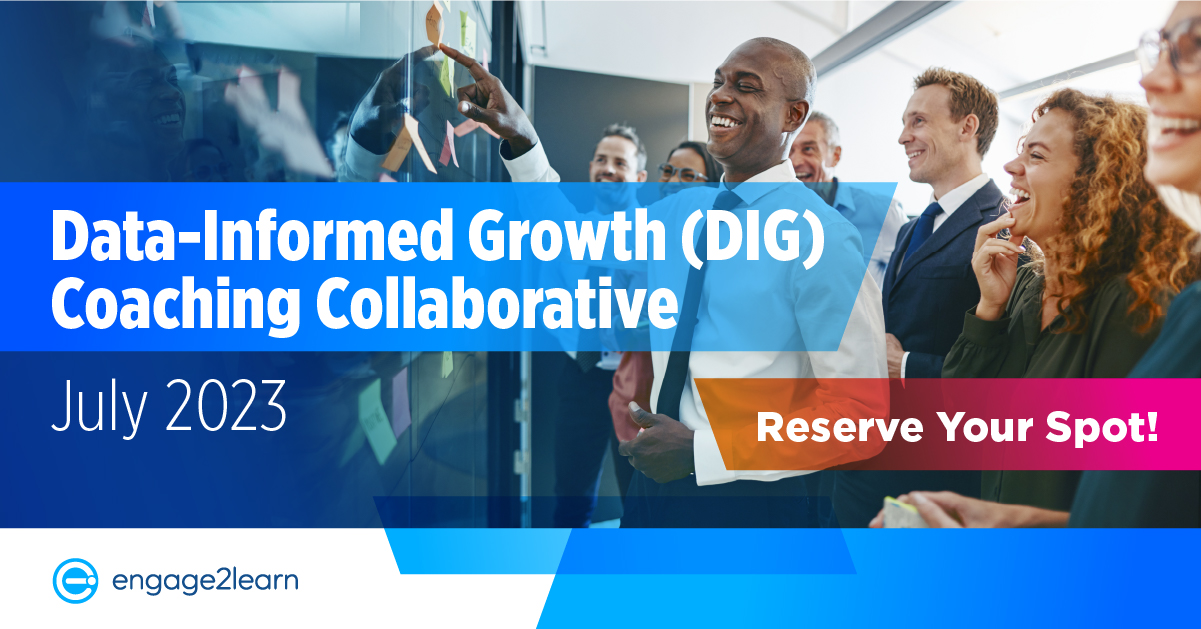 Data-Informed Growth (DIG) Coaching Collaborative July 2023
Join engage2learn for the Data-Informed Growth (DIG) Coaching Collaborative Kick-Off this summer!
Led by e2L facilitators with decades of K-12 education experience, the DIG Coaching Collaborative is a 12-week program designed to guide public school districts in connecting the science of coaching with the essential coaching actions proven to lead to educator growth and retention AND increased student outcomes. This collaborative merges in-depth professional learning tools and resources with an integrated coaching platform, resulting in the only research-backed, evidence-based coaching assessment and certification of its kind.
The DIG Coaching Collaborative is designed for principals, assistant principals, principal supervisors, instructional coaches, central office staff, and any education leader responsible for growing teams, this collaborative and certification program focuses on helping leaders achieve proficiency in facilitating data-informed growth for any position or role within the public school district.
You'll Learn About...
Facilitating data-informed goal setting aligned to job-embedded competencies

Using data to identify needs and resources to accelerate growth and goal attainment and plan development

Providing constructive, welcomed performance feedback and guidance

Using e2L's integrated coaching platform to keep all of your data in one place

Leveraging education analytics and growth data to measure progress and connect to desired outcomes
In-Person Cohort Kick Off
July 24-25, 2023 | Austin, TX
Hotel Van Zandt
Virtual Cohort Kick Off
July 27-28, 2023
Live, Interactive Video Conference
There is limited space available for this highly anticipated event. Cohorts will fill on a first-come, first-serve basis and the full 12-week collaborative costs $4,950/person. Click here to learn more!