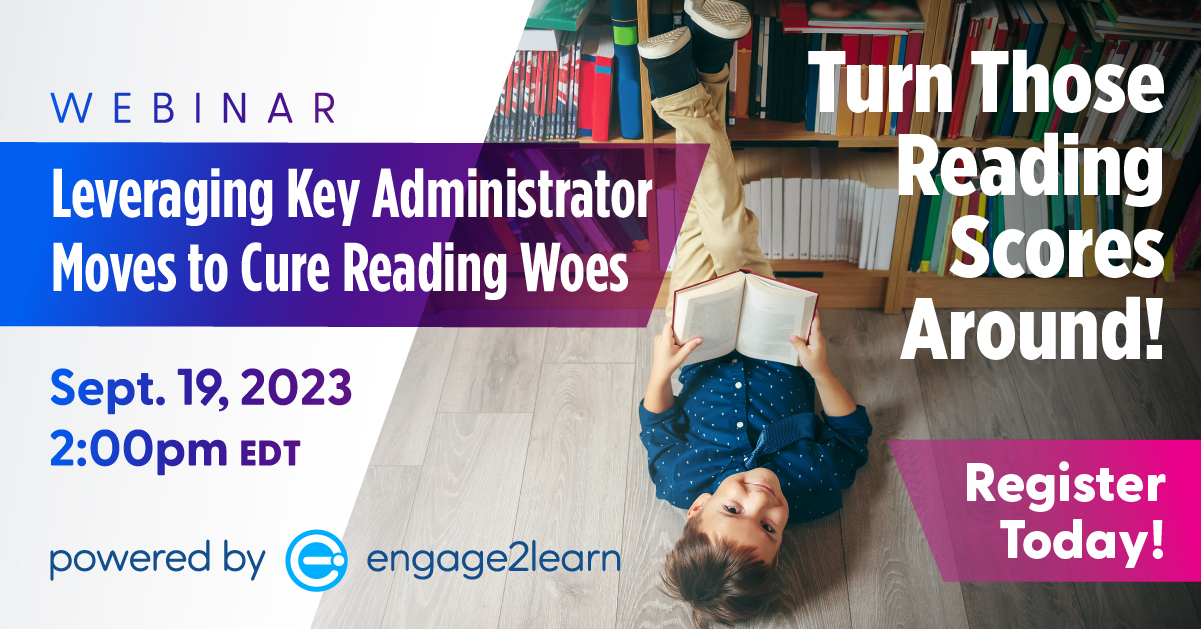 Leveraging Key Administrator Moves to Cure Reading Woes
September 19 at 2:00pm EDT
Recent reporting from the National Assessment of Educational Progress (NAEP) details the sharpest drop in reading scores recorded for fourth and eighth graders in 25 years, further illuminating the impact of pandemic-related school closures and interrupted learning on academic performance.
In fact, according to NWEA researchers, the average student will need the equivalent of 4.1 additional months of schooling to make up for lost time in reading – a daunting task, to say the very least.
With a long track record of successful school turnaround and reading framework design initiatives, engage2learn (e2L) invites you to attend our upcoming webinar, Leveraging Key Administrator Moves to Cure Reading Woes. Attendees will learn how to mitigate the effects of unfinished learning and quickly improve reading skills by:
Implementing competency-based professional learning for teachers.
Monitoring, measuring, and recognizing teacher growth in said competencies through evidence-based coaching.
Utilizing advanced education analytics to connect teacher growth data and student outcomes data in order to show the impact of coaching on student reading scores.
Simplifying and streamlining professional learning and teacher support systems across your school or district.
Hosted in partnership with edWeb, registration and attendance is free. Click here to get registered!
Presenters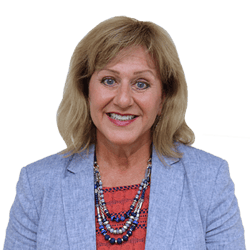 Neva Kelly
Certified e2L Data-Informed Growth Coach, engage2learn
Neva is a Certified e2L Data-Informed Growth Coach and facilitator with over 35 years of experience in public education. Her professional roles include serving as a teacher, reading specialist, assistant principal, principal, literacy coordinator, assistant superintendent, and college professor. As Assistant Superintendent of Curriculum and Instruction for Rockport-Fulton ISD in Texas, Neva led the implementation of an innovative K-12 college and career awareness/readiness program and a model response to intervention program. During her tenure, the district expanded teacher leadership opportunities, instituted collaborative planning and reflective practice, and implemented an annual, teacher-led district media fair.
Neva's work with engage2learn includes leader, instructional coach, and teacher coaching, as well as serving as a Technical Assistance Provider and Learning Design Specialist. As e2L's Literacy Lead, she is a leader in literacy development, literacy coaching, and Science of Reading for her fellow e2L coaches. She is passionate about public education, believes literacy development is the social justice issue of our time, and is committed to supporting educators to ensure that all students have access to excellent and equitable neighborhood schools.
Dewayne McClary
Executive Director of Strategic Partnerships, engage2learn
Bringing nearly 20 years of education experience as a teacher, coach, and school & district administrator in the District of Columbia Public Schools, Arlington Public Schools, and Williamsburg County School District, Dewayne McClary strives to ensure the best for K-12 learners every day through his role as e2L's Executive Director of Strategic Partnerships. His most recent role as the Senior Director of Networks and Partnerships at Digital Promise Global equipped him with a strategic understanding of educational issues and opportunities at the national level.
McClary has received numerous education industry awards, including the 2021 Global Forum for Education and Learning Top 100 Visionaries in Education, 2021 EdTech Digest Top 100 influencers in EdTech, and the 2020 CoSN NextGen Emerging EdTech Leader.
Dea Henry
Assistant Superintendent of Curriculum and Instruction, Henderson ISD
Dea Henry is the esteemed Assistant Superintendent of Curriculum and Instruction for Henderson Independent School District (ISD). Bringing to the role a wealth of experience spanning 27 years in K-12 education, Dea has seamlessly woven leadership, curriculum development, and student-focused strategies to optimize academic and lifelong learning outcomes. Beginning her journey as a teacher at Livingston and Center ISD, she ascended through Henderson ISD as a teacher, later serving as an Assistant Principal and Principal at Northside Intermediate School for over a decade. In the summer of 2020, she embraced the challenging role of High School Principal amidst the complexities of the COVID pandemic. There, she recognized the imperative of nurturing both academic prowess and the social-emotional needs of students during their pivotal high school years.
A proud alumnus, Dea holds a Bachelor of Arts from Stephen F. Austin State University and a Masters of Education in Administration from Lamar University. With an array of Texas certifications, her holistic approach to education continues to shape Henderson ISD's trajectory of excellence.