Give your teachers the

power of personalized coaching

with the

flexibility of anytime learning.
Every teacher needs extra support right now but most schools/districts only have the resources to support a fraction of their teachers. With mySmartCoach, all of your teachers can receive year-round instructional support that is…
Easy-to-use and
easy-to-implement
Personalized to their learning style and level of experience
More affordable than traditional PD solutions
What educators are saying about mySmartCoach…
"I love that it's self-paced and that it's very specific to your needs."
"I feel empowered with more ideas on how to help me be the best educator I can be!"
"...everything is very research based and easy to digest."
Help teachers learn and implement best practices proven to accelerate student achievement.
The innovative team of elite educators at engage2learn (e2L) have used our extensive experience training, coaching, and growing over 90K educators nationwide to create mySmartCoach to ensure all teachers have a system to support their growth--no matter their level of experience.
Ongoing, on-demand, and bite-sized learning.

Replace one-size-fits-all, full-day training with anytime learning & support paced throughout the school year.
Adaptive learning aligned to teachers' needs & focused on growth.

Instead of linear learning, differentiated and personalized growth pathways enable teachers to grow in the areas that matter most to them.
Quantifiable impact with easy-to-read growth analytics.

Powerful, connected reporting shows educator growth benchmarks that can be easily correlated to student achievement gains.
Increase teacher retention by investing in talent development & job-embedded coaching
Investing in an intelligent coaching system like mySmartCoach not only increases student growth but can also improve school culture and teacher morale, resulting in lower teacher turnover rates. With the average cost to replace one teacher ranging from $10,000 - 20,000, high teacher attrition could be costing your school or district a lot! Use the teacher turnover calculator linked below to find out how much your school or district is spending to replace teachers.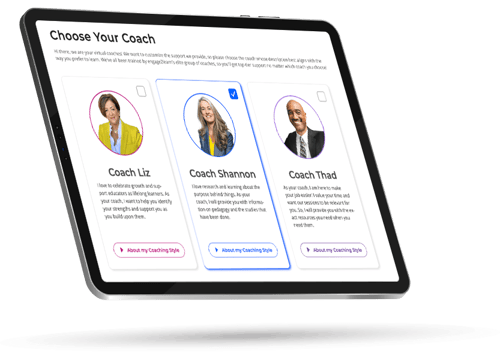 STEP 01
Choose a virtual coach
Whether teachers are looking for deep knowledge on research or just want to get straight to implementing better strategies, the virtual coaches in mySmartCoach provide just-in-time support in the way each teacher learns best.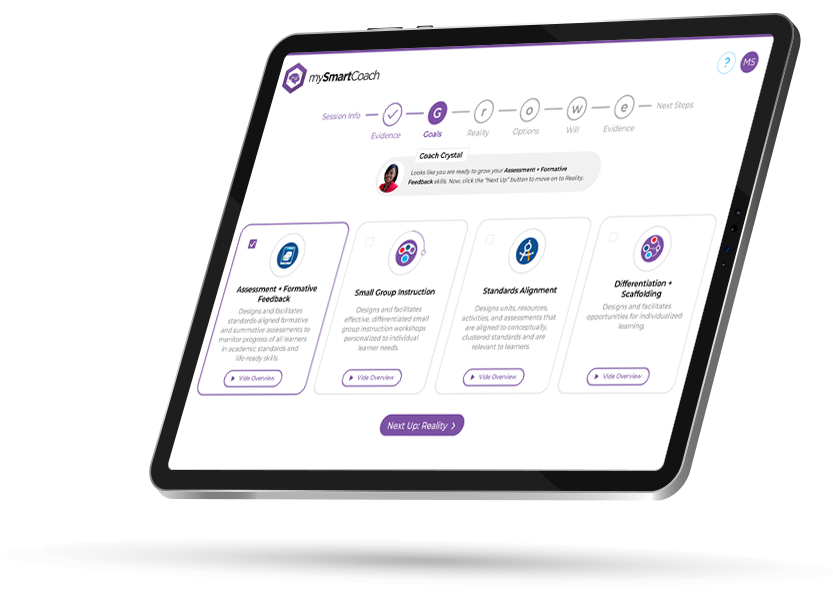 STEP 02
Select a professional learning competency
Teachers identify their desired area(s) of growth by choosing from research-based best practices that are scaffolded into a progression of proficiency, designed for both new and veteran teachers alike.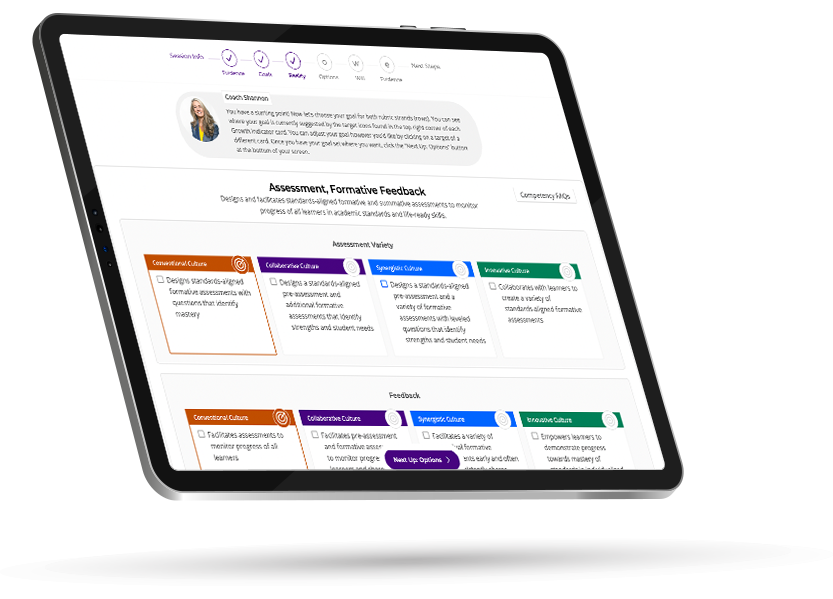 STEP 03
Complete a guided coaching session
mySmartCoach leverages the power and extensive experience of e2L Coaching to guide teachers to high-yield, easy-to-implement strategies that ensure teachers are growing in their proficiency and expertise.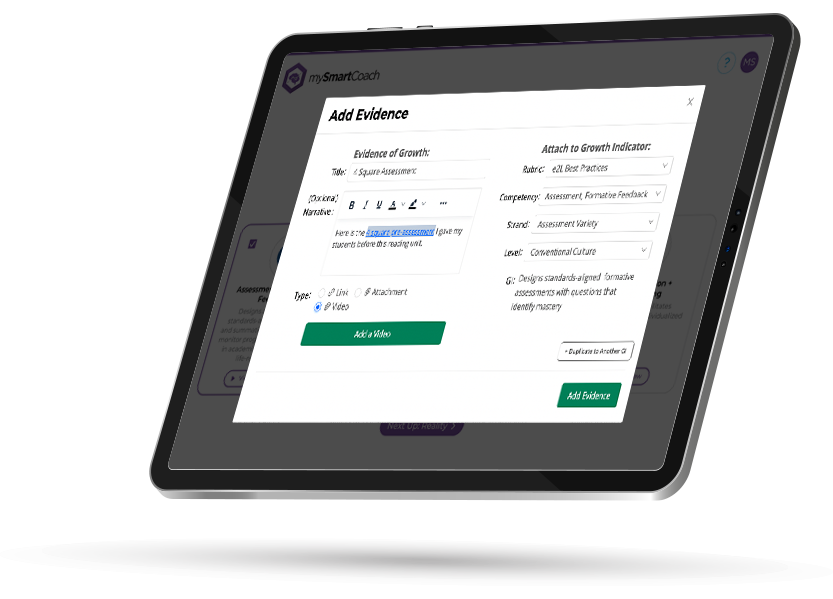 STEP 04
Implement strategies and upload evidence of growth
Teachers then put what they are learning into practice in the classroom, capture evidence of their implementation, and upload it to mySmartCoach to document their growth.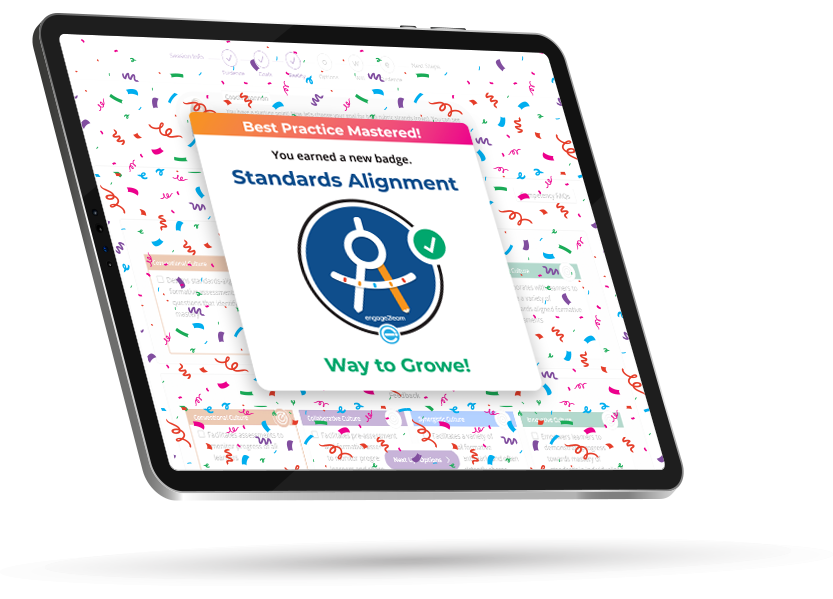 STEP 05
Celebrate growth, earn badges, and repeat!
As teachers submit evidence of their growth aligned to their level of proficiency, they earn microcredential/badges during each subsequent coaching session scheduled throughout the school year.
In case you were wondering
mySmartCoach does NOT replace instructional coaches
Instead, it expands their reach and capacity to provide targeted support to more teachers.
How does mySmartCoach stack up against traditional professional development solutions?
mySmartCoach not only gives 100% of your teachers access to anytime learning, it's also more affordable than traditional professional development and online courses – all while giving educators more frequent opportunities to learn and grow according to their needs throughout the school year.
In-Person Workshops

Online

Courses

Eligible for CEUs
24/7 Access / Anytime Learning
Ongoing support throughout school year
Personalized, adaptive learning
Professional learning aligned to research-based competencies
Evidence of growth and implementation of learning
Professional growth analytics
Ready to see mySmartCoach in action?
4 Professional Growth Apps for Educators in 1 Integrated Platform