Smart Coaches
Competencies
Options
Evidence
Badging
Reports
Next Steps
Choose your "Smart Coach"
for an adaptive learning experience tailored to your needs.
Whether you want to just get to the point or dive deep into the research and pedagogy, each of the virtual coaches in mySmartCoach tailors the learning experience to how you learn best. This ensures that learning in mySmartCoach is not one-size-fits-all, but adapts to your preferred learning style.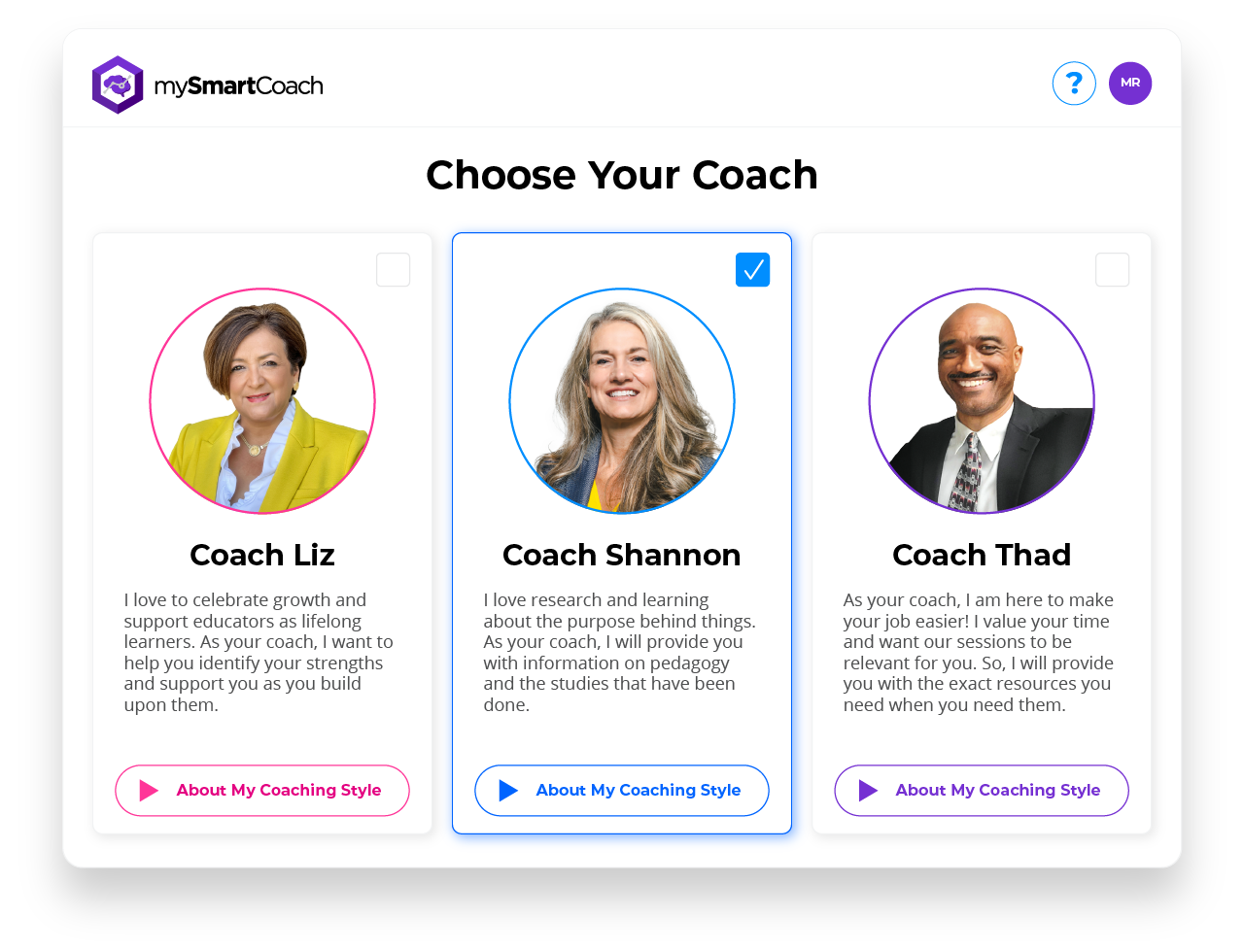 Coach Liz:
I love to celebrate growth and support educators as lifelong learners. As your coach, I want to help you identify your strengths and support you as you build upon them.
Coach Shannon:
I love research and learning about the purpose behind things. As your coach, I will provide you with information on pedagogy and the studies that have been done.
Coach Thad:
As your coach, I am here to make your job easier! I value your time and want our sessions to be relevant for you. So, I will provide you with the exact resources you need when you need them.
Competencies aligned to your goals
and backed by research proven to accelerate learning
mySmartCoach puts research-based competencies at the center of the entire professional learning process. This ensures you are developing proficiency in the skills and strategies proven to improve outcomes for students, with professional growth that is aligned to your school or district's needs, goals, and priorities.
Choose from over 60 competencies, including Instructional Best Practices, English Language Learners, Culturally Sustaining Pedagogy, School Leadership, ISTE Standards, Social Emotional Learning, and more!
Options for every level of experience
take the guesswork out of professional growth
Instead of scouring the internet for ideas or sitting through hours-long workshops or courses, mySmartCoach serves up easy-to-understand, easy-to-implement strategies and tactics created by e2L's elite team of expert coaches. Each option meets you where you are while pushing deeper levels of proficiency and implementation.
"I love that it's self-paced and that it's very specific to your needs."
- mySmartCoach User
Implement strategies and upload evidence of growth
to ensure new skills are transferring to daily practice.
With mySmartCoach, you are able to document and demonstrate your growing level of proficiency by capturing evidence of your job-embedded implementation of new strategies and uploading it to your growth portfolio. School leaders have the option to review and validate evidence as well.
"I feel empowered with more ideas on how to help me be the best educator I can be!"
-mySmartCoach User
Celebrate growth, earn badges, and repeat!
Create a culture of learning and growth.
School leaders can use the badges and micro-credentials earned in mySmartCoach to cultivate a culture of learning by recognizing and celebrating your growth and the growth happening among other educators. Forward-thinking school leaders also allow their teachers to use mySmartCoach badges to replace seat time for PD days. mySmartCoach sessions are also eligible for CEUs in some states.
"I feel empowered with more ideas on how to help me be the best educator I can be!"
-mySmartCoach User
Growth-based reporting data
to keep track of growth and progress toward goals.
mySmartCoach collects and summarizes growth data happening across your school or district into easy-to-use reports in eSuite's reporting app, impactConsole. These reports help school leaders monitor progress toward proficiency benchmarks and goals. This data empowers school leaders with the knowledge of exactly how much growth is happening, who is growing the most, and which teachers might need additional support and guidance.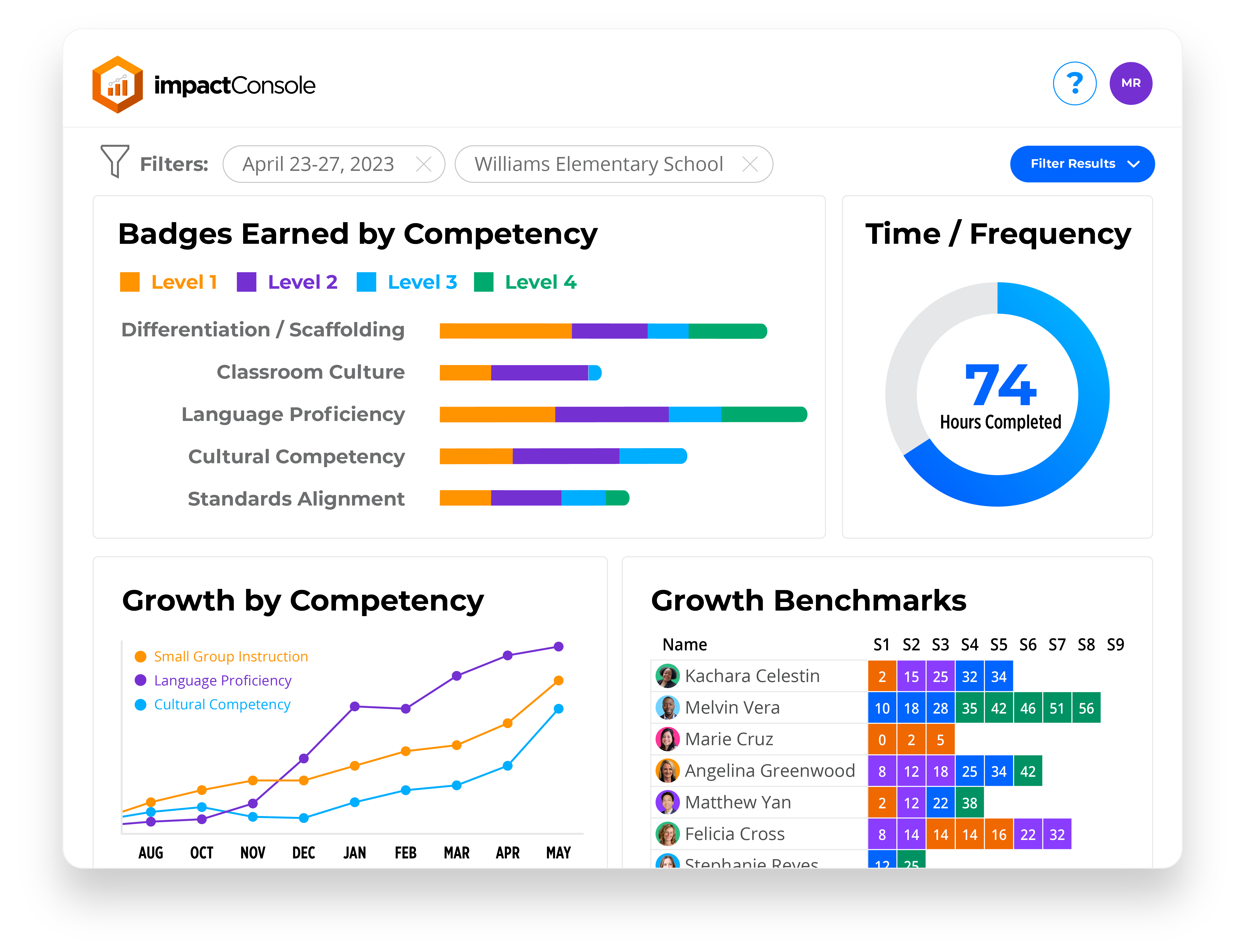 Use advanced filters to drill down into reports and get in-depth view of the growth happening at your school or district
See how many badges your staff are earning and at what level of proficiency they are implementing
Keep track of session completion and attendance and address any scheduling or other issues that are becoming a barrier to growth
Track growth in competencies over time to ensure your staff is growing in the competencies that matter most to your school or district.
The Growth Benchmark report shows how staff members are growing and whether they are hitting the expected benchmarks for growth as their complete their mySmartCoach sessions.
Ready to see more?
Get an in-depth demo of mySmartCoach
This is just the tip of the iceberg! Get a personal tour of mySmartCoach to see for yourself how this revolutionary, intelligent coaching system helps educators develop skills and proficiency in research-based best practices aligned to your school or district's needs and goals.