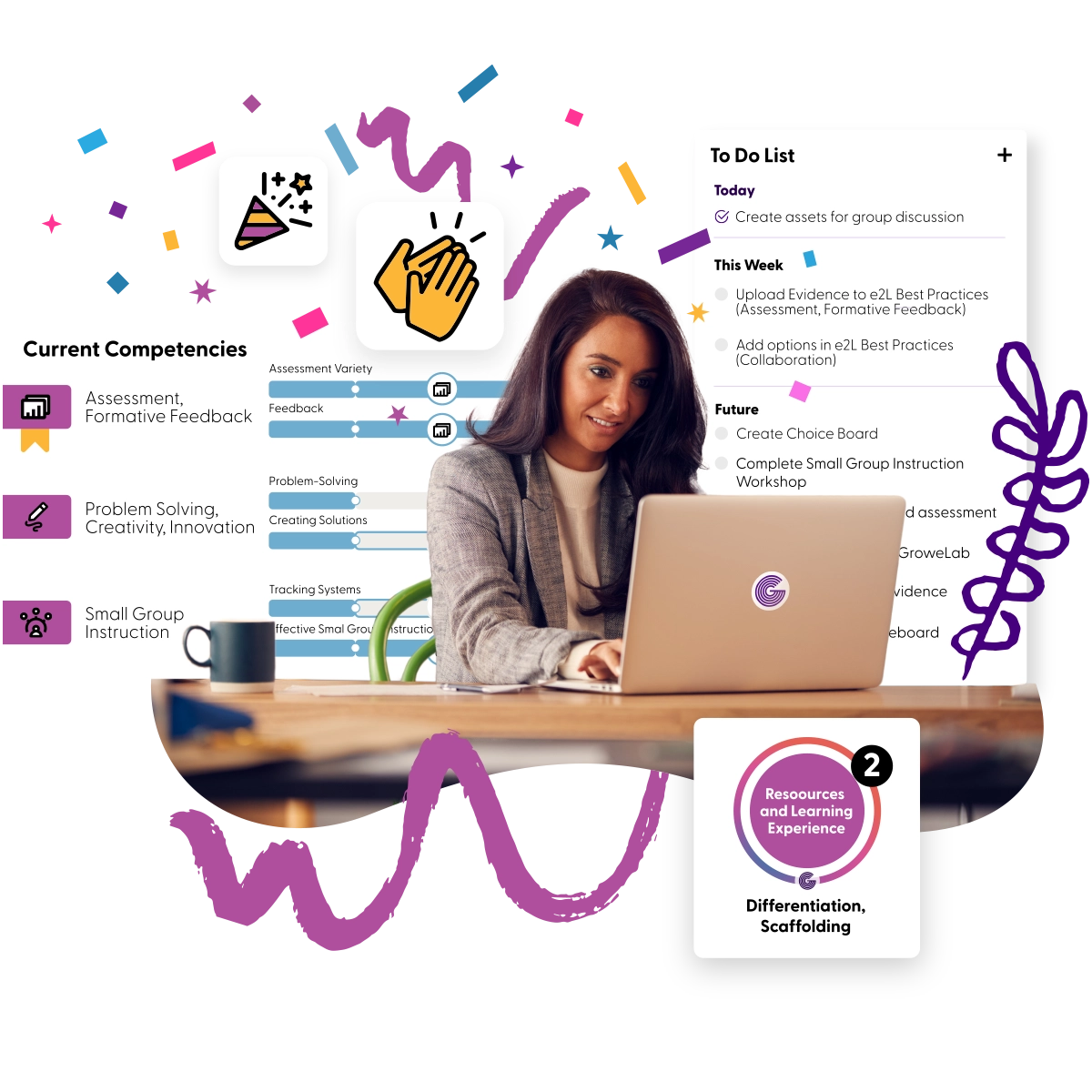 GroweLab is NOT another edtech product born out of Silicon Valley.
GroweLab was intentionally designed for public schools by the elite team of diverse educators at engage2learn.

About engage2learn, the makers of GroweLab.
Since 2011, we've been on a mission to help the neighborhood public school be the first choice for every family. At engage2learn (e2L), our diverse team of elite educators is passionate about helping public schools design, build, and implement coaching and talent development systems that improve teacher retention & job satisfaction, accelerate student achievement, and increase capacity and momentum for instructional and non-instructional staff to grow in their roles.
For more than a decade, e2L has partnered with public schools to…
Provide individualized, meaningful professional development for teachers.
Align coaching to research-based, professional learning competencies.
Turn traditional PD into transformative talent development systems.
Use connected data to document effort and measure the impact of coaching.
We've been celebrating (and quantifying) educator growth in competencies for over 7 years!
Badges are benchmarks of proficiency that school leaders use to recognize excellence and encourage growth.
Cumulative Educator Badges Earned
As the saying goes, great things take time.
And we've been working on GroweLab for a long time.
e2L releases eStudio, an online lesson-planning platform designed to help educators create engaging, differentiated, and standards-aligned learning experiences.
eStudio expands into an educator coaching platform, enabling districts to document coaching and allowing teachers to earn progress badges on competencies.
eStudio is redesigned and relaunched as eSuite, an integrated instructional coaching, professional learning, and reporting platform.
e2L pivots to virtual coaching support in eSuite to keep educators growing despite school closures caused by the COVID-19 pandemic.
eSuite is strengthened by expanded education analytics capabilities, enabling leaders to connect educator coaching and growth data with student and staff outcomes data.
e2L launches mySmartCoach, the adaptive, self-guided instructional coaching system, while eSuite is nationally recognized as:
2022 Learning Analytics Solution Provider of the Year in the EdTech Breakthrough Awards
2022 Best Professional Development Tool in the Tech Edvocate Awards
e2L continues to receive recognition for its streamlined products and launches the all-in-one coaching and talent development platform, GroweLab!
mySmartCoach selected as a 2023 Finalist in The EdTech Awards
eSuite awarded prestigious Research-Based Design Product Certification from Digital Promise
GroweLab helps public schools set a new standard for educator support.
PD for Teachers
GroweLab grows educators and staff in role-specific skills and competencies proven to reduce burnout, increase retention, improve student outcomes, and transform school culture.
Instructional Coaching
GroweLab is designed with the instructional coach in mind, prioritizing time-saving features to help increase the capacity, efficiency, and effectiveness of your coaches.
Classroom Observation
Align GroweLab's customizable observation and walkthrough forms to your school or district's priorities and enable coaches to seamlessly measure teacher behavior and practice.
Microcredentials & Badging
Incentivize and reward ongoing learning by awarding educators and staff with microcredentials and progress badges when they submit qualified evidence of practice for coaches to review in GroweLab.
Education Analytics
GroweLab empowers you to go beyond compliance-based, attendance/completion PD tracking with digestible reports that turn all coaching and growth data into powerful, data-informed insights.
Teacher Evaluation
GroweLab provides educators with a robust, growth-focused, competency-based system that supports personalized teacher evaluations that measure progress over time.