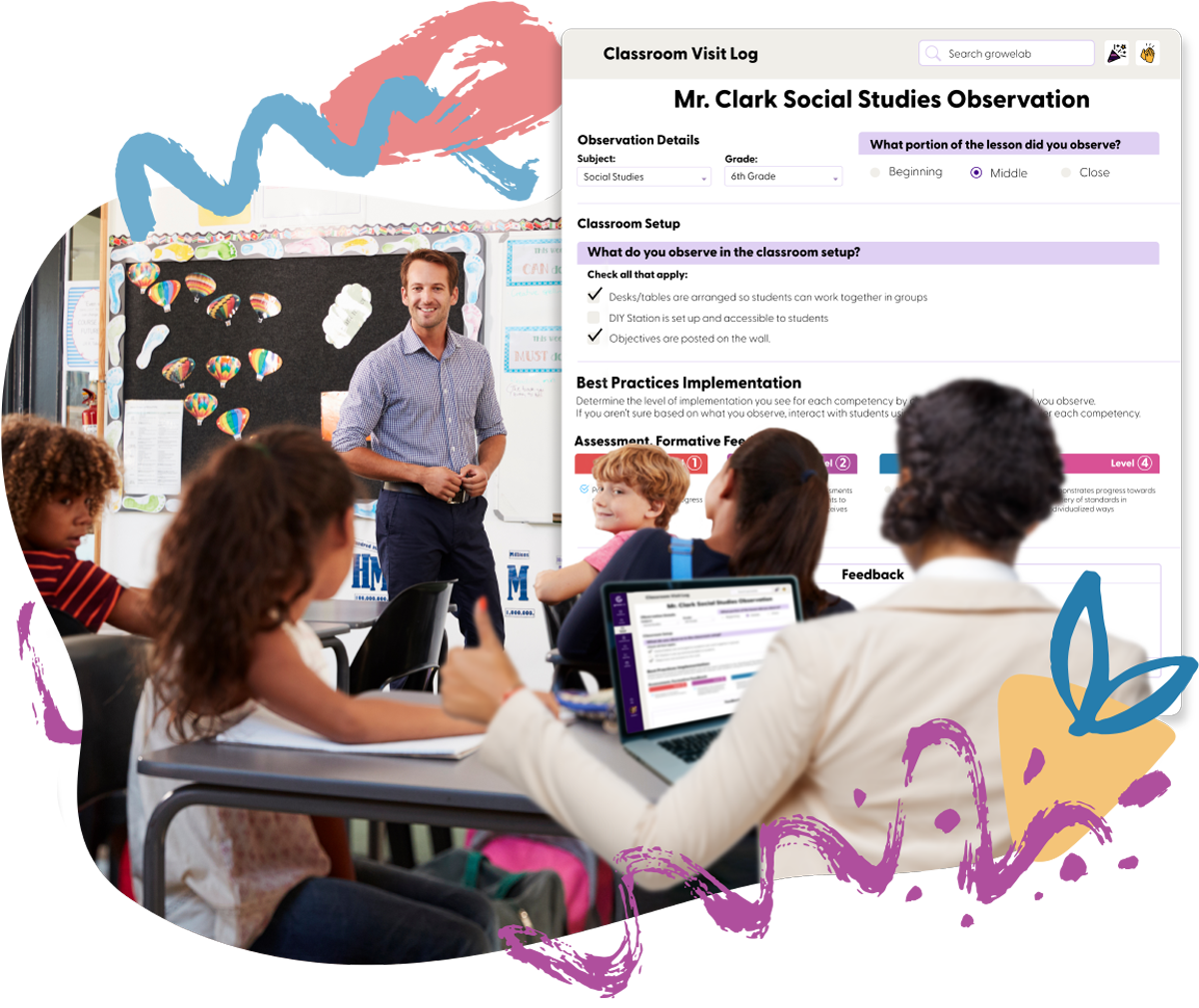 Growth-focused classroom observations tailored to your needs.
Swap out stress-inducing checklists, charts, and rating scales for positive, actionable feedback that teachers will love.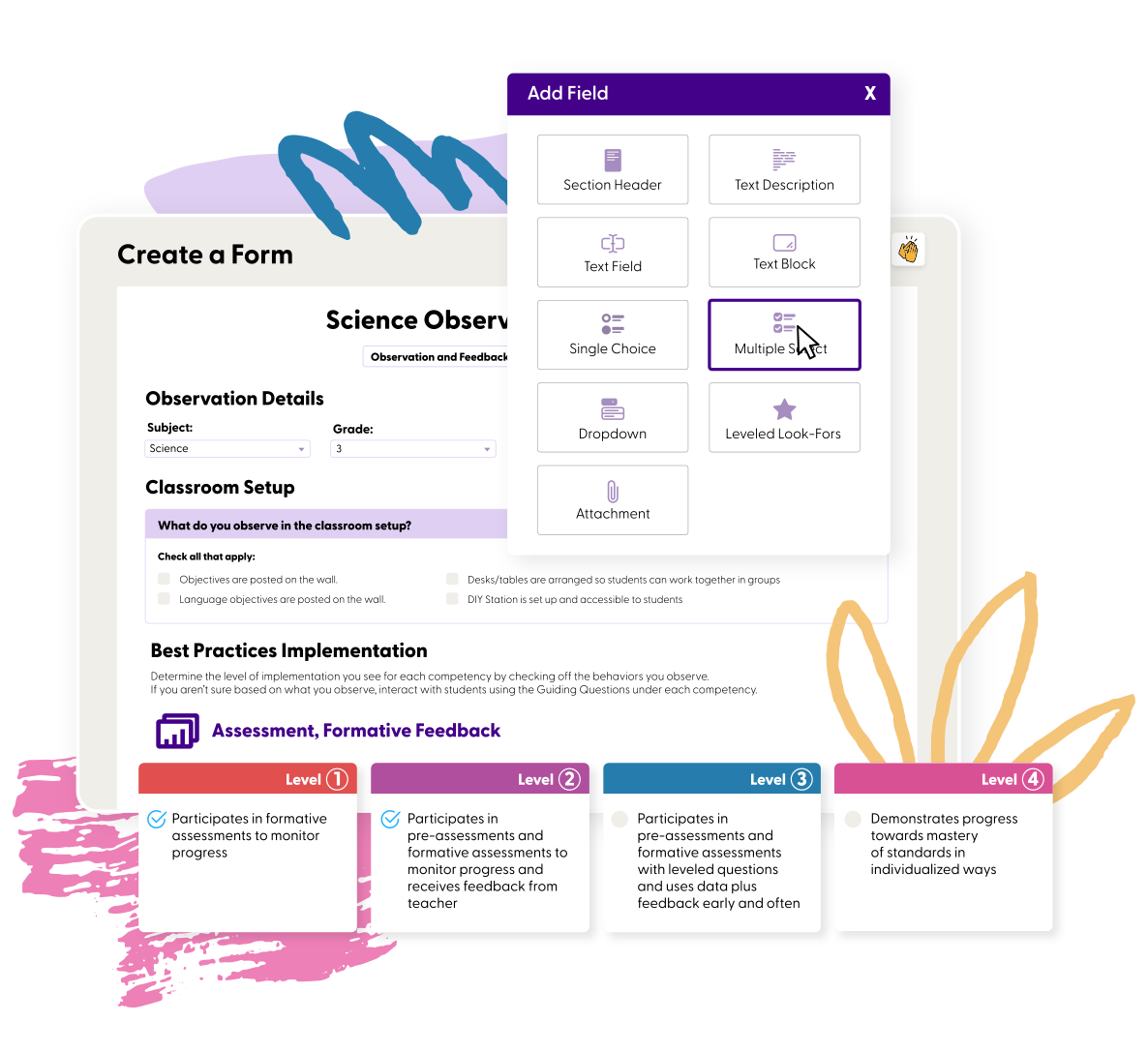 Create customized observation forms.
Select from 9 different form options to build a custom classroom observation form that captures relevant data aligned to the goals and priorities of your school or district. Need multiple observation forms? No problem. Create as many as you need.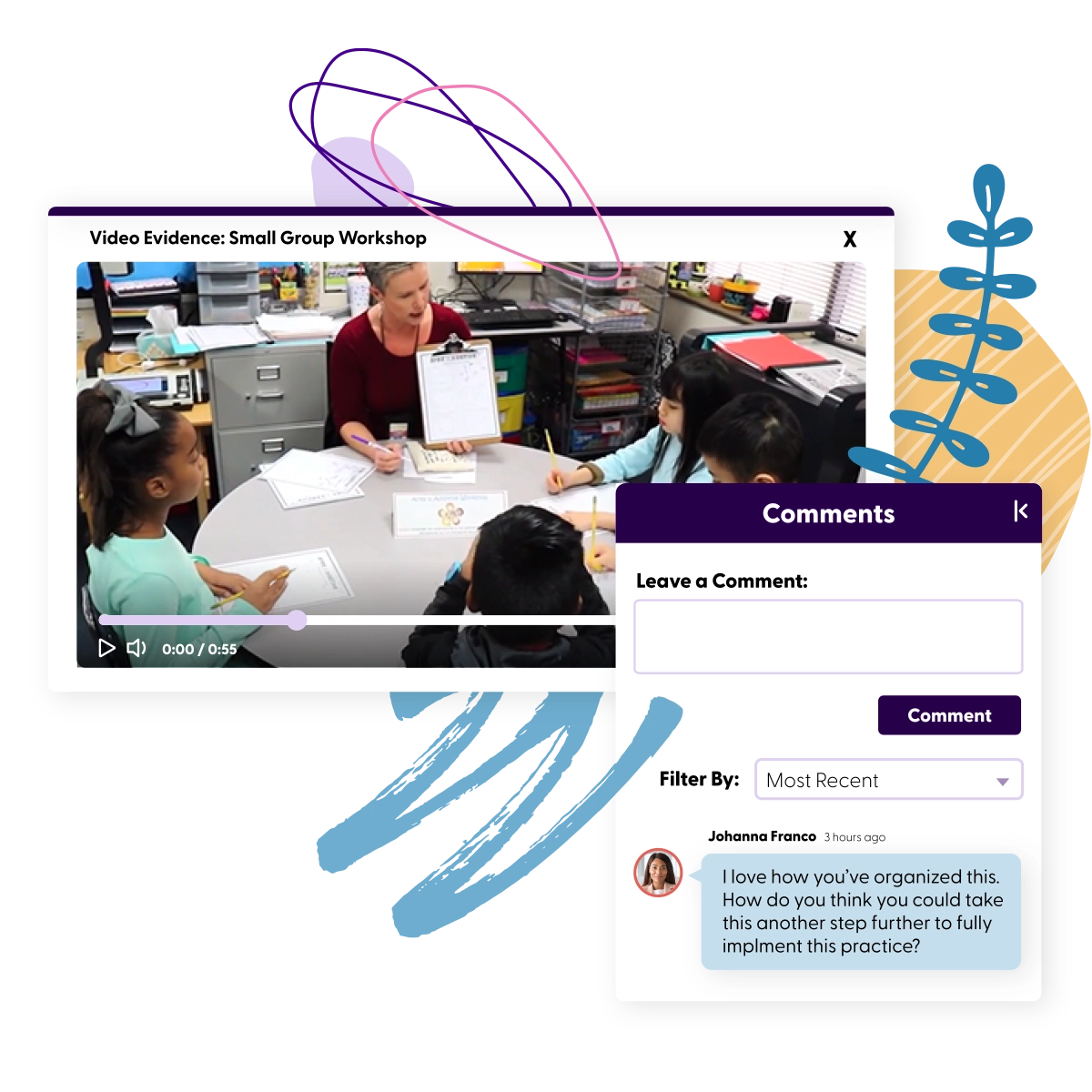 Conduct asynchronous observations with video feedback.
With GroweLab, leaders don't need to be in the room to conduct classroom walkthroughs. Teachers can instead capture and upload their own classroom footage to GroweLab, giving leaders and coaches the freedom to comment and provide feedback on evidence of implementation when it's convenient.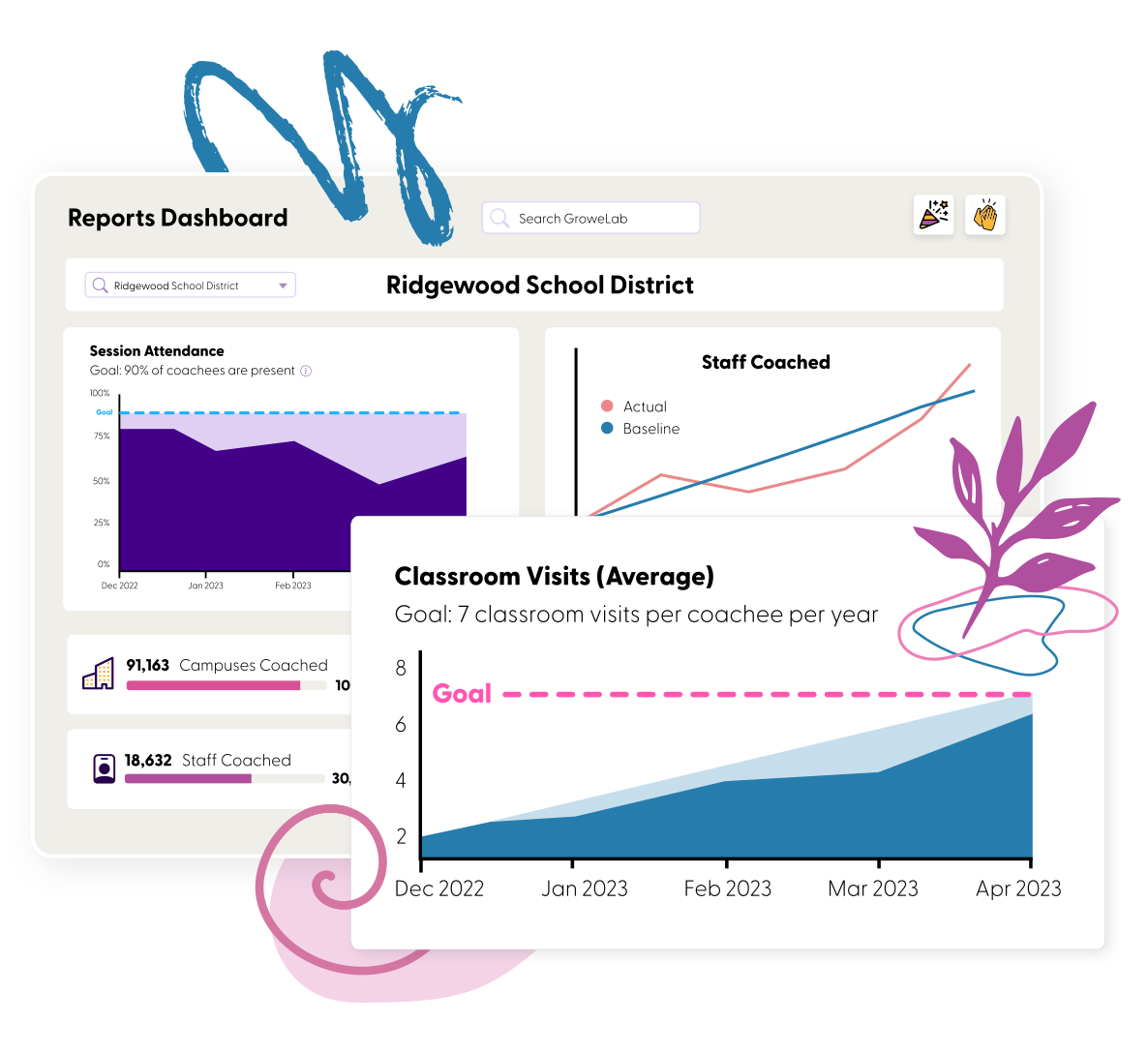 Gain valuable insight from easy-to-read observation reports.
Summarize your classroom observation data with simple reports that help leaders monitor and measure progress outcomes. With reports on time, frequency, observed behavior, and more, leaders are able to add data-informed insights to their classroom visits.
"Based on observation data that we collected, we planned different professional development sessions because I think that data can inform your work, not just with each individual teacher, but collectively."
Principal, Large Suburban District
3 Ways to Level Up Your Classroom Visits
Replace checklists, charts, and rating scales with a holistic approach to teacher observations.
Align Teacher Behaviors to Instructional Strategies
Use the same professional learning rubric from your coaching sessions to evaluate teacher behaviors in the classroom and ensure that they are understanding and implementing the things they're learning through coaching.
Capture Student Behavior & Feedback
What are students doing in the classroom? How could they be better engaged in the learning environment? Create prompts and capture data on student behaviors to get the whole picture of what's happening in the classroom.
Cultivate a Culture of Learning & Growth
Provide teachers with immediate recognition and celebration of growth when they are thriving and with relevant, positive, and actionable feedback when they need more focused support.
Classroom walkthroughs in GroweLab make it easy to:
Focus on growth,
not compliance
Provide positive, actionable feedback
Individualize support
for each teacher
Why are classroom observations & walkthroughs so important?
Classroom walkthroughs give leaders and instructional coaches a first-person perspective of what's going on in the classroom, which is vital to the success of students. With so many classrooms and educators to monitor, it's typically nearly impossible for leaders and coaches to ensure observations are timely, meaningful, and relevant. With GroweLab, school and district leaders can decide what data they need to capture before creating an observation form that perfectly aligns to their priorities and needs. This ensures that teachers receive actionable, personalized feedback to put into practice right away.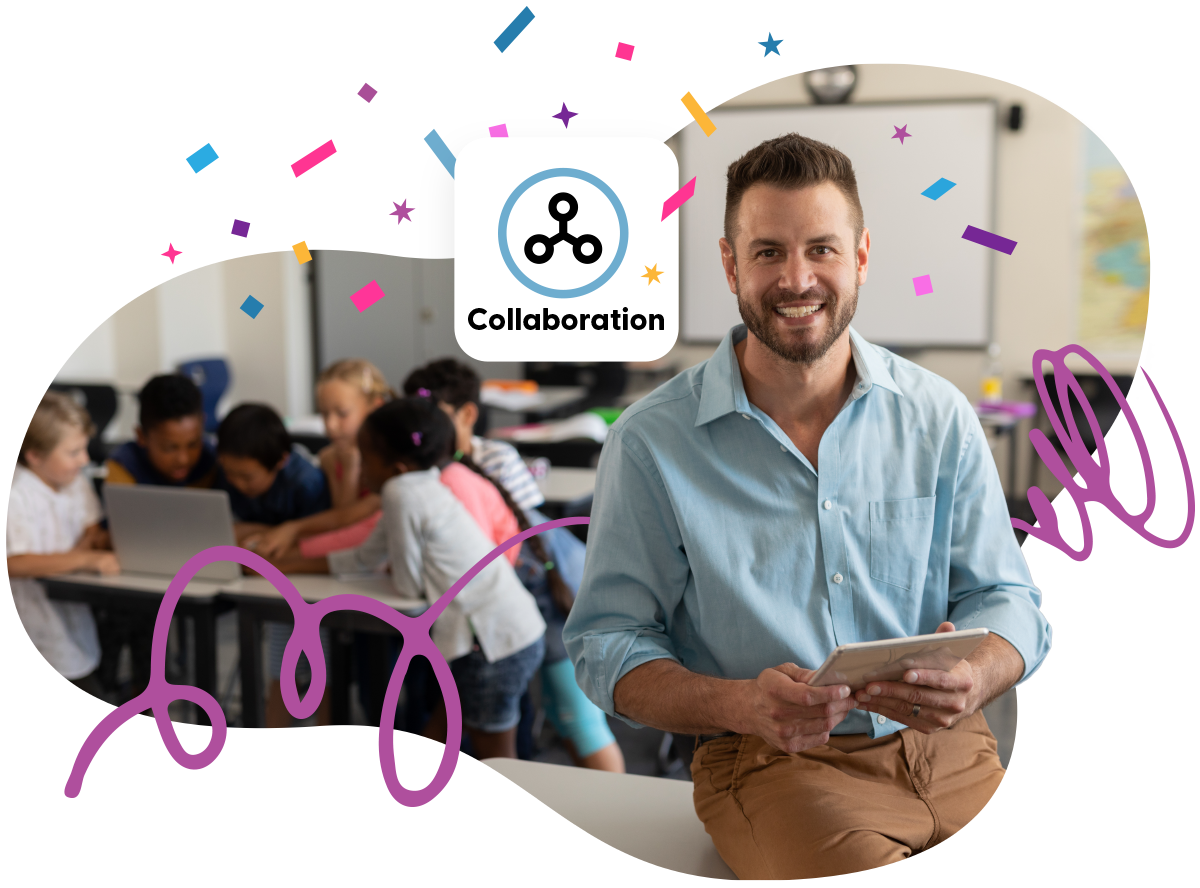 Ready to learn more about transforming classroom observations with GroweLab?