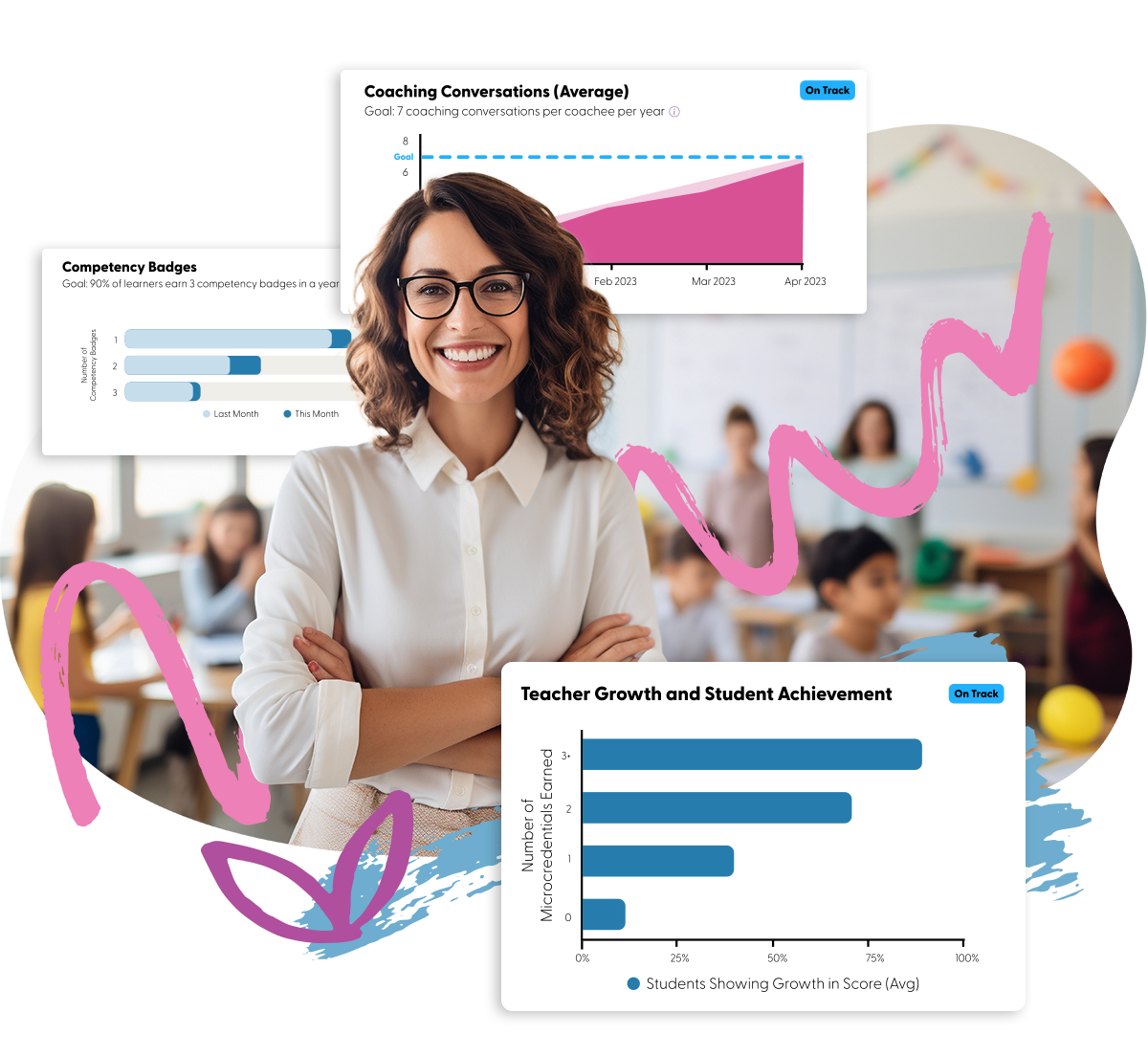 Make Confident
Decision-Making the Norm with Advanced Education Analytics
Connect adult growth data to student outcomes data for clarity about the impact and ROI of instructional coaching – all in a single, user-friendly reporting dashboard.
Easy-to-read education analytics and actionable impact reporting.
With the support of education analytics and simple reporting in GroweLab, school and district leaders are no longer left with fragmented information, scattered spreadsheets, and disconnected data points. Instead, they get critical, data-informed insight into:
Which teachers are growing and which need additional support.
The correlation between coaching and educator growth.
The progression of educators' skill attainment over time.
The impact of coaching on teacher retention and student outcomes.
Take the guesswork out of decision-making.
GroweLab utilizes customizable reports and easy-to-digest visuals to distill adult and student data points into meaningful education analytics.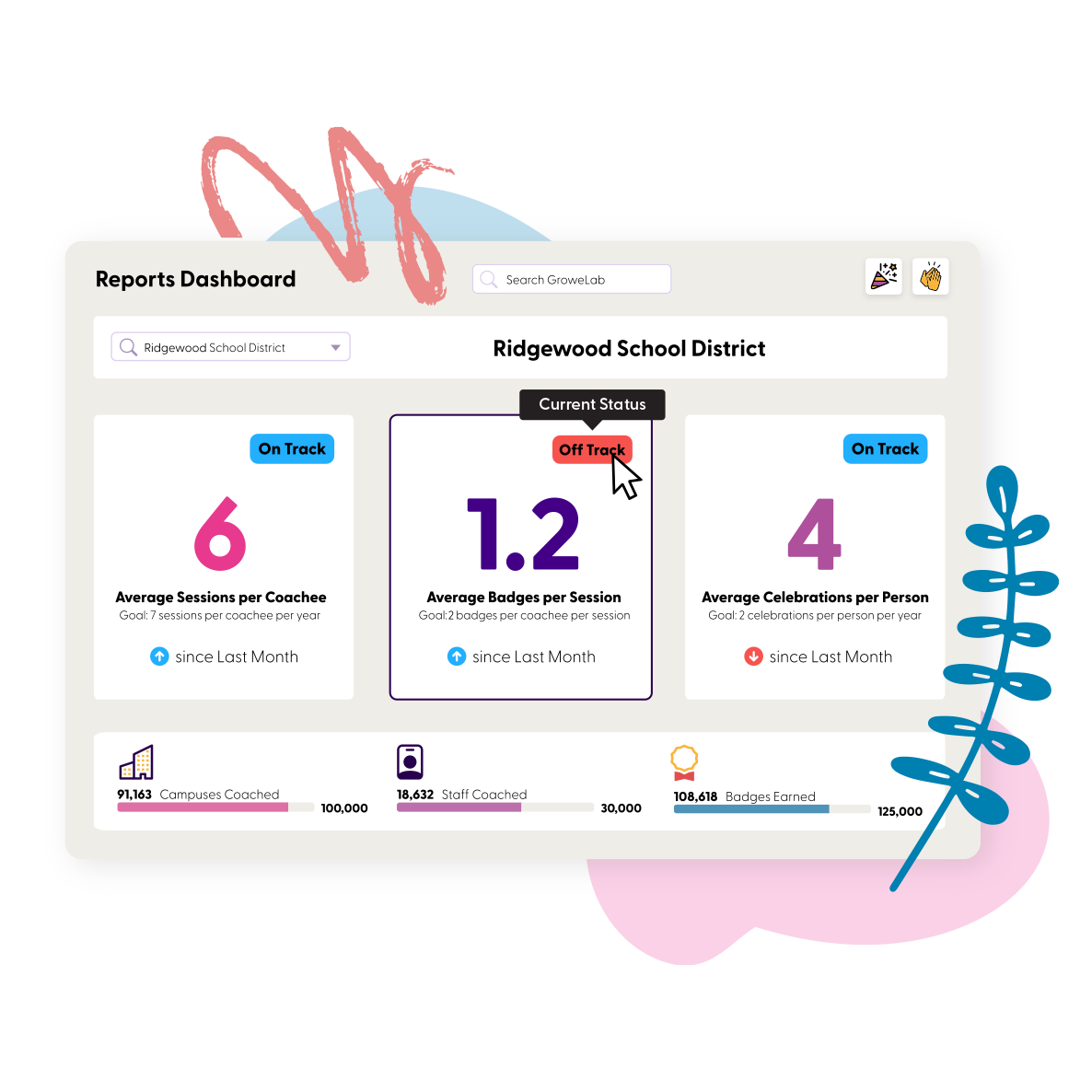 At-a-Glance Progress Reports
Get a bird's-eye view of coaching and growth trends across your school or district, including the volume of coaching conversations, frequency of classroom visits, how engaged educators are in the process, and how much growth is happening as a result.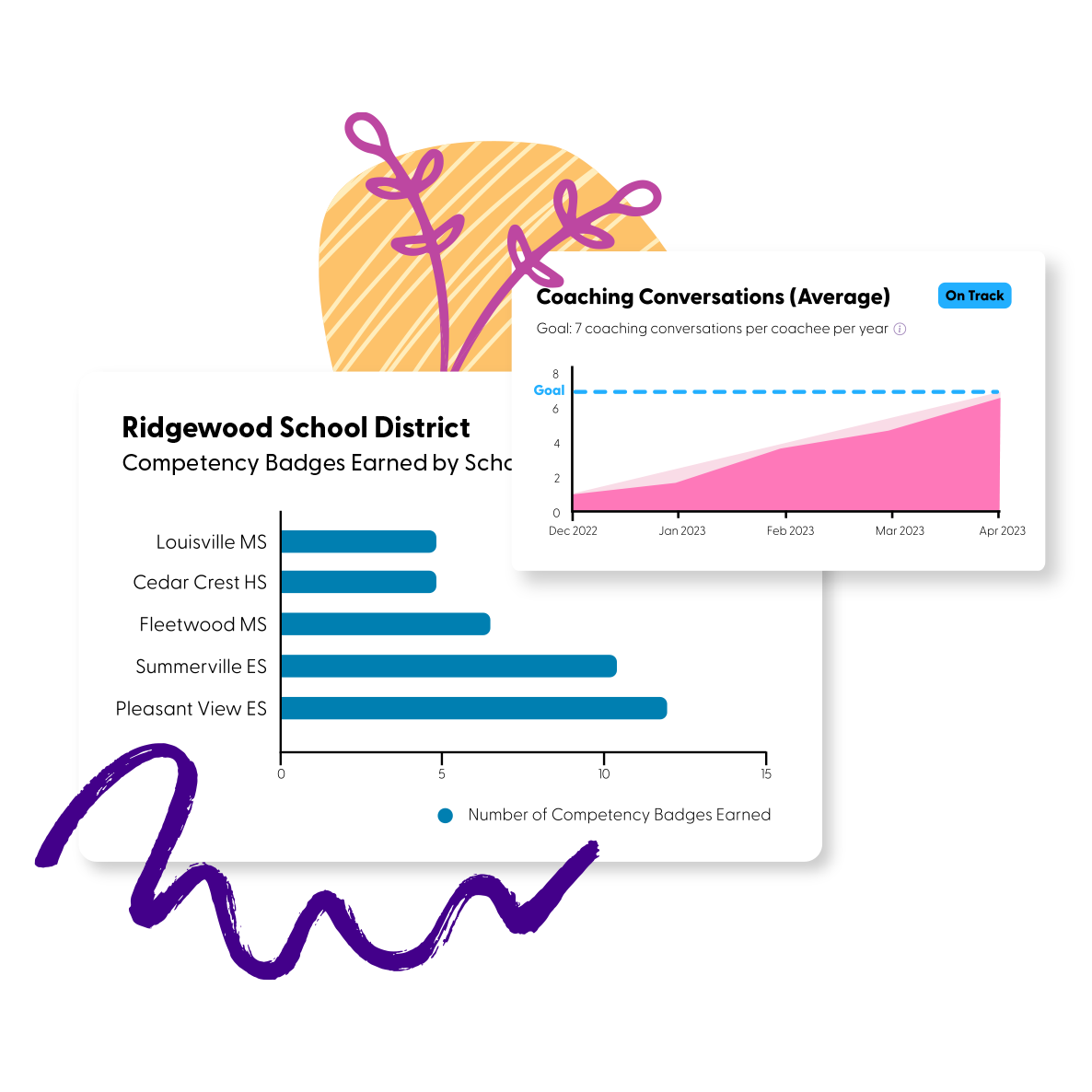 District- to School-Level Drill Downs
Utilize filters to drill the high-level data down into specific data subsets to get detailed intel about which growth trends to celebrate and which learning gaps to address at the competency, school, cohort, and individual teacher level.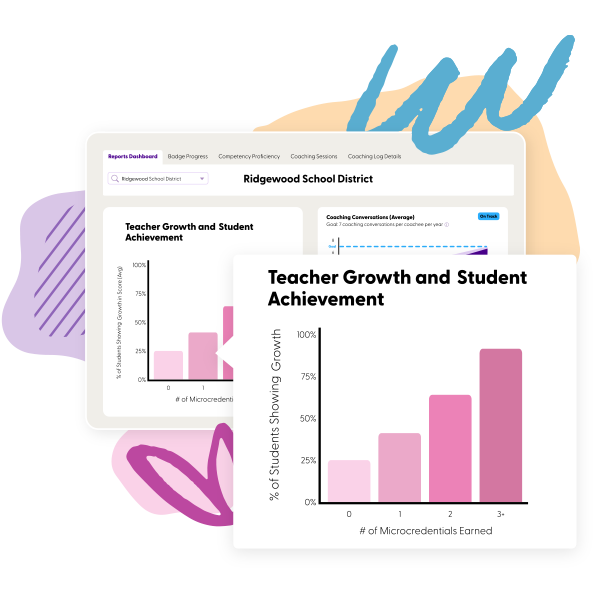 Student Impact Reports
Upload any external data (e.g., NWEA MAP scores, graduation rates, retention rates) directly into GroweLab in order to connect student outcomes to educator growth. This enables leaders to not only see the direct impact of coaching on teacher, student, and school outcomes but to report the ROI of coaching to key stakeholders as well.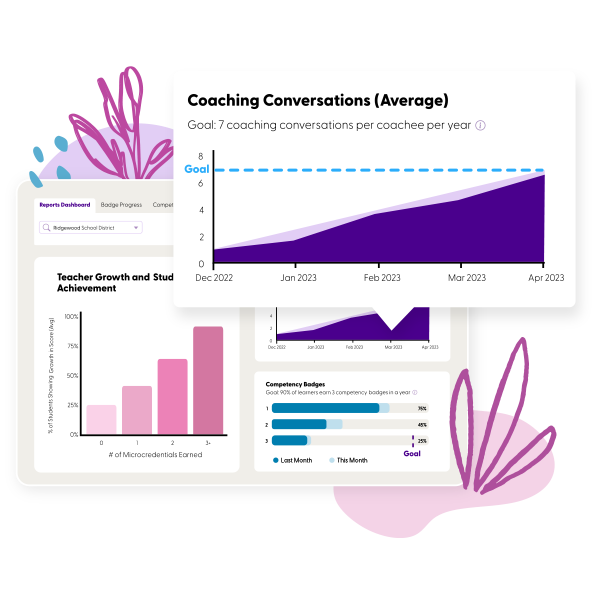 Coaching Reports
Stay in the loop on coaching activities with easy-to-use filtering and reporting on individual coaching sessions, coachee engagement scoring, month-over-month coaching activity comparisons, and more.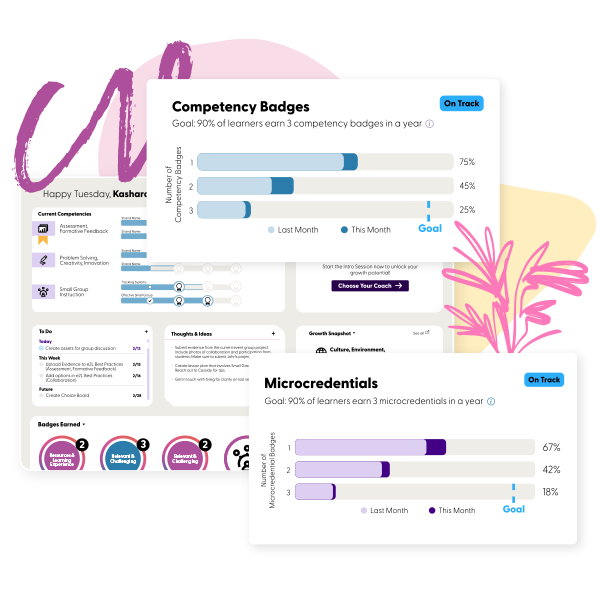 Competency Proficiency Reports
As teachers engage in the coaching process and earn badges and microcredentials, GroweLab creates streamlined proficiency reports to help leaders measure skill acquisition at the teacher, grade, cohort, school, or district levels.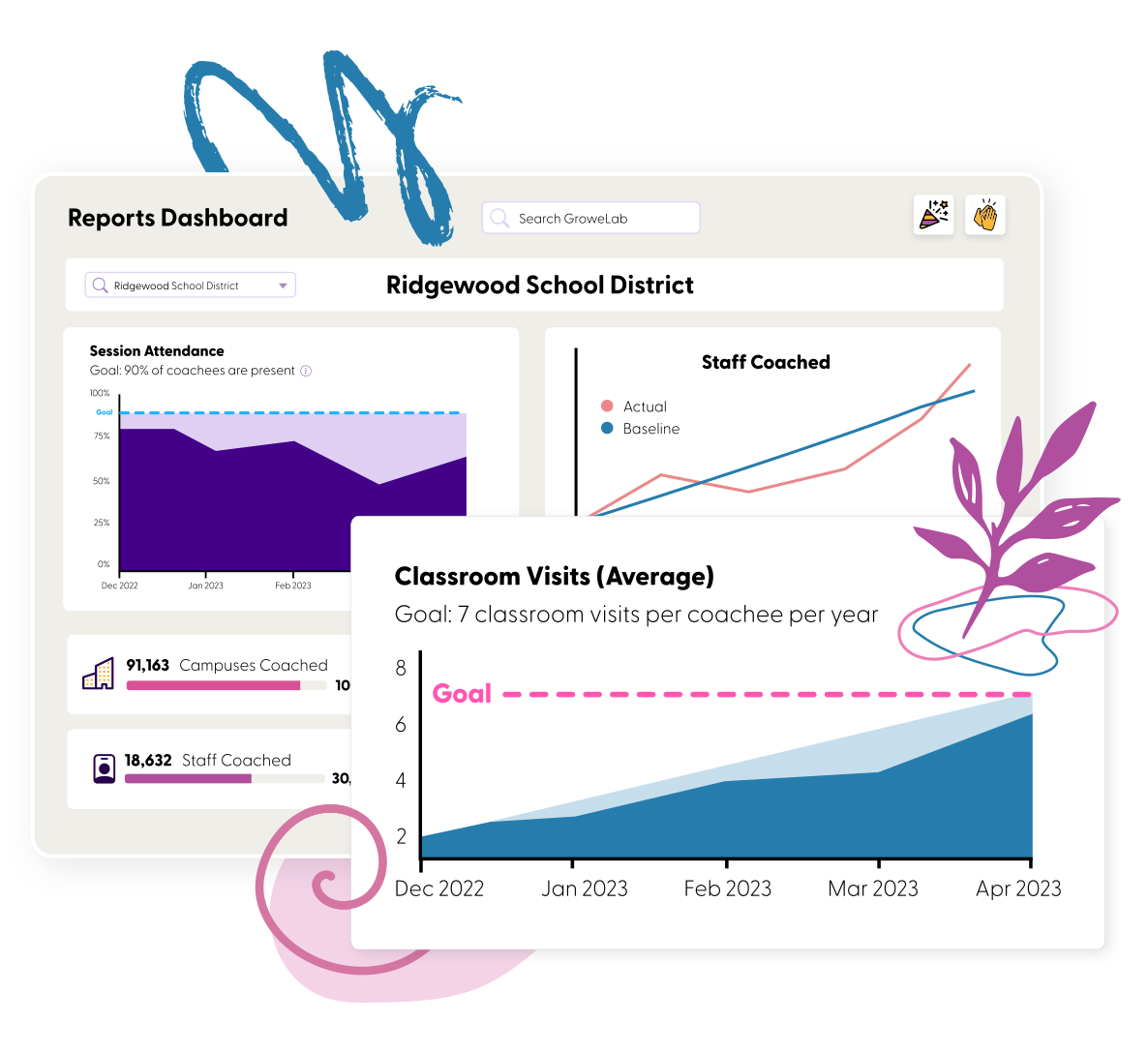 Observation & Walkthrough Reports
As coaches complete evaluation and classroom walkthrough forms in GroweLab, leaders are able to turn those qualitative observations into quantitative, measurable data to get clarity on teachers' growth aligned to their goals and school/district priorities.
Untap the power of connected data with GroweLab.
Utilizing education analytics to measure the direct impact of teacher coaching and competency-based learning on school and/or district goals has never been easier.
Monitor teacher growth data
Monitor teacher progress in GroweLab, recognize and encourage continued growth, and address areas that need improvement as they come up throughout the school year.
Import student performance data
Import any external student data, such as NWEA MAP scores and attendance rates, at the beginning, middle, and end of the year directly into GroweLab.
Analyze adult & student data together
Analyze educator growth data right alongside student outcomes data to show the direct connection and correlation between teacher coaching and learner achievement.
Celebrate & recognize growth!
Celebrate individual and collective growth, identify any gaps or challenge areas, and collaborate with your team on ways to mitigate those challenges. Rinse & repeat!
Ready to experience the impact of
advanced education analytics

and streamlined reporting across your school or district?