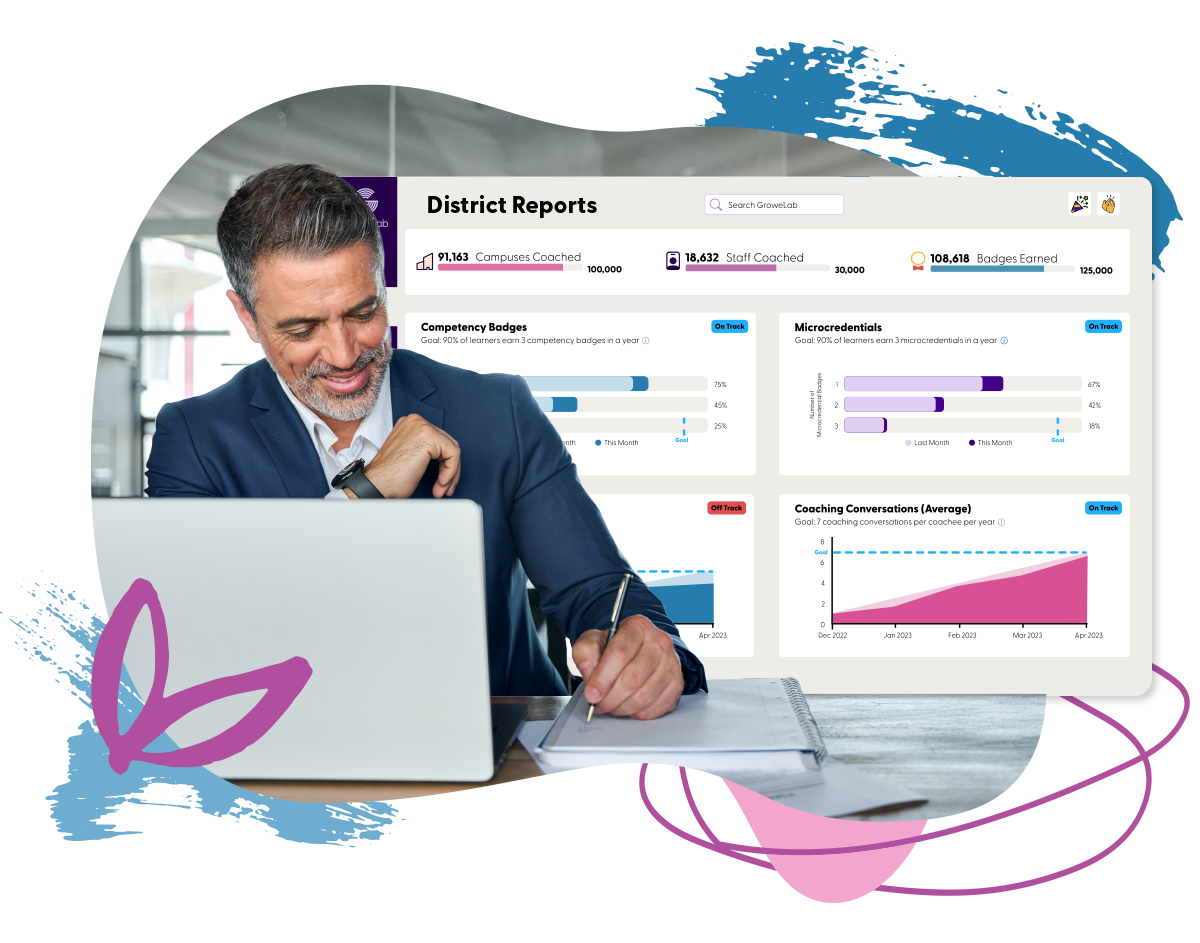 Streamline District-Wide Coaching Systems into One Integrated Platform.
Easily manage, streamline, and optimize coaching and talent development programs to accelerate outcomes for teachers and students alike.
GroweLab helps public schools of any size…
By focusing teacher growth on gaining proficiency in research-based instructional best practices proven to increase student achievement.
Attract, Retain, and Grow Teachers

By giving your teachers personalized coaching and resources aligned to their needs, while cultivating a supportive school climate that engages and motivates them to keep growing.
Streamline & Simplify Coaching Systems

By managing, monitoring, and measuring coaching and professional growth across a single platform to reduce the complexities and financial burden of investing in multiple – often disconnected – platforms or programs.
Scalable, streamlined instructional coaching that drives better outcomes.
GroweLab is packed with features that are intentionally designed to simplify the implementation and management of instructional and leadership coaching and support.
Organize and coordinate hundreds of coaching sessions across your entire district in GroweLab to save time and ensure all of your teachers and staff are receiving the support they need to be successful.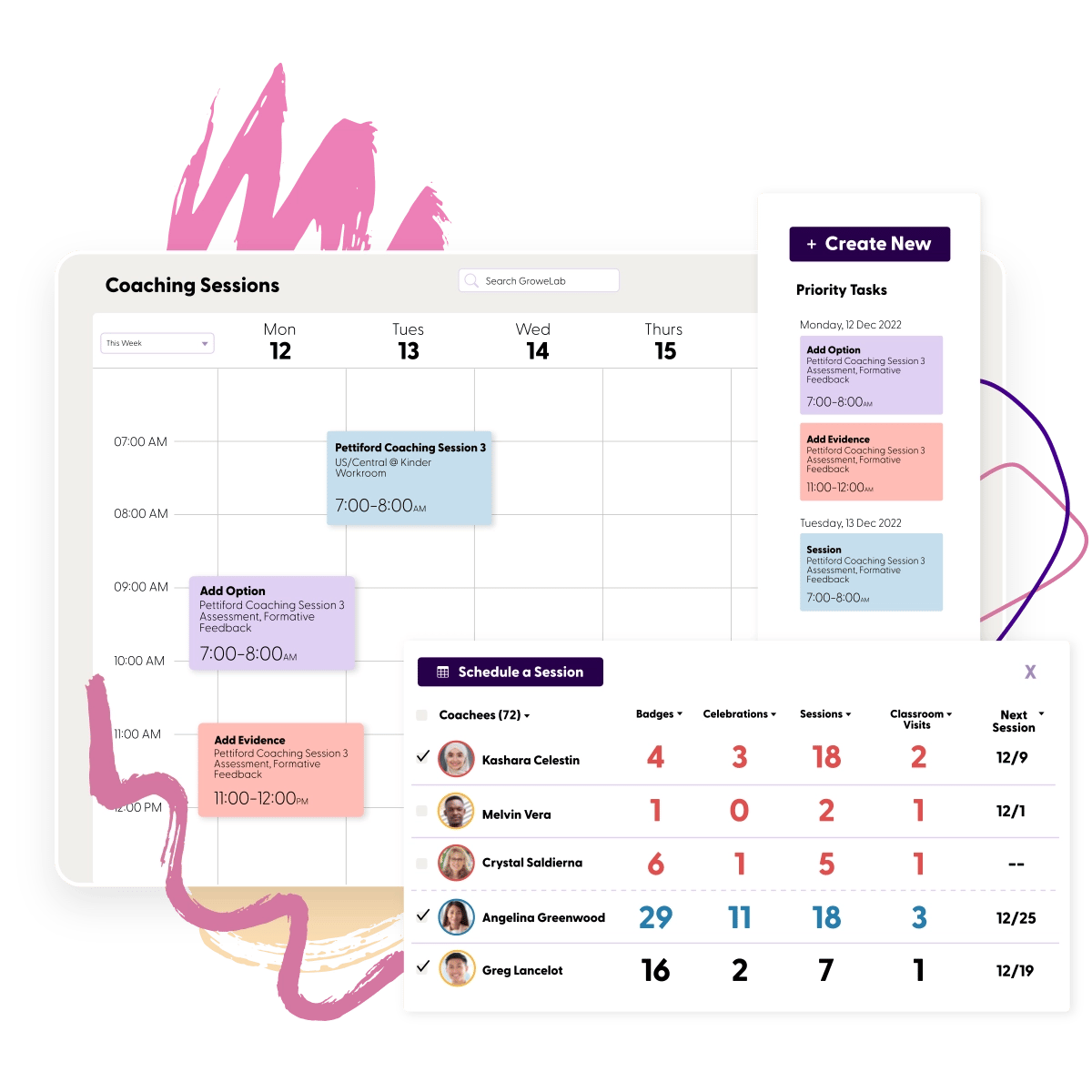 GroweLab seamlessly integrates with your existing coaching program, methodology, or framework (Bambrick's Get Better Faster, Jim Knight's Impact Cycle, e2L's Growe Coaching) and allows leaders to start documenting coaching and track data tied to results right away.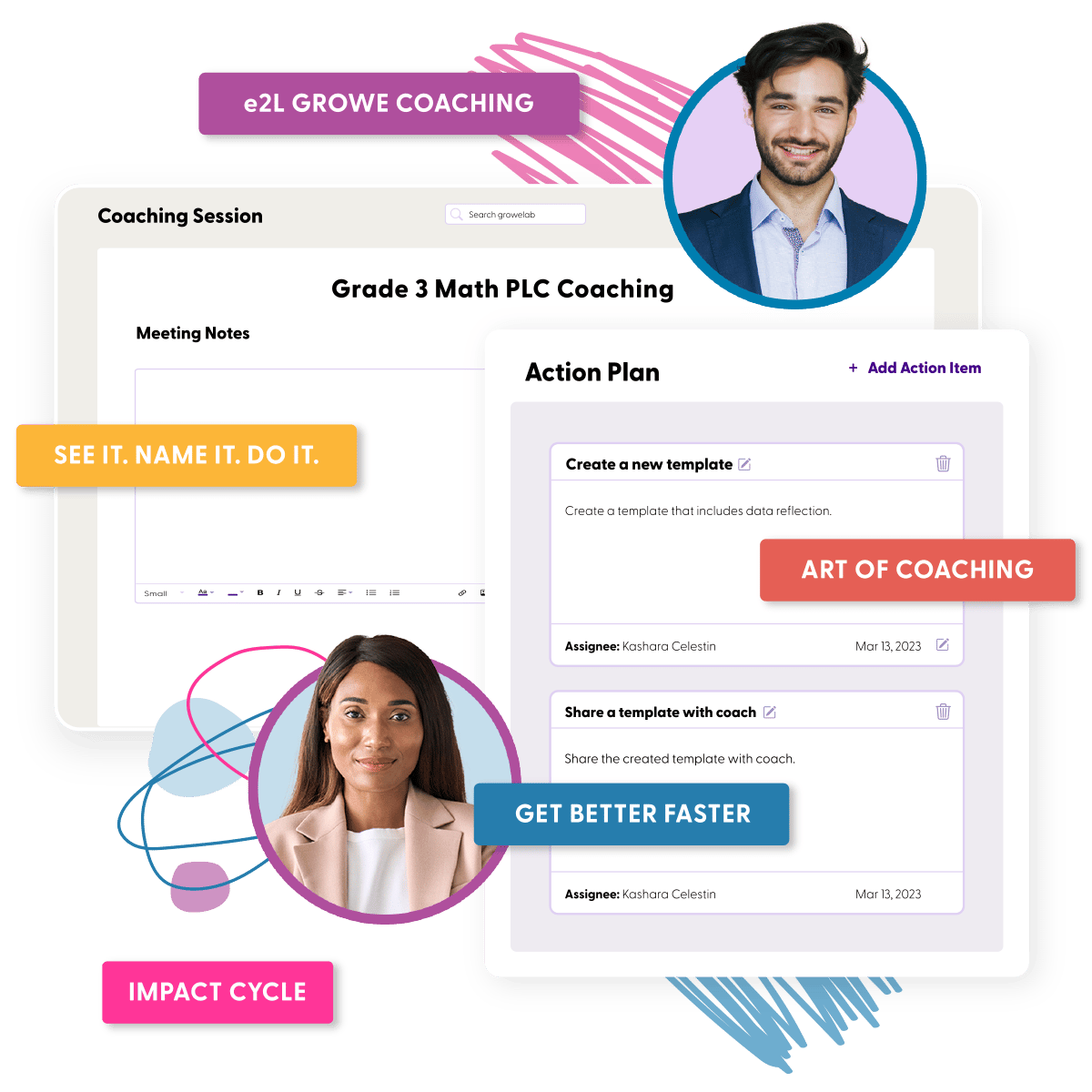 Create custom coaching logs and classroom walkthrough forms to ensure your coaches are consistently providing high-quality support that is aligned with your school or district's goals and priorities.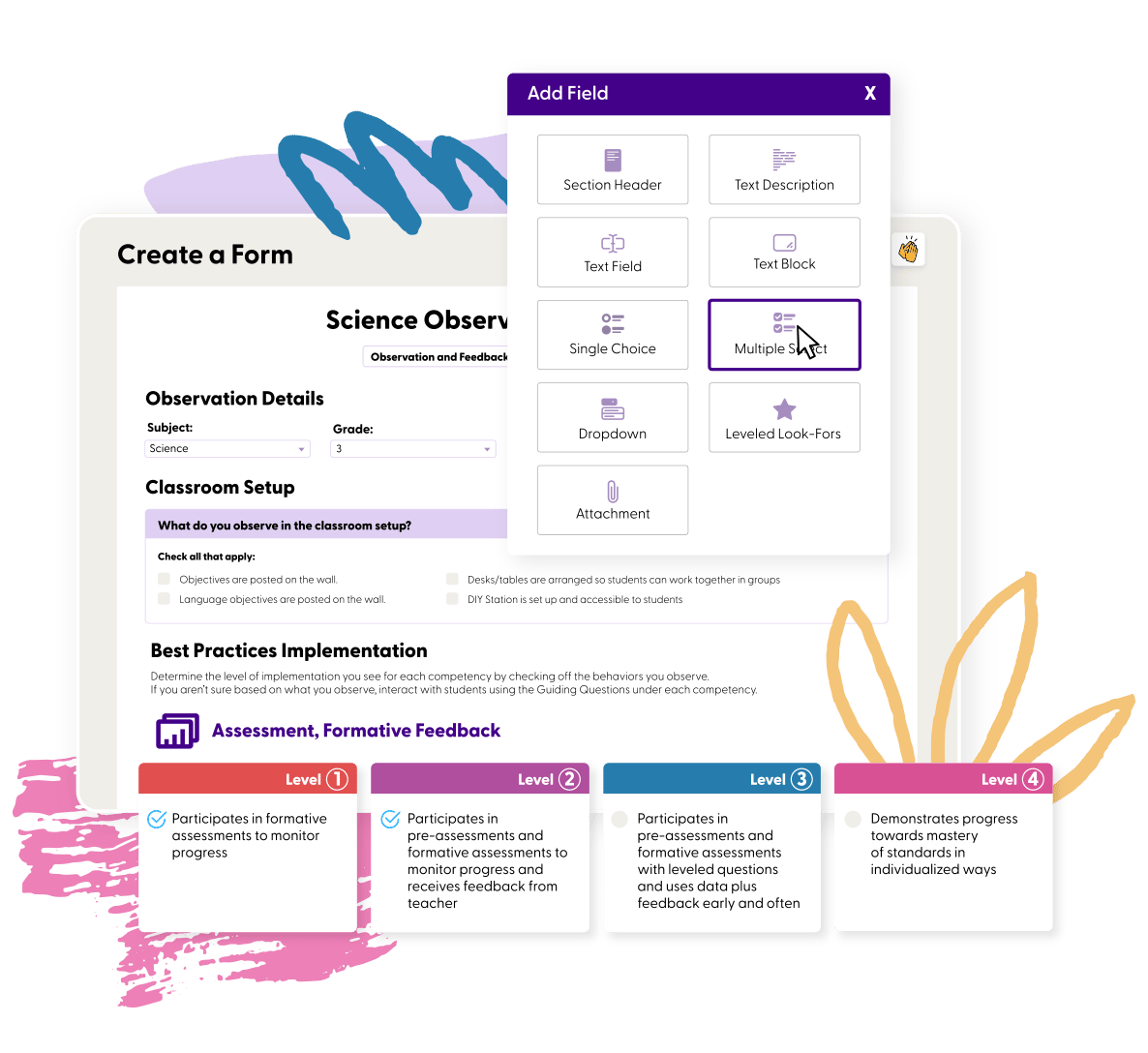 Easily manage user accounts and authentication with OneRoster, Clever, or Google integration, or manage schools and users within GroweLab on the district profile.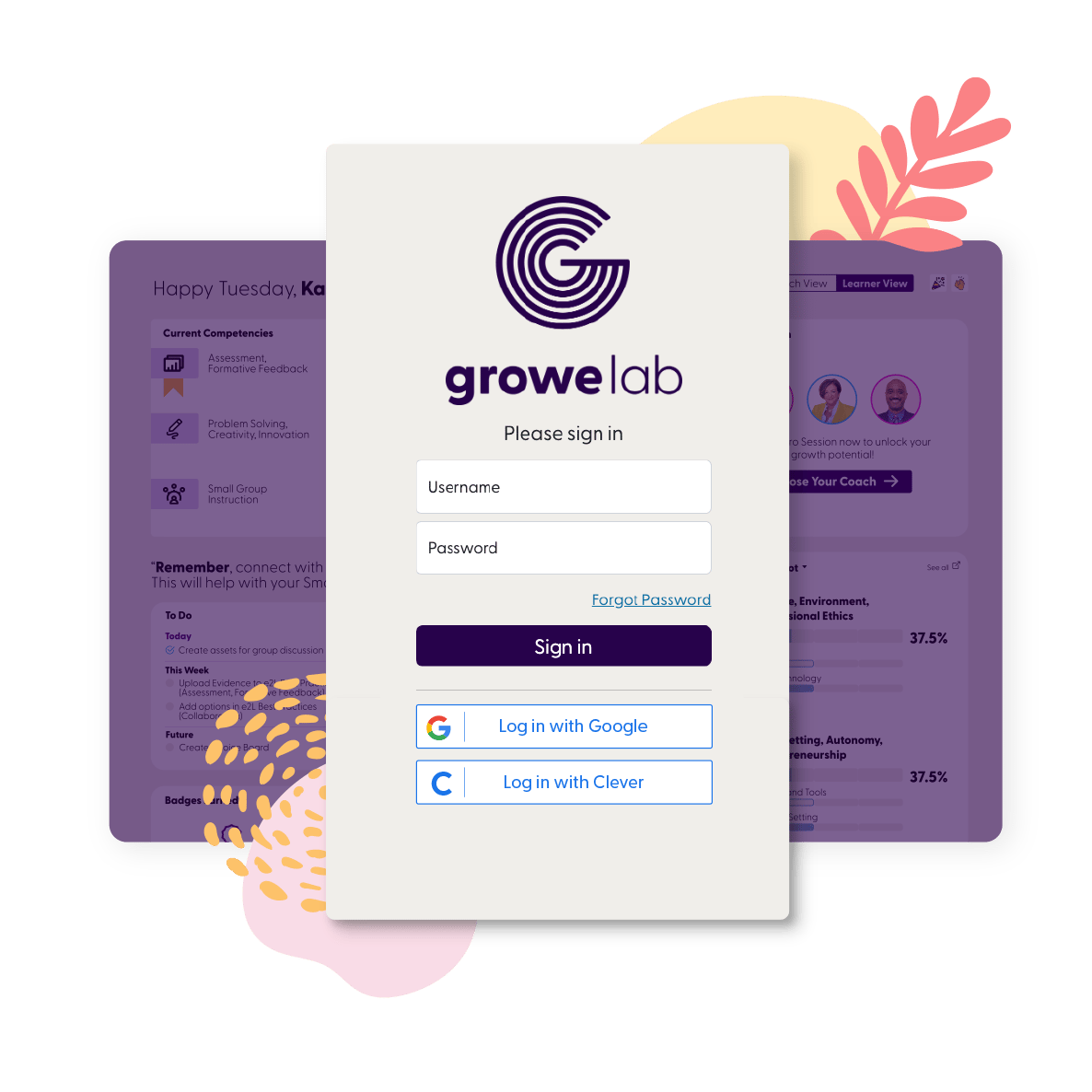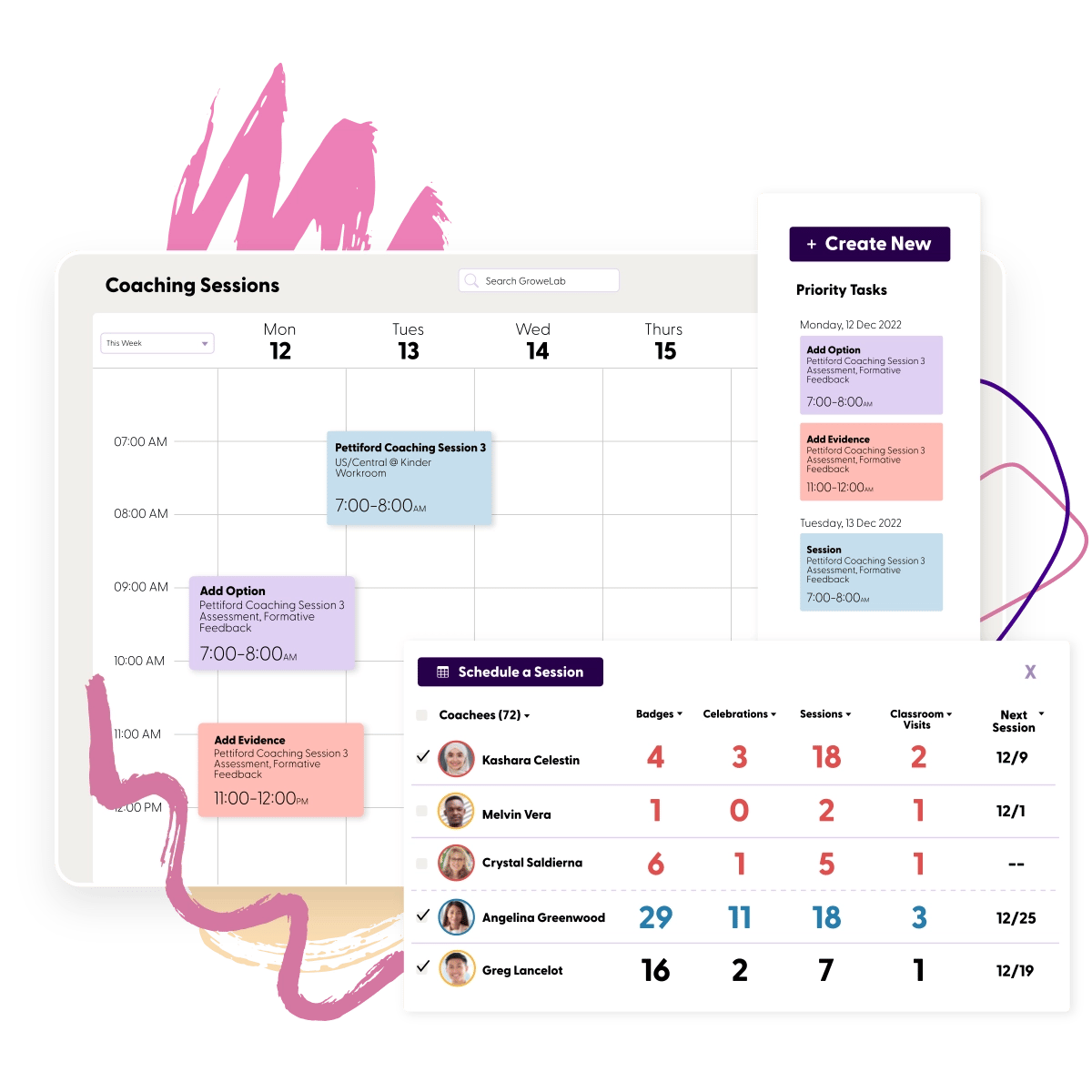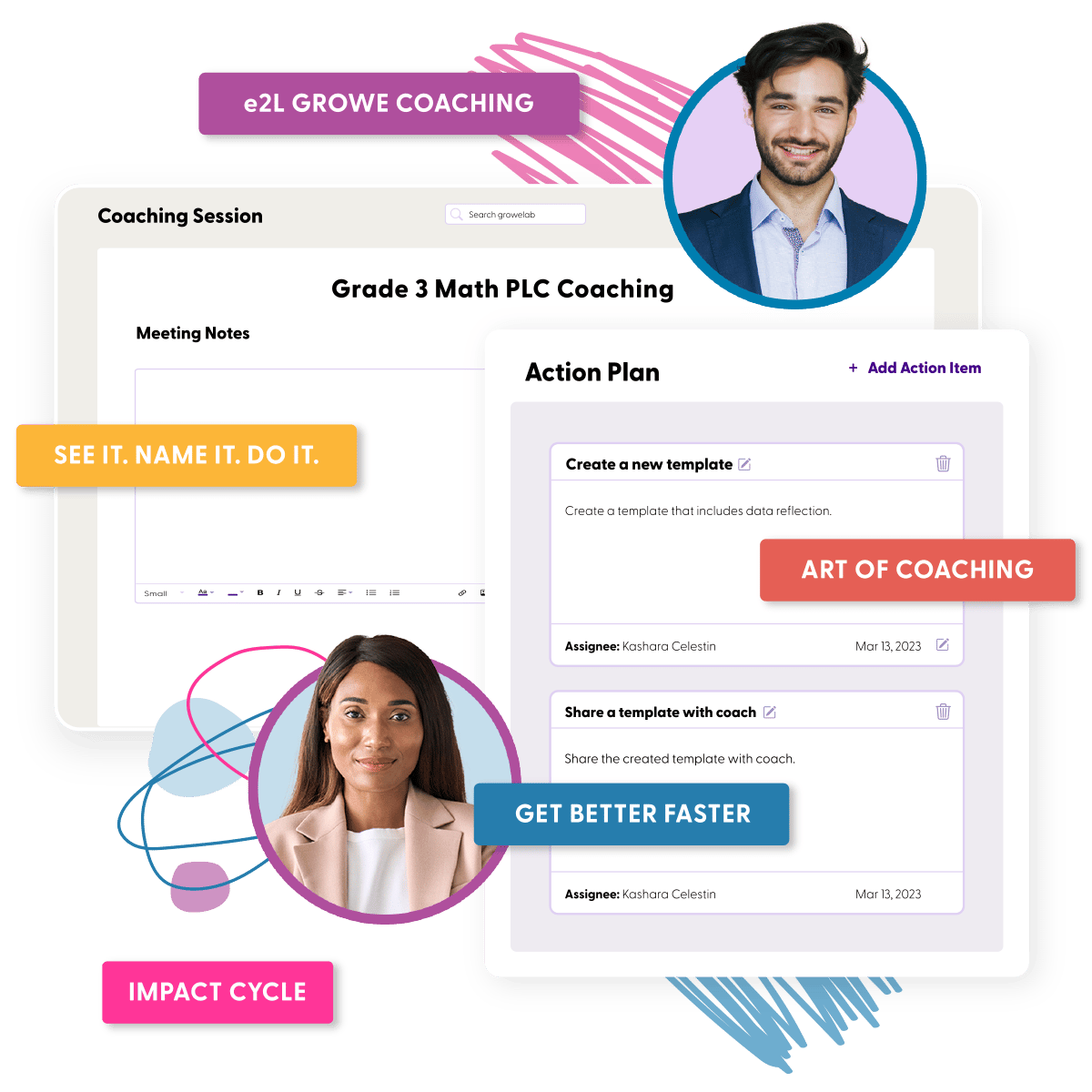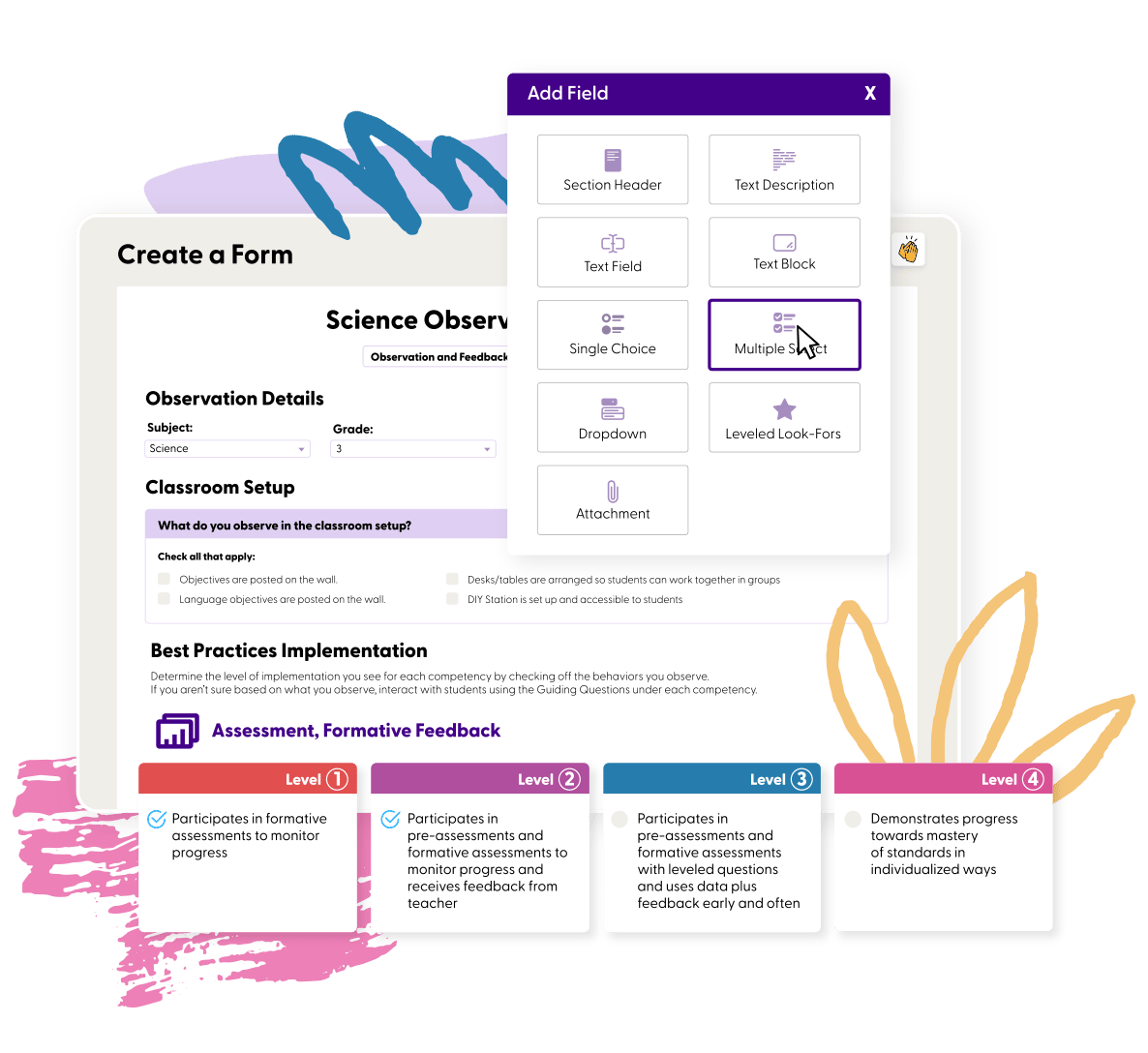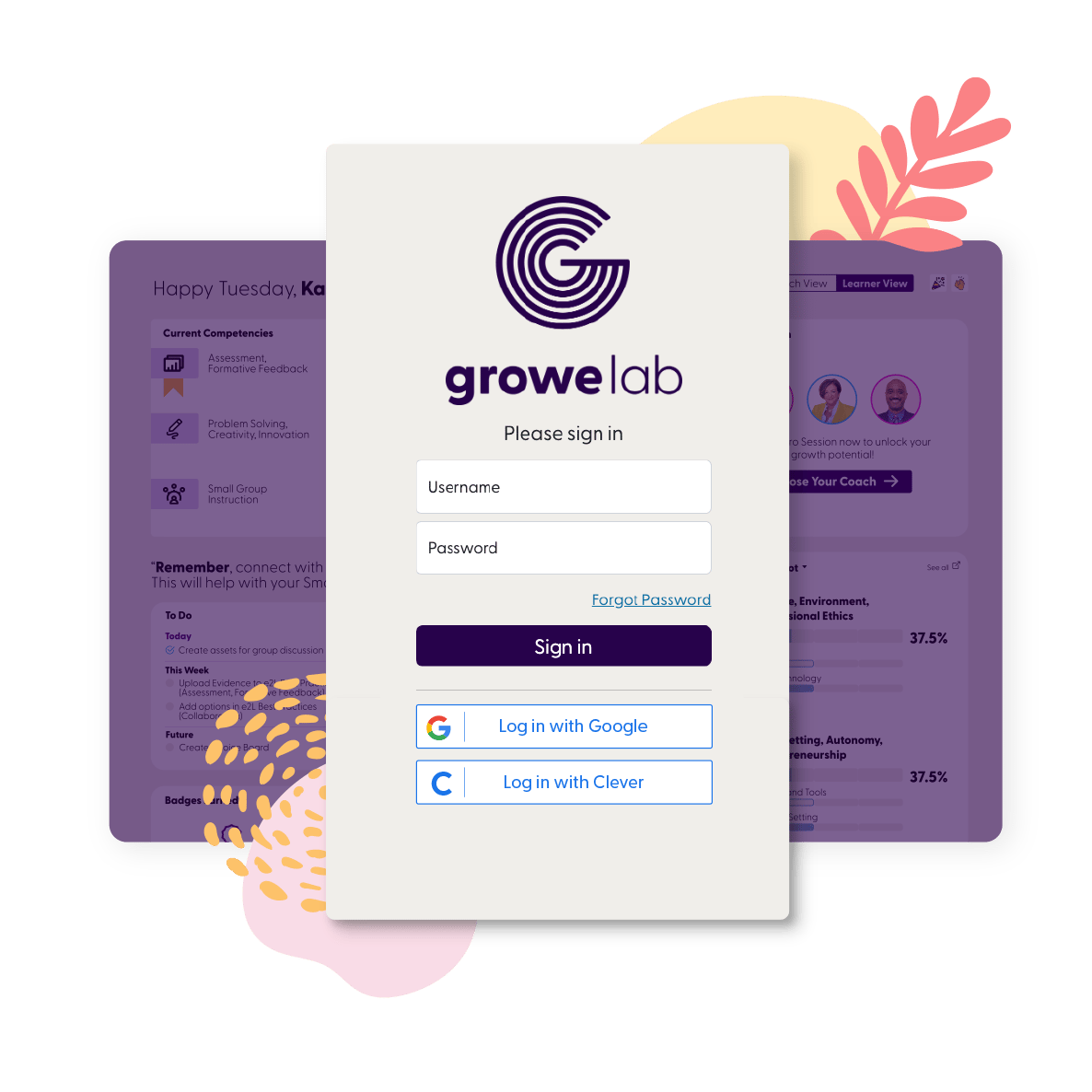 Grow future leaders by investing in (all) your current talent.
GroweLab does more than just support the growth of teachers. Public schools use GroweLab to grow people at all levels of the organization. In fact, the platform includes coaching tools, competencies, and resources (and the ability to customize everything) to upskill talent for all of your people.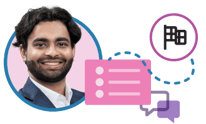 Instructional Coaches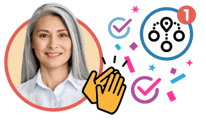 Principals & School Leaders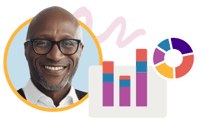 Principal Supervisors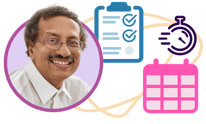 Non-Instructional Staff
Connected data and reports give district leaders deep insights to make high-impact decisions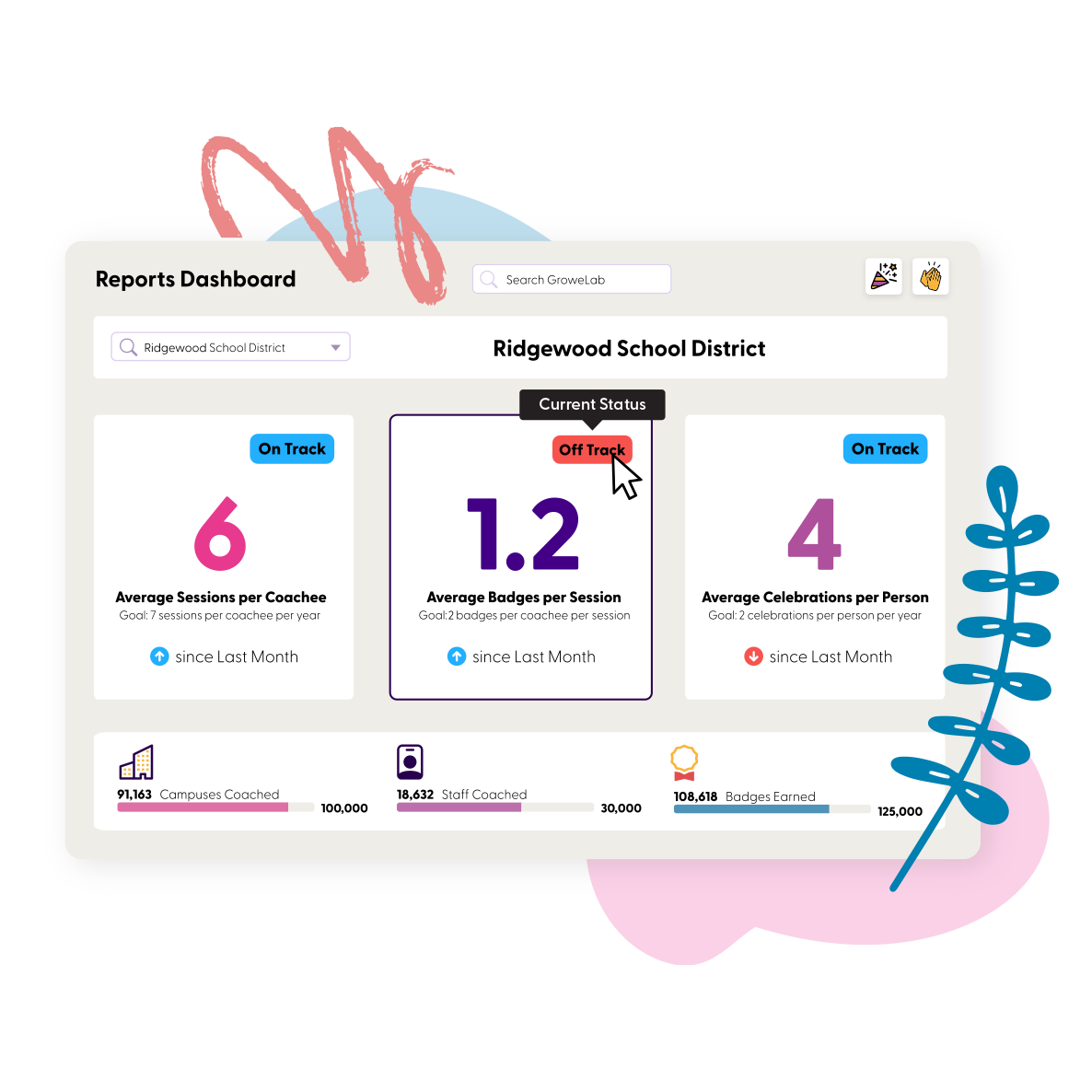 District-level goals & progress monitoring
Add your district-level coaching and growth goals to GroweLab to monitor and track progress on your success criteria aligned to your district's key priorities.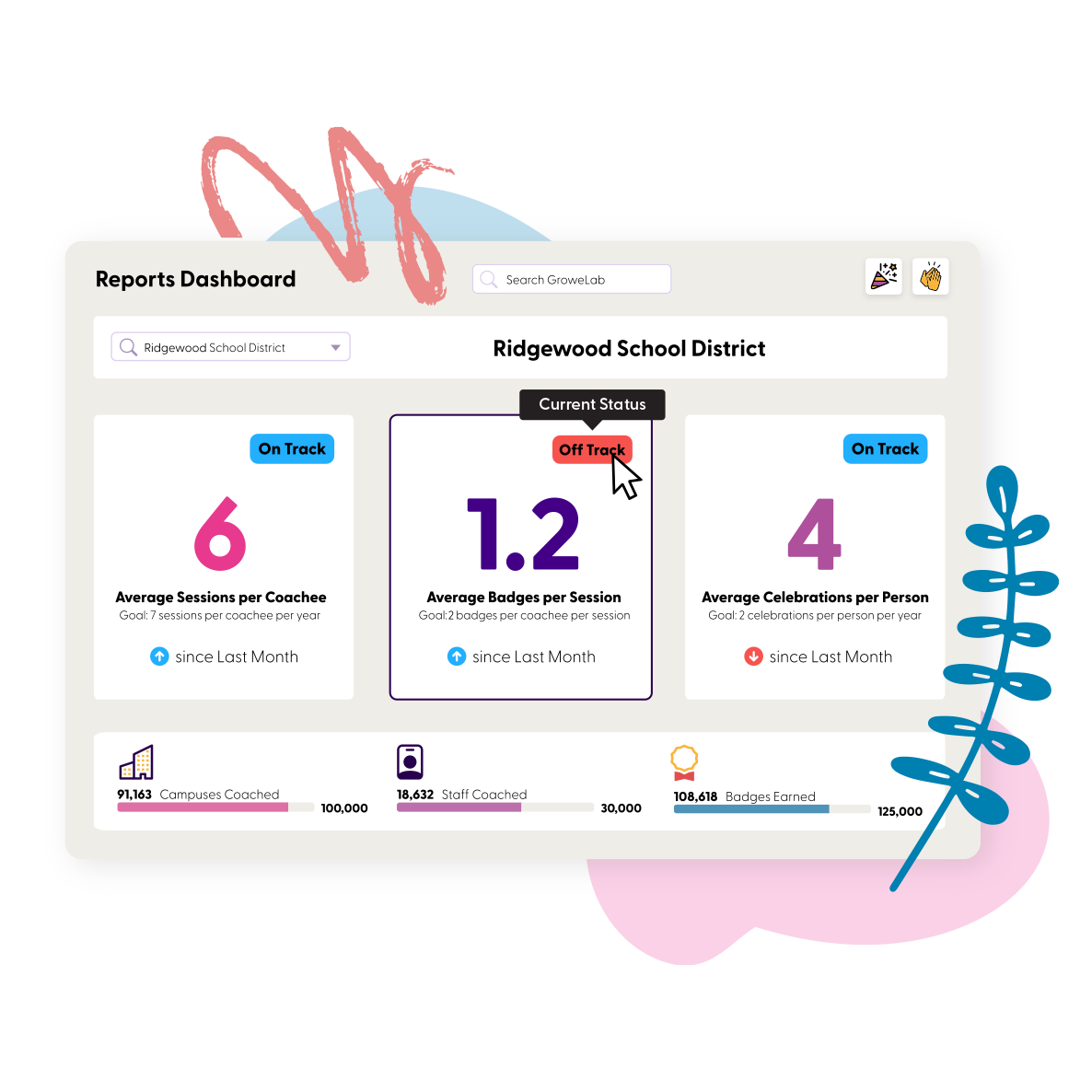 Identify support gaps & growth gains
GroweLab's reporting dashboard lets district leaders quickly identify which schools and teachers are not getting the support they need and which ones are excelling with accelerated growth.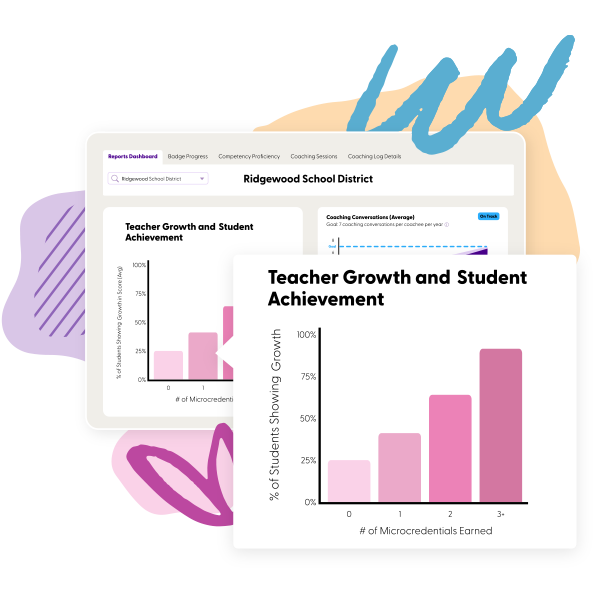 Connect coaching & growth to impact on students
Never before have district leaders been about to correlate outcomes data from coaching directly to student achievement data to gain deep insight into the impact that your coaching and professional growth is having on students.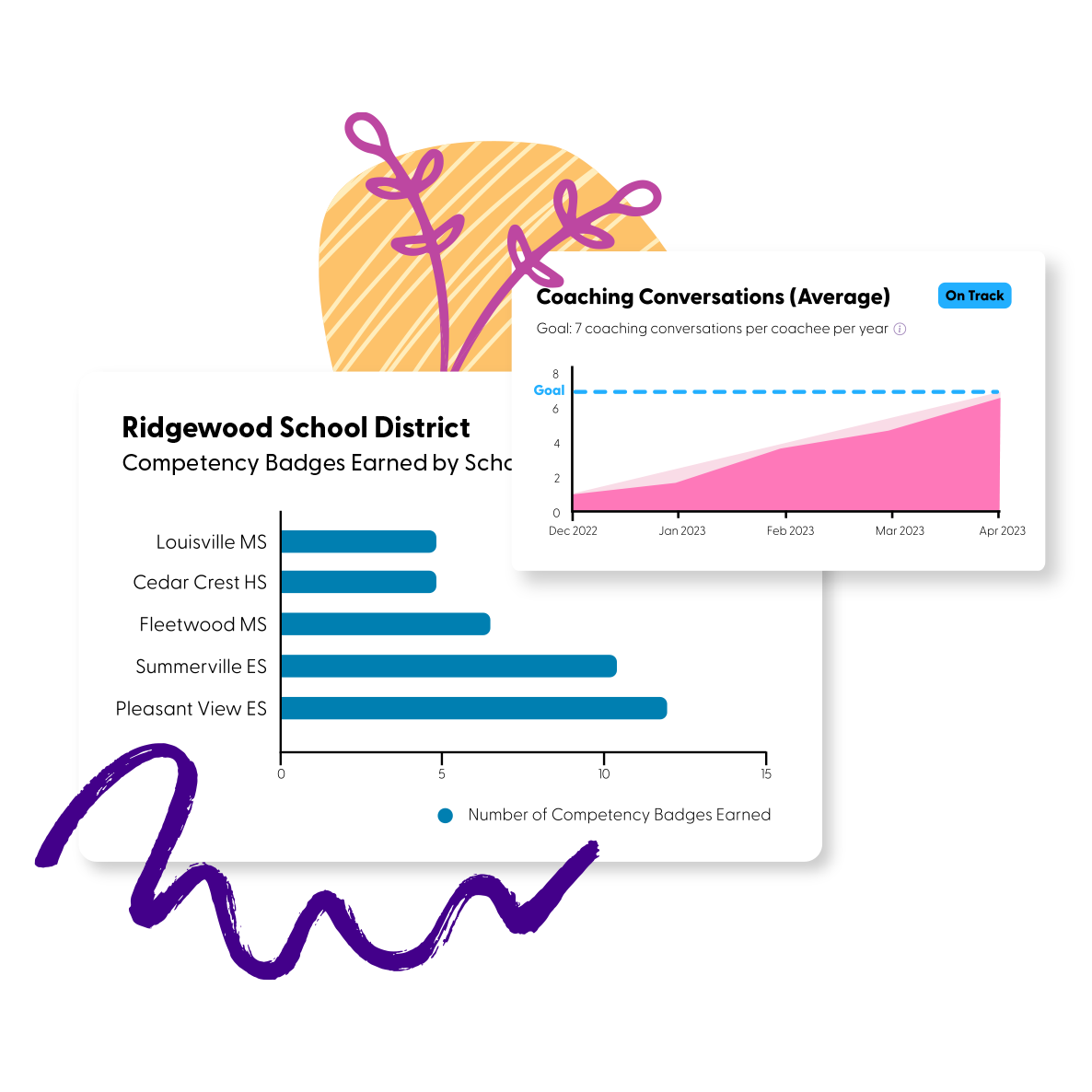 Go deeper with filters and drill-down data
Go from bird's-eye view to in-depth analysis in just a few clicks and keep all of your district, school, and individual coaching and professional growth analytics at your fingertips.
Public Schools Nationwide Trust engage2learn to Help Them Grow Their Talent
Since 2011, we've been on a mission to help the neighborhood public school be the first choice for every family. At engage2learn (e2L), our diverse team of elite educators is passionate about helping public schools design, build, and implement coaching and talent development systems that improve teacher retention & job satisfaction, accelerate student achievement, and increase capacity and momentum for instructional and non-instructional staff to grow in their roles