2021-2022
Talent Development Report
Efforts & Impact
How public schools are leveraging coaching & support systems to improve outcomes for students and transform school culture.
Talent Development Report Overview
Over the past few years, educators and administrators have been working hard to navigate uncertain waters in the time of COVID-19, and many districts have relied on engage2learn (e2L) to help ensure they are able to meet their goals for teachers and students alike. To showcase the hard work and amazing results of our partner districts, we have compiled coaching and growth data captured in eSuite, along with state demographic and student assessment data, to create the 2021-2022 Talent Development Report.
Download the full report to see how e2L partner districts are leveraging coaching and professional growth to better support English Language Learners, close learning gaps in reading and math, and even transform school culture by investing in facilities and support staff members.
Report Sections: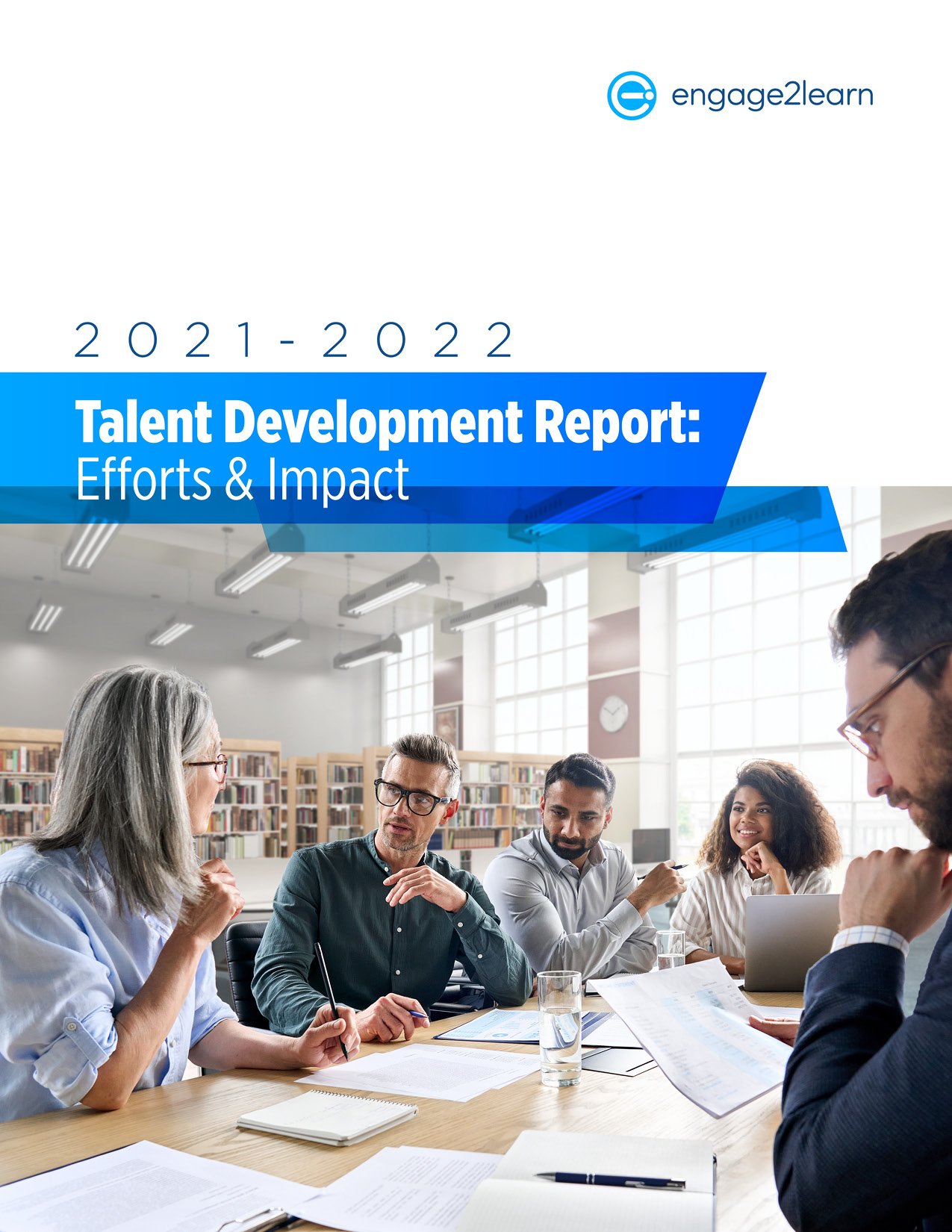 e2L Partners with Districts of All Sizes & Types
Since the release of our 2019-2020 Coaching Impact Report, our reach as a company has steadily expanded, serving 74 partner districts and over 4,500 public education professionals across 9 states in the 2021-2022 school year.
We're proud of the opportunities that our wide variety of partnerships and service areas give us to work with diverse learner and educator populations, with a notable rise in districts seeking out equitable support for English language learners (ELLs) and their teachers.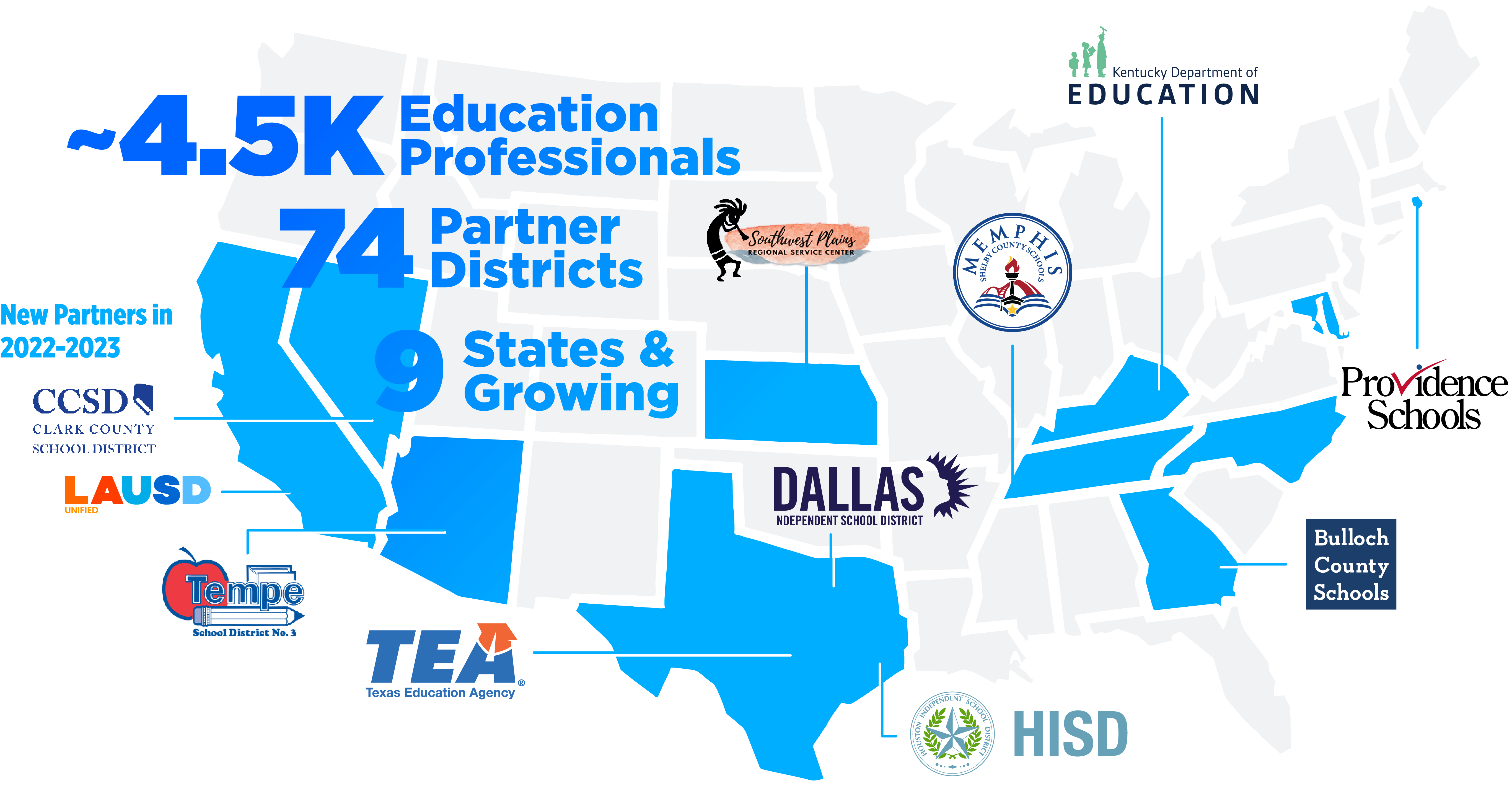 Days of Service by District Type
Median Student Demographic for e2L Partner Districts
65%
Economically Disadvantage
15%
English Language Learners
11%
Students with Special Needs
Talent Development at Scale
From March 2020 through March 2021, Congress earmarked upwards of $190 billion for the Elementary and Secondary School Emergency Relief (ESSER) Fund to help schools address the many challenges precipitated and exacerbated by COVID-19. With additional financial support aimed at elevating educators and accelerating learning, districts nationwide chose to invest in talent development support and solutions from e2L because of our proven track record of accelerating educator growth and student achievement.
Over the course of the 2021- 2022 school year, e2L coaches and internal district coaches trained in e2L's coaching and talent development methodology provided personalized support to a total of 4,516 public school educators and staff. Following the eGrowe Coaching Model, coaches supported educators through an average of four evidence-based coaching conversations throughout the year.
Coaching Conversations by Role
Coached Staff by Role
Teacher Growth is the Leading Indicator of Student Growth
To substantiate and objectively measure the impact of e2L coaching on educator and student success, an independent, third-party evaluator — Learning Experience Design (LXD) Research — compared 2021-2022 NWEA MAP reading and math data for K-5 students in a medium-sized partner district against educator growth data on core instructional best practices.
What resulted was the ESSA Level 3 K-5 Efficacy Study, which shows that job-embedded talent development support from e2L has a statistically significant impact on student growth in reading and math, a particularly valuable finding as American public schools grapple with addressing the implications of pandemic-related disruptions in learning.
---
Achieving, Recognizing, & Celebrating Educator Growth
Best Practice Standards

2021-22 Badges Earned
Educators work tirelessly to keep up with an often unpredictable and challenging — albeit rewarding — line of work. Recognizing educators as often and as openly as possible is a necessary component of talent development, teacher retention, job satisfaction, and fostering a positive school culture. To ensure educators feel seen and celebrated, e2L's coaching methodology awards progress badges (also known as microcredentials) to educators in our talent development platform every time they reach a new level of mastery on key competencies and/or instructional best practices.
2021-2022
Talent Development Report
Efforts & Impact