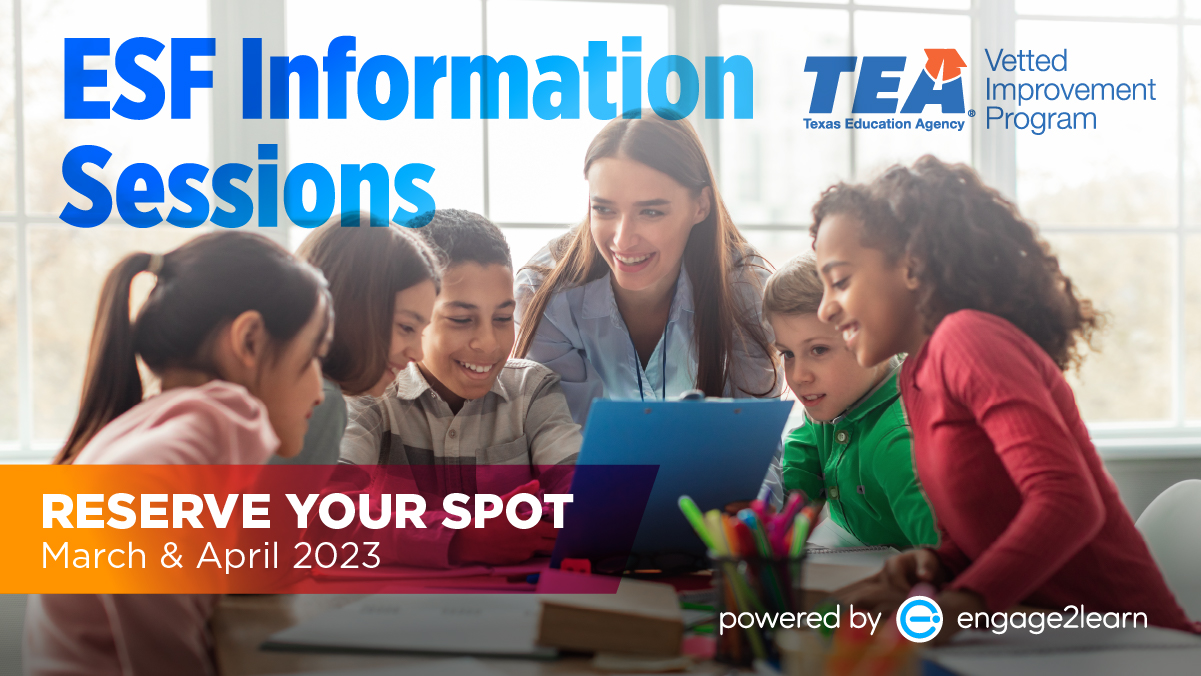 TEA ESF Information Sessions
TEA ESF Information Sessions Registration
Beginning March 13, 2023, eligible Texas schools will be able to apply to receive up to $100,000 in school improvement funding through the Texas Education Agency's (TEA) ESF-Focused Support Grant!
With the support of engage2learn's (e2L) Catalyst Coaching Program – a Vetted Improvement Program (VIP) approved by the TEA for all five levers deemed essential for driving school improvement – you can empower your teachers with the tools and skills they need to deliver high-quality instruction proven to accelerate student achievement and cultivate a positive school culture.
Whether you need support completing and submitting your school's grant application, designing and launching a TEA-approved VIP, or anything in between, e2L is here to support you!
Attend a free, 30-minute informational and/or office hours session to get the full rundown of the ESF-Focused Support Grant, scheduled throughout March & April and facilitated by e2L's school improvement & TEA grant experts.
March
Structured info sessions with time for Q&A
Wednesday, March 15: 9:00 am, 11:00 am
Tuesday, March 21: 7:30 am
Thursday, March 23: 4:30 pm
Wednesday, March 29: 1:00 pm
April
Open office hours for application support, Q&A, etc.
Monday, April 3: 12:00 pm
Tuesday, April 4: 7:30 am
Wednesday, April 5: 4:30 pm
Thursday, April 6: 12:00 pm
Can't make any of our live sessions?
That's okay! You can watch our on-demand TEA ESF sessions instead.
Watch On Demand TEA ESF Information Session Now