4 Reasons Why Personalized Teacher Coaching Matters
When I first joined engage2learn, I was most excited about the opportunity to make an impact across multiple school districts through personalized coaching. Most importantly, as a product of public schools, a child from poverty, an ELL college student, and the only one of six kids to graduate from college, I wholeheartedly believe in engage2learn's mission: to make the neighborhood public school the number one choice for every family.
After almost four years of coaching principals, teachers, and campus coaches at various Texas schools, I can say with confidence that the educators I've coached have learned, reflected, and grown from our coaching interactions. This growth has directly impacted their students' outcomes and their campus' cultures.
However, little did I know that coaching others would also provide such incredible personal and professional growth. So much so that when reflecting on my coaching experience I often wonder, "Who is truly coaching whom?" In this work of service I have learned many lessons, and I am more convinced than ever of the necessity and benefit of personalized coaching.
Let's be clear: right now, our collective and urgent call-to-action is to focus our efforts on overcoming disrupted learning and the best way to do that is by providing teachers and school leaders the support and resources they need to accomplish this overwhelming task. So, how exactly can personalized coaching benefit your educators? Let's examine four reasons why personalized coaching can provide you with the leverage you need to support your teachers and principals, your district, and, ultimately, your students.
01. Personalized Coaching Builds Collective Efficacy
In this current and ever-changing reality, you may feel like you're too busy to get a coach, or there's not enough money, time, etc. Truthfully though, no reason will suffice. Our teachers and school leaders are struggling, and they need support now! One school administrator recently posted on social media: "I know how important it is to create supportive and engaging working and learning environments for teachers and students, but I haven't figured it out yet. I am barely surviving each day."
The challenges of our current reality and the resulting changing education paradigms, such as maximizing technology as a tool and not as a substitute for instruction, learning about and managing innovative instructional models, designing and executing high quality and engaging synchronous and asynchronous instruction, taking care of students and teachers' well-being and socio-emotional health to name a few, demand intentional and ongoing planning and strategic support.
As our fearless leader recently said:
With this in mind, offering teachers and leaders personalized coaching is no longer a commodity or a "nice to have" support system – it's a necessity. We can no longer afford to waste money, time, or energy on short-lived initiatives or one-time traditional professional development.
Personalized teacher coaching builds both instructional and leadership capacity from a systems-thinking perspective and produces transformative change. However, in order for personalized coaching to flourish, it must be supported by a culture focused on leadership and instructional efficacy and collaboration. The question is, how do we build that culture?
No doubt, school leaders are the driving force behind the strategy of building a culture of collective efficacy. School leaders exert a great deal of influence over what the school culture values and prioritizes. Ultimately, teachers are the ones who craft this culture with their daily commitment, behaviors, and practices. When school leaders and teachers receive personalized coaching, they can more efficiently and effectively align efforts. This strengthens their collective efficacy and improves school culture, resulting in increased student outcomes.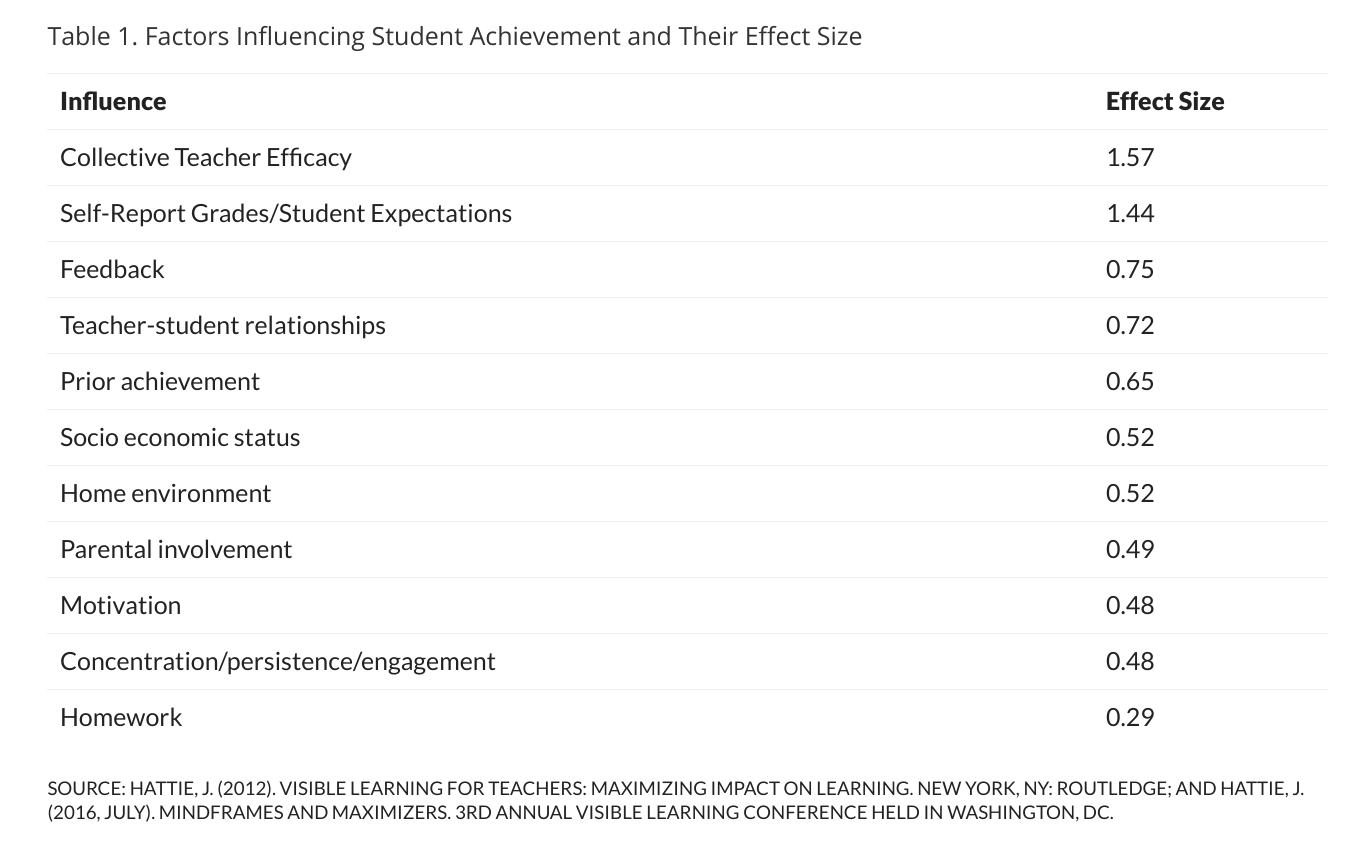 Since building a culture of collective efficacy requires system-wide examination and intentional actions, it makes sense to provide personalized coaching focused on growing teachers and leaders based on their individual needs.
It is so important that, as Table 1 demonstrates, "With an effect size of d=1.57, Collective Teacher Efficacy is strongly correlated with student achievement." Although there are other contributing factors, "collective teacher efficacy is greater than three times more powerful and predictive of student achievement than socioeconomic status." (Hattie) So, is it fair to say that focusing on building collective teacher efficacy is a value-ridden investment, not to mention an urgent call-to-action?
Let's be honest. We all know that supporting educators has always been important, but now more than ever, it is imperative to implement systems that promote a culture of collective efficacy, support, and recognition. Teachers and leaders deserve and desperately need this support. Personalized coaching, simply put, provides a research-based, results-oriented, and evidence-based framework resulting in growing collective teacher and leadership efficacy and achieving equity and excellence for all students. Certainly, personalized coaching is worth the time, effort, financial, and human capital investment.
02. Personalized Coaching Has More Impact Than Traditional PD
Moving student achievement to meet district and campus goals takes a focus on empowering and growing teachers and school leaders' collective efficacy.
A growing body of research confirms that instructional and leadership coaching are more effective for teacher growth than traditional forms of professional development. (See Table 1, Joyce & Showers, 2002) Accordingly, coaching focused on providing ongoing support and guidance has a 99% transferability into practice. No doubt, the immediate value-added of personalized coaching can directly impact the culture of your district/school.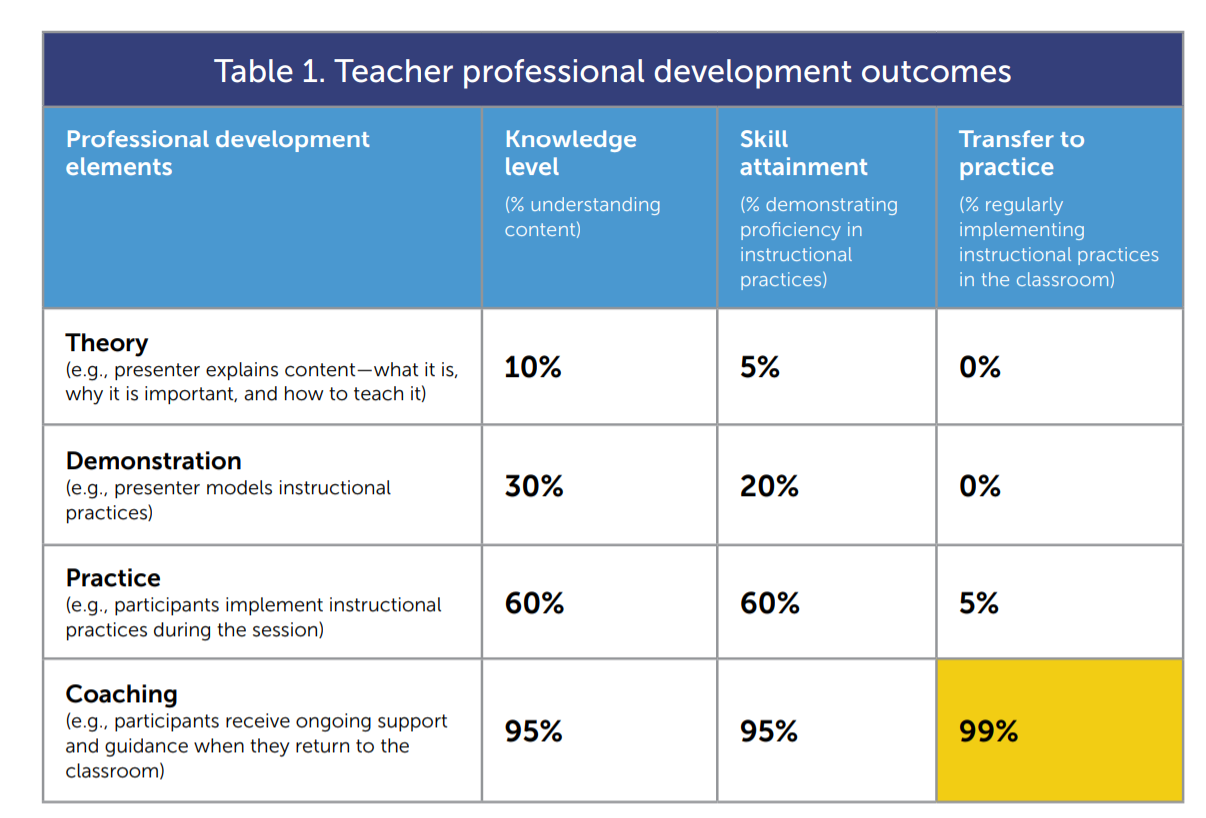 Many agree that the professional development sessions offered on campus at best provide innovative strategies, but their impact is fleeting and, at times, disconnected from the individual needs of teachers, leaders, and students. A report from the Center for Public Education stresses that "the duration of professional development must be significant and ongoing to allow time for teachers to learn a new strategy and grapple with the implementation problem."
Additionally, the report states that PD programs of 14 hours or less did not affect student achievement at all—in fact, they failed to even change teachers' practices.
On the other hand, instructional and leadership coaching must be personalized, authentic to the needs of the teacher/leader, collaborative, and inquiry-based in order to maximize its impact on the bottom line. Personalized teacher coaching can have an immediate impact on teachers' efficacy because it directly impacts how teachers learn and also how they teach. When teachers feel good about the progress they make, they become better teachers, and this helps improve teacher retention. As a result, more teachers stay in the profession because they feel supported and successful. The same can be said for school leaders too.
When teachers and leaders participate in ongoing personalized coaching, they not only immediately implement the new knowledge and skills in their daily practice, but also engage in an ongoing, reflective process using evidence to continue growing their knowledge and skills. (See Table 1, Joyce & Showers, 2002).
But don't just take my word for it. One of my former El Paso ISD coachees shared this reflection with me: "You challenged me to think outside of my comfort zone so that I could approach situations in ways that I usually wouldn't have thought to. Doing so helped me grow, and when I still could not come up with a solution, you were there to help by introducing various techniques that I had not seen before. As a result, I am more confident and my students have a better teacher!"
In summary, research supports the assertion that professional development alone does not produce the best return on investment; personalized coaching does.
"Coaching can build will, skill, knowledge, and capacity because it can go where no other professional development has gone before: into the intellect, behaviors, practices, beliefs, values, and feelings of an educator," Elena Aguilar states in The Art of Coaching. "Coaching creates a relationship in which a client feels cared for and is therefore able to access and implement new knowledge. A coach can foster conditions in which deep reflection and learning can take place, where a teacher can take risks to change her practice, where powerful conversations can take place and where growth is recognized and celebrated. Finally, a coach holds a space where healing can take place and where resilient, joyful communities can be built."
03. Personalized Teacher Coaching Curtails Turnover
Educators all over our great nation are struggling—that is our current reality—but educators are also remarkably beating the odds and doing their best to serve the needs of their students. Simon Sinek recently stated, "People who wonder whether the glass is half empty or half full miss the point. The glass is refillable." Our educators continue to refill their glasses because they know that in order to serve their students, they cannot pour from an empty cup. We also know that "when teachers thrive, students thrive." Hence, it is incumbent upon all of us to remain acutely aware that Teachers' Wellness Matters, Period, perhaps now more than ever.
Current research warns that teacher shortage is a threat to our schools and to our ability to provide high quality teaching and learning, especially in low income and minority areas. I suspect that this threat is growing as a result of the challenges and disruptions caused by COVID-19. According to this article from The Virginia Journal of Education:
"The teacher shortage has serious consequences. A lack of sufficient, qualified teachers threatens students' ability to learn. Instability in a school's teacher workforce (i.e., high turnover and/or high attrition) negatively affects student achievement and diminishes teacher effectiveness and quality. And high teacher turnover consumes economic resources (i.e., through costs of recruiting and training new teachers) that could be better deployed elsewhere. The teacher shortage also makes it more difficult to build a solid reputation for teaching and to professionalize it, further perpetuating the shortage. In addition, the fact that the shortage is distributed so unevenly among students of different socioeconomic backgrounds challenges the U.S. education system's goal of providing a sound education equitably to all children."
When leaders and teachers thrive and grow their skills, they are better prepared and more willing to engage. Engaged teachers strengthen their learning communities, assume multiple leadership roles within the school community, grow their leadership and instructional skills, and collaboratively deal with uncertainties and problems of practice. Accordingly, a former Fort Worth ISD coachee stated: "My coach is an inspiration and rock-solid figure that afforded me wonderful growth opportunities throughout our time together. Discussing meditating and coaching with my coach supported me in practicing and incorporating how to fit mindful practice into my everyday life."
As a coach, it is my responsibility to provide teachers and school leaders with the necessary support to enhance their craft. I know as well as they do what's at stake. Based on my experience, job-embedded coaching anchored on research-based best practices is the "One Thing" that helps teachers thrive and commit to remaining in the profession for the long haul.
04. Teacher Coaching is a Catalyst for Change
There are many forms of coaching out there. Choosing the "right" one for your teachers and leaders is the first step to maximizing your return on investment.
e2L's eGrowe Coaching Model, "our secret sauce for success," is simple, yet powerful. After ten years of serving over 245 districts, our personalized, research-based instructional and leadership coaching is anchored on rubrics that are scaffolded for levels of growth, as well as a robust data tracking system. Through a structured discussion, the coachee engages in a deep-level discussion of his/her current reality. Guided by the coach, the coachee selects the areas of focus that best meet the coachee's most pressing problems of practice or systemic challenges.
Once goals for growth have been established, specific actions are collaboratively developed. The coachee determines and collects evidence, which springboards the next coaching session. The subsequent teacher coaching cycle begins with reviewing the evidence to determine goal attainment. Then new goals and options are discussed and selected for continued growth. Because recognition enhances each coachee's disposition and commitment, multiple opportunities are embedded in this process to celebrate successes through bright spots, endorsements, and rubrics-aligned badges.
"Working with my engage2learn coach afforded me the opportunity to vet my ideas for developing the active learning process on my campus with a seasoned veteran of public school work. The principalship is often a singular isolated position in which decisions must be made with minimal collegial input at the leadership level. Having the ability to share ideas, identifying optimal activities for teacher and student growth and engaging in personal growth activities has been invaluable."

Principal, El Paso ISD
A coachee from San Angelo ISD, who serves as a district-level principal coach, said coaching using the eGrowe Coaching Model has provided a seamless process to help ensure their leadership teams are setting goals each week based on best practices. Their principals are making remarkable growth by working on just a few of their goals each week to accomplish them.
"This has made the work feel manageable," they shared. "Our campuses have done an amazing job of putting processes and procedures in place to help ensure our teachers and students are successful."
Another El Paso ISD teacher stated their biggest takeaway from personalized coaching:
"The most valuable lesson for me has been the awareness of what I think I am doing in class versus what I am actually doing in class. The ability to stop and think about what I am actually doing and what I can try to better my techniques to help my students is very valuable for me."
In summary, when educators increase their collective efficacy, they also exponentially increase their engagement, initiative, self-efficacy, clarity of purpose, collaboration, and accountability. As a result, student academic achievement and socio-emotional well-being also increase exponentially. The bottom line is that educators' collective efficacy guarantees an effective teacher in every classroom. Thus, collective efficacy becomes a high leverage equalizer of every students' access to a high-quality education, resulting in equity and excellence for all.
Systemic Transformation is Possible with Personalized Teacher Coaching
Making changes stick takes time. A one-time, bite-size professional development is not the most effective way to provide the kind of support teachers and school leaders need and, most importantly, will not produce the kind of results we need right now.
COVID-19 is bringing about many challenges to our education systems, and the resulting teaching and learning paradigm shifts are demanding that teachers and leaders improve or develop innovative skills. We now have the chance to redesign our outdated learning environments so that our classrooms provide students the opportunity to develop and master the skills they are going to need to level the knowledge and opportunity gaps when entering the job markets of the future. However, in order to do that in a responsible and impactful manner, doesn't it make sense to provide timely and appropriate support, training, coaching, and resources to our teachers and school leaders?
Personalized coaching will improve and grow your teachers, school and district leaders, and internal instructional coaches, and will also contribute to improving your district/school culture, instructional and leadership collective efficacy and practices, and ultimately will result in increased student outcomes.
As one coachee from San Angelo ISD wrote:
"The eGrowe coaching has helped our principals feel like they are not alone in the work, and it has helped keep the focus on what is most important to move the campuses forward."
The sense of urgency of our current reality demands we engage in transformative actions in order to catapult our current education systems into Education 3.0. Personalized coaching is a powerful and impactful transformative approach to school improvement and systemic transformation. If you believe that personalized coaching is the "One Thing" that will help you build a culture of learning focused on growing and sustaining internal instructional and leadership collective efficacy, as well as maximizing your return on investment, consider starting your partnership with engage2learn today!