Creating Autonomous Learners: One District's Move Toward Agency and Innovation
One question has haunted the mind of every teacher during the COVID19 pandemic: "Are my students really learning what I'm teaching them right now?" Interrupted learning has been the chief concern of educators throughout this switch from in-person to virtual learning, followed closely by how to mitigate it. While all teachers have gone to great efforts to provide engaging learning experiences for their students this past year, many have said their advanced academic students are simply not receiving the stimulation they need through online learning.
When Susan Pelezo, executive director of advanced academics in Aldine ISD, recognized this distressing trend in her district, she knew they had to act fast. Through a partnership with engage2learn, Aldine ISD set to work, creating a defined learning experience for their advanced academic students to ensure their needs were being met during virtual and/or concurrent learning.
Too often, instead of receiving differentiated learning experiences tailored to their advanced learning needs, advanced academic students simply receive extra school work on top of their regular work as a way to "challenge" them. Instead, Aldine ISD has worked courageously to create a framework utilizing differentiated instruction to give advanced academic students the extra push they need. Through the Aldine ISD Advanced Academics Learning Framework, these initiatives are captured into the "One Thing" that ensures innovation and achievement for advanced academic students.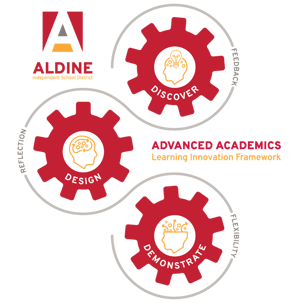 The Aldine ISD mission statement promises the district will provide a rigorous and enriching educational experience for their students. Through the Advanced Academics Learning Framework, Susan said their advanced academic students are provided with an opportunity to autonomously design their own rigorous educational blueprint.
"Their personalized blueprint is a collaborative created with their teacher," Susan explained. "They create a personal learning experience that allows them to engage with the content in a deep, meaningful, and complex manner."
Agency and Excitement
As someone who went through the Gifted and Talented framework during her time in school, engage2learn Coach Kellie Simon attests that the learning experiences advanced academic students get excited about stand or fall on their differentiation and innovation, rather than an additional workload.
As an elementary child in a GT classroom, Kellie explained that she and her classmates were always excited about school thanks to the projects and group work her teachers assigned.
"In my class, it felt like there was always an exciting task to look forward to. Whether it was a math game, a research project for social studies, a science experiment, or a collaborative writing assignment, we were challenged and engaged," Kellie said. "I always felt like I had agency over my learning."
Once she got to middle school, and especially by high school, she added, her classes started to lose their appeal.
"We did a lot more worksheets and textbook work than I liked, and since I was in pre-AP classes, it just meant that I got to do more than the other kids," she said. "I started to wonder: Why couldn't we approach learning in the same engaging manner as we did in elementary school?"
This is the mindset Aldine ISD has employed when creating a new, advanced academic experience for their students in grades K-12 who need to go beyond a basic educational framework in order to achieve their full potential, have agency over their learning, and become excited about school again.
Aldine ISD's Advanced Academics Program is composed of Gifted and Talented, honors, and AP students, many of whom are first-time college-bound students. The design team's challenge was to create a learning experience founded on differentiation for each of these students in the Advanced Academics Program. Once the Aldine Advanced Academics Learning Framework was established, Aldine ISD's teachers were able to implement it during the Fall 2020 semester.
The result? Enriched learning for advanced academic students and successful scaffolding for teachers in the classroom. No longer are advanced academic students saddled with extra work that feels endless and mundane. These students are now receiving an individualized workload based on their specific mastery of the standards.
A District's "Why"
The creators of the Aldine Advanced Academics Learning Framework had a goal: to ensure their advanced academic students are not forgotten, but intentionally focused on during this time of virtual and concurrent learning.
When Susan reached out to engage2learn in the summer of 2020 to create a defined learning experience for advanced academic students, she knew it would be a challenge due to the nature of the virtual environment. However, thanks to the rapidly changing nature of communication, education, and business in the age of COVID19, engage2learn switched from onsite to virtual training and coaching overnight, and therefore had no problem helping Aldine ISD institute an online program for their advanced academic students.
When Susan presented the idea to Aldine ISD's Chief Academic Officer Todd Davis, Ed.D., he was immediately on-board and excited to bring a team of various stakeholders in the district to create the Aldine ISD Advanced Academics Learning Framework.
"The Advanced Academics Learning Framework provides a coherent structure to ensure equitable access to relevant and enriching learning opportunities for our Gifted and Talented students, who are often underidentified and underserved," Todd said, describing why Aldine ISD believed it was necessary to create the Aldine Advanced Academics Learning Framework. "I am excited that our advanced students will finally receive the instruction and support to be academically competitive with students across the nation and to graduate with amazing choices and opportunities."
Likewise, Jarrod Fredericks, a United States history teacher at Victory Early College High School and a collaborator on the Aldine ISD Advanced Academics Learning Framework, said this program was created to provide agency to the students as their teachers facilitate their learning.
"Our Call to Action focused on acknowledging the talents of our students and letting them take charge as much as possible when working toward their future," Jarrod said. "The Framework encourages this through placing the student as an active, rather than passive, actor in the learning process, guided by the teacher at every stage. The Framework is a clear and direct structure in which the student and teacher move together towards student knowledge and application."
A Productive Partnership
The dedicated Aldine team members were able to create the learning framework in a virtual setting using the excellent resources and planning provided by their engage2learn associates, Jarrod said.
"It was a great modeling experience as a teacher, to see best practices in directing large groups to create collaborative products," he recalled. "The use of Google Suite and Zoom enabled all participants to stay informed and have a say in every step."
From detailed daily agendas with direct links to all files and folders, to those same folders containing all that they needed with clear labeling and editing access, the Aldine team was able to collaborate and plan their next steps in creating the framework. In Zoom, they were able to smoothly transfer between breakout rooms and whole group meetings, where Aldine staff could share thoughts and updates between their working groups.
"The virtual setting actually enabled more involvement, as team members could conduct research between meetings and all materials were constantly available online," he said. "Every member of the Aldine team was able to create, view, and provide feedback at every step of designing the Advanced Academics Learning Framework."
Future Focused
During the creative process, Jarrod said the Aldine team constantly evaluated what language and imagery the framework would have.
"Clarity and agency remained at the forefront of my mind," he said. "A clear framework is one that both students and teachers can quickly pick up and use, without a long training cycle, because delays only lead to confusion and reduced outcomes for students."
Student agency is especially critical in today's environment, he said, where students build skills for a changing future. It enables advanced learners to better meet their own needs. "I believe that our Advanced Academics Learning Framework meets both goals, and I look forward to seeing the framework in Aldine's classrooms."
Going forward, Susan said it is especially important that advanced academic teachers receive the adequate support to fully help their students thrive in this new, innovative framework, especially in the age of COVID19 and virtual learning.
"In addition to our engage2learn coaches, we have pilot coordinators at each campus who will work with teachers between coaching sessions," Susan said. " The coordinators will monitor progress, help teachers reflect upon and adjust their practices, and, in general, act as a sounding board for our participant teachers."
Aldine ISD has also implemented Teaching and Learning Content Program Directors, who are very involved with coaching and guiding teachers as they use the curriculum in new ways.
The Aldine ISD Advanced Academics Learning Framework gives teachers a pathway to providing learning to advanced academic students that is strategic and based on best practices. With clarity and focus on student agency as top priorities, the framework will help students boost productivity and self direction, particularly in an online learning environment. Aldine ISD is looking to the future of education for all students as they embark on this path of innovative, differentiated learning experiences.
Next Steps
If you are thinking about how to provide a relevant and engaging learner experience for students in any program or classification, consider bringing a design team together virtually or onsite in your district to collaborate on their community-inspired vision for the ideal learner experience. For more information on how to engage in this process, visit our e2L blogs listed below.