How Teacher Coaching Transformed My District
By: Abby Hancock, Executive Director of Curriculum and Instruction, Pampa ISD
My name is Abby Hancock, and I am the Executive Director of Curriculum and Instruction for the Pampa Independent School District (ISD) in Texas. I have had the pleasure of working in tandem with engage2learn (e2L) to utilize their coaching methodology and eSuite platform for almost two years. As a former English teacher with an affinity for writing, I'm thrilled to be able to share the story of Pampa ISD's partnership with e2L.
It began in the spring of 2020 when Pampa ISD began looking for new ways to fully support our teachers virtually due to COVID. I was an instructional coach at the time, and it was such a huge and frightening shift for us all.
Pampa, Texas, is a relatively small town, and honestly, most of us had never even been on a Zoom call before COVID happened! If I had something important to discuss, I got in the car and drove across town to meet and speak in person. Needless to say, COVID necessitated a virtual environment for education. At Pampa ISD we had to quickly decide what was going to best support our educators and our students.
Instructional Coaching Before COVID
For several years, Pampa ISD had been utilizing instructional coaching to provide additional support for teachers who needed it but with a methodology that differed from e2L's. Pampa certainly found value from the coaching methodology we were using, but because it was very direct and not individualized, we realized over time that our coaching was really only useful for teachers who needed more direct guidance.
For example, I would enter a classroom of a teacher I was coaching and the script would remain the same. "This is what I saw. This is what needs to be fixed. I'll come back to see that you've fixed it next week." This worked with some of our educators, but, especially in light of COVID, we needed a way to meet the unique needs of all our teachers.
| RELATED: 4 Reasons Why Personalized Teacher Coaching Matters |
In addition, our previous method gave coaches examples for how to document the growth of their coachees, but the documentation on its own was hard to understand without long conversations to explain and support it. As a coach, I would recreate the suggested documents and forms to share with the administration, but to really understand the growth that was taking place, a meeting would be required to read through and explain the entire document. Rather than being built into the process, we had to carve out time to have specific conversations so everyone would be up to speed on what was happening during coaching.
Lastly, with the use of the previous coaching method, I found that I could only coach three to five teachers well at a time. The method could not scale for our needs, so only a small amount of chosen teachers were getting individualized support.
District-Wide Transition to Virtual Coaching
When COVID began to affect everything, our Superintendent at the time recommended that we attend e2L's Redesign Coaching Unconference that spring of 2020, an event designed to shed light on strategies for hosting virtual meetings, facilitating coaching sessions, and personalizing professional development. We had never thought about or explored coaching our educators virtually before, but looking ahead to the 2020-2021 school year, we knew it was a very real possibility.
My instructional coaching team and I split up the sessions between us, hoping to report back with something innovative about the programs, systems, or philosophy of virtual coaching. We watched our designated sessions safely from home, and we all came back with something from e2L that piqued our interest: eSuite, engage2learn's coaching platform.
eSuite was our jumping-off point to maximizing our coaching process through its individualized methodology and advanced data analytics.
An e2L & Pampa ISD Partnership Forms
Our interest in eSuite and a better way to document the growth taking place from coaching led to a partnership with e2L. We suddenly found ourselves with the thought partner we needed to hone our coaching methods and redefine our success.
Communication and Data
As I mentioned, we were already coaching before partnering with e2L, but with a different methodology. Each coach for Pampa ISD had a different way of documenting or communicating what was taking place during coaching conversations; this created ongoing obstacles and challenges for effective communication. Right away, we saw the potential of leveraging eSuite as a tool to get the best return on our coaching efforts, streamline documentation, improve communication, gather and analyze data points, and provide clarity.
Now our administrators all have access to eSuite and the coaching conversations happening across the district without the need for additional meetings to explain documentation.
Methodology for All
The more we explored eSuite and its incorporation of the eGrowe Coaching Model, we began to realize that the methodology behind the model was versatile and scalable. We saw the opportunity to implement coaching support for every teacher. eSuite allowed us to add a different coaching method to our toolbox that would meet the needs of more educators without overwhelming them.
Creating a Coaching Culture
With the goal of establishing a coaching culture at Pampa ISD, utilizing eSuite helped us develop the capacity and ability to scale to reach that goal. Everyone in the organization, from Superintendent to classroom teachers, believes in e2L's coaching methodology within eSuite and engages in the process no matter where they are in their professional journey. eSuite has allowed Pampa ISD to support the professional growth needs of all our educators through job-embedded coaching.
| RELATED: 3 Misconceptions About Instructional Coaching |
Whether we had a teacher that needed a thought partner to create new ideas, a teacher who had the ideas but needed the confidence to execute them, or a teacher who simply needed an accountability partner, eSuite was helping us to meet teachers' individual needs, scale our coaching system, and develop a supportive coaching culture.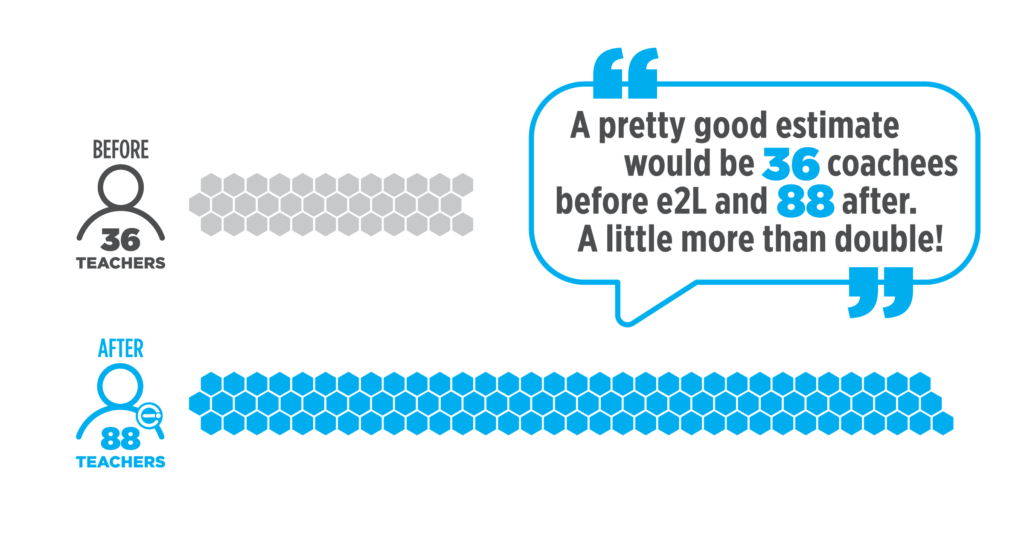 Defining & Tracking Success Criteria
Because our partnership with e2L and the use of the eSuite platform is an investment, we identify specific success criteria based on district-wide goals, e2L's coaching framework, and the measurable data within eSuite. From there, we use eSuite to strategically and frequently document, analyze, and communicate our successes.
Simply put, eSuite is how we keep tabs on the coaching process, collect information, and stay data-informed. We take a look at…
Are coaching conversations taking place?
How many coaching conversations are happening?
What are the coachees currently working on? What best practices are they learning and implementing in the classroom?
Are the coachees following through, producing evidence, or showing growth in the areas they set goals?
How does teacher professional growth affect student achievement?
…as just a few of the many data points eSuite has to offer.
eSuite also gives us the opportunity to highlight what the platform calls "Bright Spots", or endorsements, that coaches add about their coachees. Essentially, these bright spots are qualitative data points that we use to gain insight into the value that is being added to the district. Our principals throughout the district are knowledgeable about these bright spots and will actively comment to an educator in the hallway about their growth and achievements. We've had great success and feedback with this small change in communication between teachers and the administration.
The Power of People-Centered Support
Not that we didn't know this before, but the pandemic has highlighted the need for people-centered educator support more than ever. eSuite gives us the ability to focus on making sure the process is people-centered and meets the teachers' needs so that they can accelerate student achievement.
We see e2L and eSuite as a gateway to transforming what educators see and understand as professional development. We've known for years that when teachers sit through one-size-fits-all professional development sessions for the sake of compliance, they don't always get what they need to really grow professionally.
eSuite and the eGrowe Coaching Model infuse the agency of the teacher. They have a choice about what to work on, in which areas they desire to grow, and how they will show that growth to their coach.
engage2learn's researched-based coaching methodology is driven through the use of one-on-ones between the coach and coachee, thus restoring an educator's autonomy while providing support on transferring best practices into the classroom. You can't get more people-centered, growth-focused, and individualized than that. We're grateful for the partnership, guidance, and support that e2L has provided during these challenging times in our world, in addition to the clarity that eSuite provides as a coaching platform.
Ultimately, we keep our eyes on student growth. That's the end goal we want to see as a result of coaching in partnership with engage2learn, and we're confident that e2L will guide us there.
| RELATED: Cultivating a School Culture of Learning & Growth |