How to Avert the Looming Teacher Shortage | engage2learn
Let's take a temperature check for a moment.
When you glance at the news or hop on social media, you see the current problem of the bus driver shortage everywhere. Districts are pulling out all the measures to ensure that students have a viable ride to get to school. They are hiring outside transportation services, calling in the National Guard, and discussing pay raises with current employees. One superintendent even decided to get her CDL license so she could drive students to school herself, stating that "she wouldn't ask any one of the district's employees to do something that she wouldn't do herself."
While transporting students is on the forefront of the news, the tsunami-like wave that looms in the distance and has already begun to impact urban districts is the impending teacher shortage.
Let's take a closer look at the evidence of an increasing teacher shortage throughout the country, but with a hopeful lens that there are measures we can take to prevent the tsunami from leaving damage in its wake.
Who is Struggling?
Principals are searching far and wide to fill the many vacant positions within their schools, including those educators who are leaving after the school year has already begun. According to a recent EducationWeek (EdWeek) survey, 40% of district leaders and principals would label their current staffing shortage as "severe" or "very severe."
So, who is feeling the shortages the most? Urban districts, with 75% of respondents reporting shortages.
In a nationwide poll of educators by the National Education Association (NEA), 28% stated that the COVID-19 pandemic has made them more likely to retire early or leave the profession. An alarming portion of those polled – one in five – were new teachers with less than ten years of experience.
Brooke Olsen-Farrell, superintendent of the Slate Valley District in Vermont, stated, " We're still in this pandemic and I think feeling the effects even more so this year than ever before."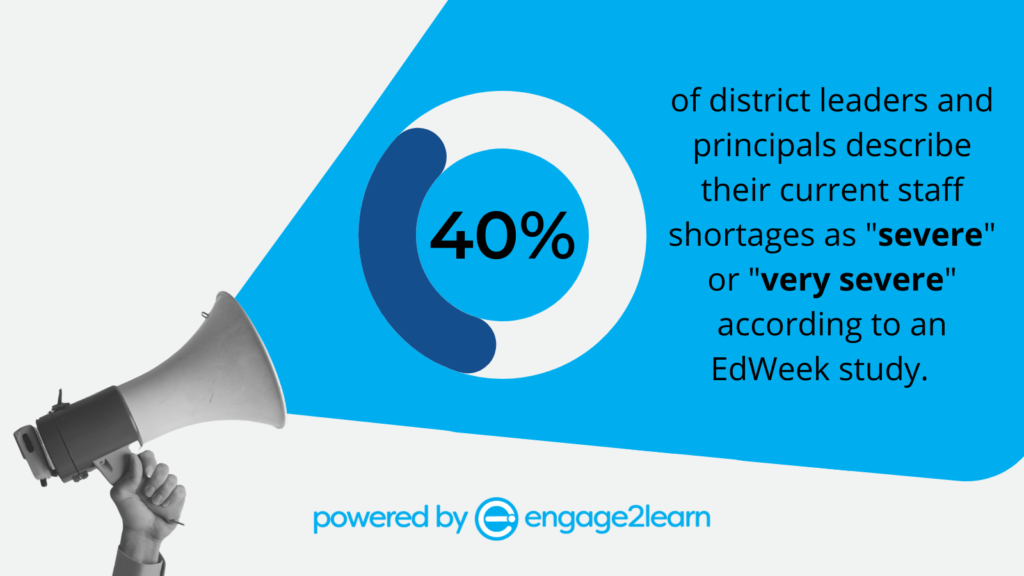 While some districts are hurriedly trying to implement pay raises, boost benefits, and dedicate more time for recruitment, the reality is that more often than not, these incentives don't offset all the additional responsibilities teachers are given to cover the shortage gaps. Add this to their already lofty teaching-in-a-pandemic stress, and frankly, it becomes fuel for the fire, sparking even more resignations.
A teacher of over ten years, who wishes to remain anonymous, spoke with engage2learn and admitted that they are now looking for a new job. "Teaching has changed so much within ten years, and the pandemic is doing no one any favors," they stated.
Charles Myers, a teacher of 13 years from North Carolina, also spoke about his recent departure from the world of education: "I believe education isn't one-size-fits-all, but that is what it has become, and I believe teachers have a hard job because they are constantly getting new things added to their plates." So when a job opportunity in technology came along for this third-generation educator last year, he decided to leave education entirely, admitting that it was a tough decision.
What's Causing the Teacher Shortage?
Beyond the added demands of teaching in a COVID-19 world, what are some other identified causes for the increasingly hard ability to fill vacant positions? Let's take a closer look at two known causes:
Fewer new education graduates from teacher preparation programs
A lack of fully qualified applicants
Fewer New Education Graduates from Teacher Preparation Programs
Low enrollment in Teacher Preparation Programs (TPPs) within the past decade is nothing new, but it is still on the decline. According to the Center for American Progress, since 2010 there has been a ⅓ decline in nationwide enrollment for TPPs and about 340,000 fewer students enrolled in prep programs today.
The American Association of Colleges for Teacher Education (AACTE) recently wrote an article on the strain that COVID-19 has had on TPPs across the nation. Programs, especially small ones, have seen a loss in enrollment as well as budget cuts over the past two years. This has led many programs to make the difficult decision of closing altogether.
The University of South Florida decided in 2020 to close its undergraduate TPP, shocking both the university's faculty as well as districts throughout Florida. The university cited low enrollment and budgetary cuts as the primary causes. Education leaders from around the state chimed in and said they depended on the program to fill vacancies, and they're not sure where exactly to turn next.
Teacher Preparation Programs play a vital role in the educational ecosystem, and as universities begin to close them, the repercussions will be felt at the district, state, and national levels. "It's a permanent loss of capacity to fill the nation's needs for profession-ready new teachers," stated the AACTE.
A Lack of Fully Qualified Applicants
A recent look into the nation's unemployment rate stacked against job availability determined that there is a disconnect between education and employability, according to Harvard Business Review. One can see where this plays into the world of education as a shortcoming for filling vacancies.
From a survey of over 1,200 district leaders, they named their top reason for shortages to be that they rely on first-year educators to fill openings, but the rookies may lack sufficient preparation to tackle the job at hand with success.
"Hiring teachers who have the potential but still need to develop their skills can lead to a revolving door," one respondent stated – and we all know what a revolving door of teachers can look like.
Ultimately it takes time, funds, and resources to bring in a new educator and prep them to teach in your district and schools. Did you know that on average it takes an investment of $20,000 to hire and train a new educator? So when we are all trying to be good stewards of the district's funds, it's a hard pill to swallow wondering if they have the self-efficacy to teach with confidence or if it will be another position to fill next year.
engage2learn's chief of staff, Chris Everett Ed. D, wrote in his recent blog about the most critical move to strategically support overwhelmed educators, discussing the importance of self-efficacy and supporting educators during this turbulent time.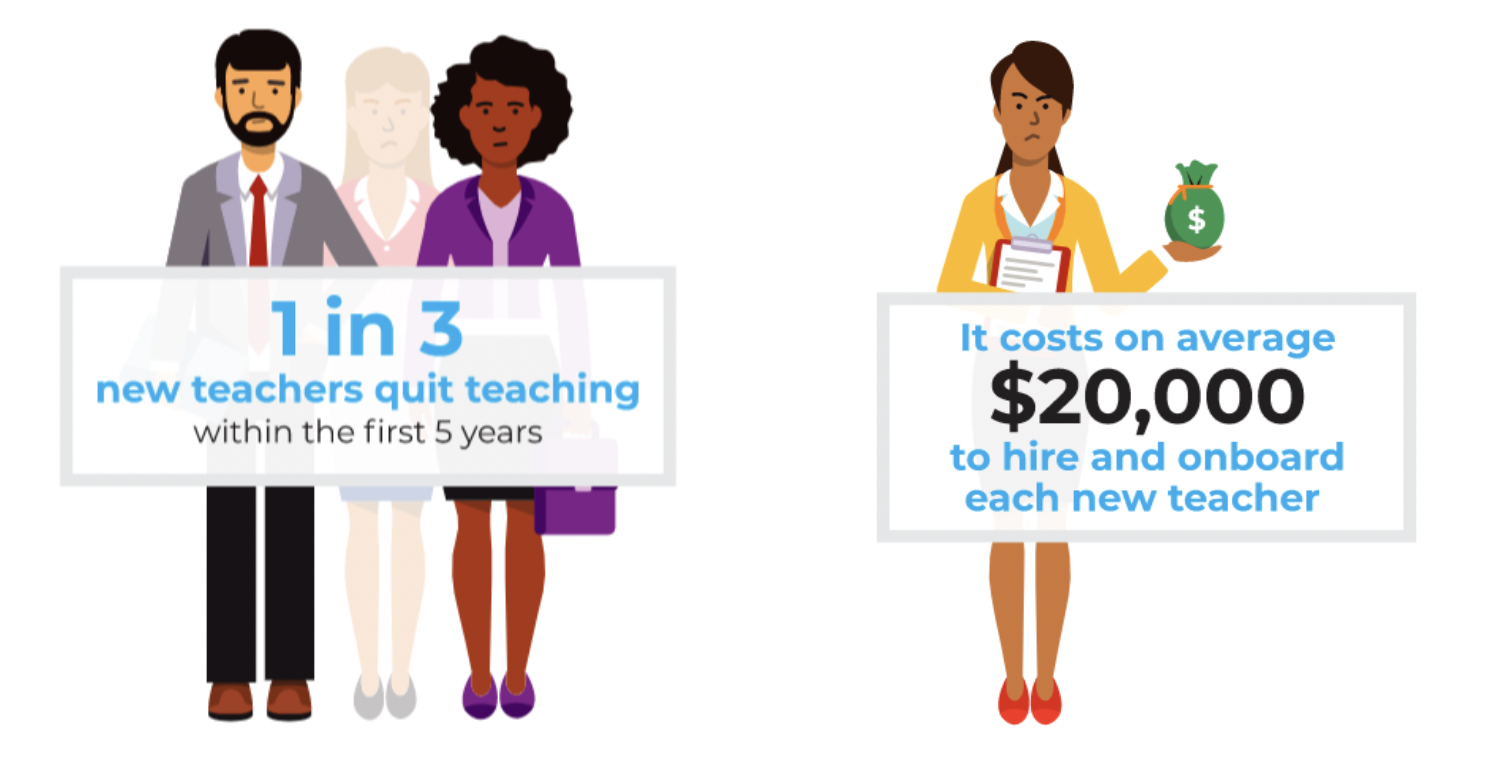 What Can We Do to Prepare?
With Teacher Preparation Programs taking a hit and the gap growing between new educators and their readiness to take on the job, what can we do to prepare and evade a teacher shortage?
It starts with an investment in personalized professional development for all educators no matter their length of experience.
Once you find those educators who can fill the vacancies, whether they are fresh out of a TPP or considered a veteran, it's important to help them grow and give them the support they need to thrive in your district. engage2learn offers one-on-one job-embedded coaching that gives that very support.
Coaching is a professional approach that customizes to fit the unique needs of each educator, closing the gaps in your new hires while continuing to grow your most trusted veterans. One-off professional development, while great in theory, has statistically little impact in the classroom. However, when teachers are paired with a coach, setting goals, and receiving support on what they personally need, the likelihood of regular implementation skyrockets.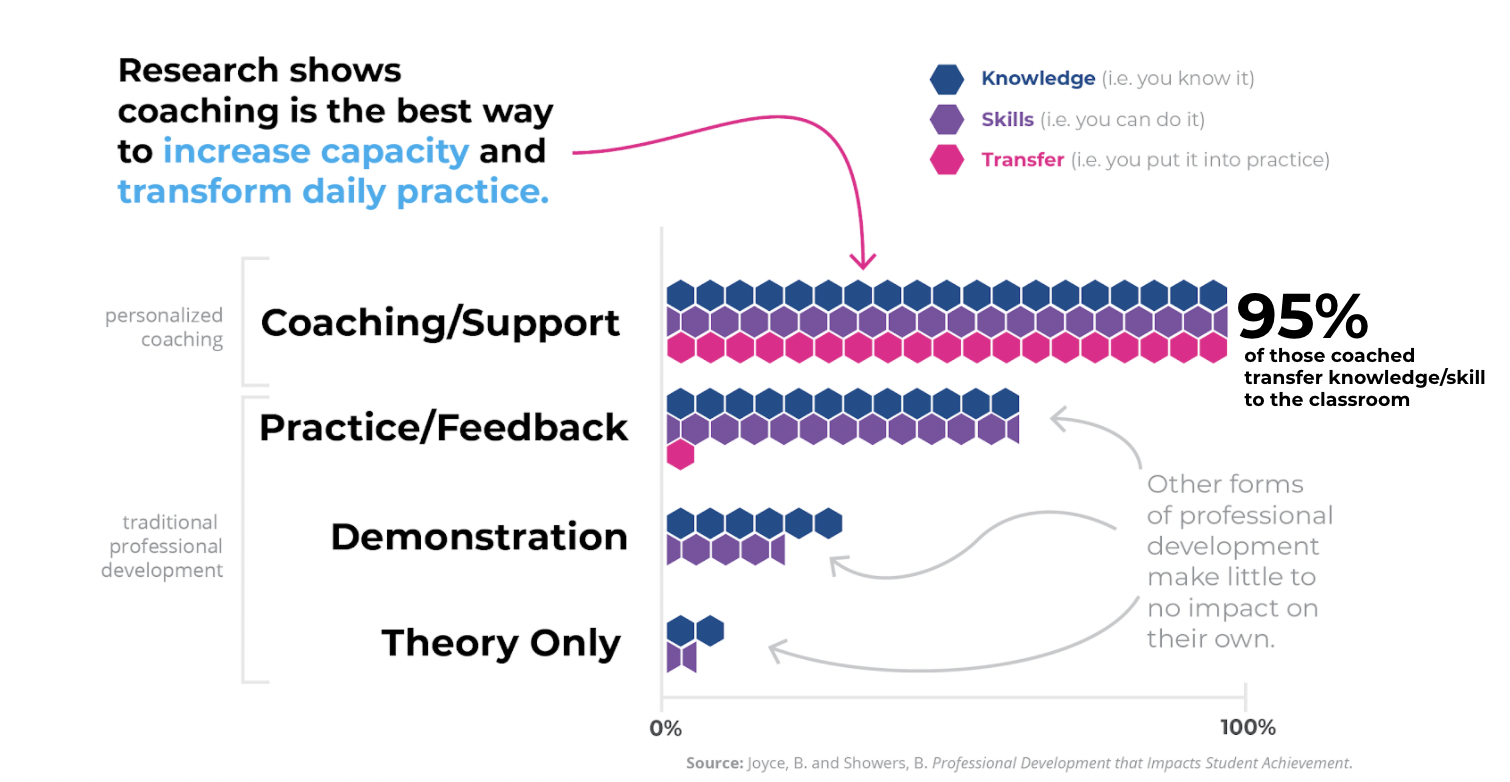 The best part about adding coaching as a regular practice in your district is that when you continue to see the growth of your educators, you're going to see the acceleration of student achievement as well! Coaching is much like planting a new tree. At first, the tree trunk and branches are thin, they can't support much, and they can easily break under stress.
However, when you choose to see the tree thrive, you support it in whatever way you can to encourage growth and become something greater. At the start, it may need extra nutrients depending on the soil. It may need extra watering depending on the weather. It may need tie-down supports depending on its shape. Each one is unique and needing something different in order for its best chance of success, and once given its best chance, it grows strong enough to offer things to those around them. Shade from the hot summer heat. Strong branches for a tire swing. Intricate roots to prevent erosion. Clean air for everyone to take in and breathe. Therefore, when we invest in our educators' individualized growth, they develop those strong "roots and branches" needed to continually provide support for our students. Our students grow when our teachers grow.
So if you're ready to prepare for the looming teacher shortage, to stop the revolving door, and to create educators who thrive and grow your district's students, then you're ready to invest in coaching. To learn more about all of engage2learn's services, including coaching educators, click here.