The Right Way to Scale Blended Learning (On the Border) | engage2learn
"You can't solve a problem on the same level that it was created. You have to rise above it to the next level." –Albert Einstein
Laredo ISD (LISD) engaged their community in a process to hear their vision for learners. As a result of this engagement, Laredo ISD stakeholders designed a new vision for learning, "Our Laredo ISD community of learners will be empowered with 21st Century technological and problem-solving skills to become well-rounded, productive citizens." In order to reach this vision for learning, Laredo had identified the problem they were trying to solve, which was to differentiate instruction for students to meet their needs. As a result, LISD decided to utilize the Math Innovation Zone (MIZ) grant to provide funding to create and implement their own blended learning model to prove a better foundation in math and allow for tailored/ differentiated instruction to attain mastery.
Laredo ISD believed blended learning would be the solution to address differentiated instruction because it combines online learning with face-to-face instruction. Teachers use technology to assist in pre-assessment of knowledge, determine different paths for each student learning, and make real-time accommodations based on mastery. However, Laredo knew they needed a partner to help them create their own blended learning framework. Therefore, through the MIZ grant, Laredo ISD partnered with engage2learn (e2L) to help facilitate a design team and create the Laredo blended learning framework aligned to the e2L Life Ready Best Practices©. To learn more about how they developed their learning framework, check out the e2L blog If You Build It . . . They Will Learn. LISD took the first step in building its framework by determining the skills Laredo learners needed to be successful by creating the Laredo ISD Learner Profile.
Problem-solver
College, career, and future-ready
Self-driven
Confident
Visionary
Effective communicator/listener
Life-long learner
Laredo ISD developed their blended learning framework, called the Innovative Learning Design. This framework ensures that learners not only acquire the learner profile skills but also are successfully meeting their academic goals since the framework is rooted in the e2L Life Ready Best Practices©. Laredo knew it wasn't enough to just design the blended learning framework, but that they would need to implement it with fidelity. Therefore, they enlisted the support of e2L coaches to provide ongoing training and coaching to leaders and teachers throughout the school year. To learn more about the reason many districts are turning to coaching to grow educators, read the e2L Blog, Why Coaching Works Best to Grow Educators.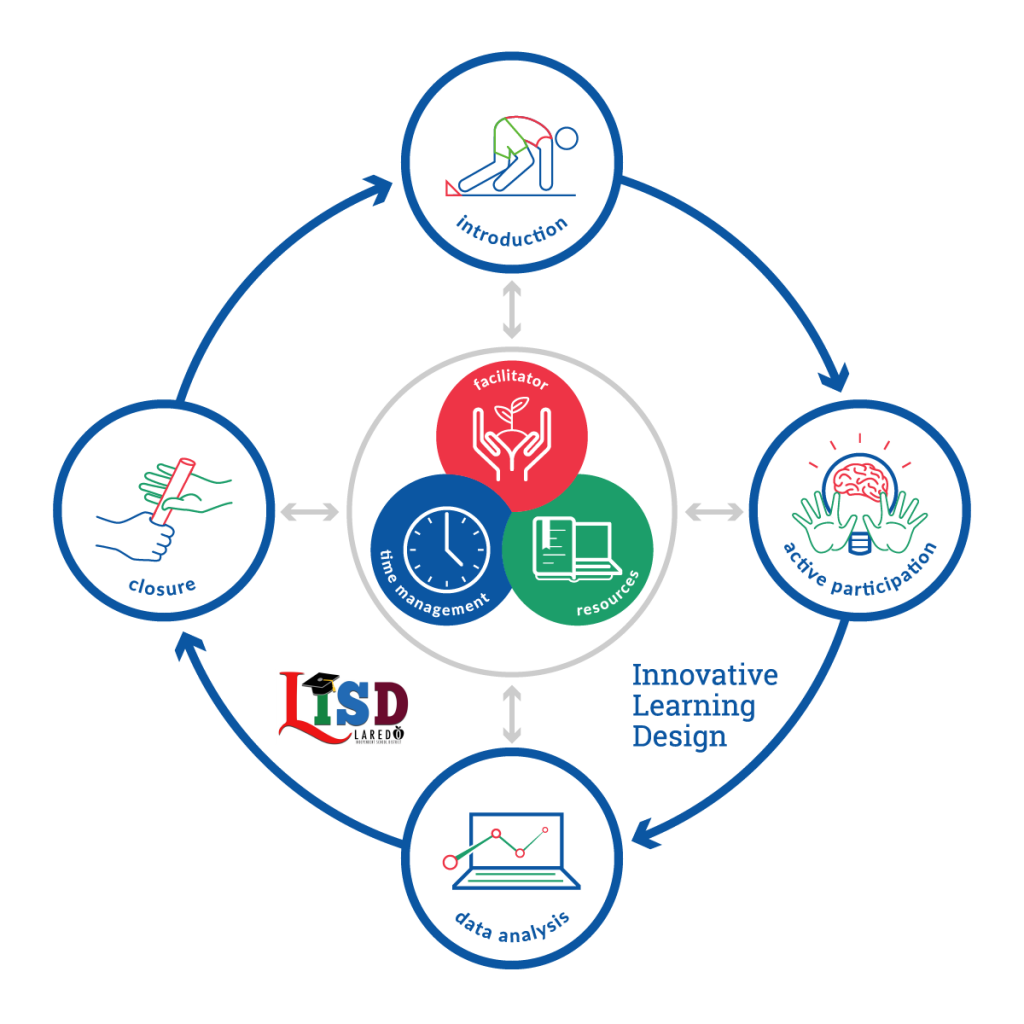 Laredo ISD first began training teachers in Summer 2019, by bringing together their kindergarten, 1st, 3rd, 4th, 6th, and 7th-grade students to design units aligned to the LISD Innovative Learning Design. They didn't stop with a one-time teacher training but provided ongoing support to teachers through coaching during the Fall semester. Laredo knew they wanted to develop capacity within their instructional coaches and developed a Responsible Rollout Plan through the e2L Coaches Academy approach. See more on Responsible Rollout by checking out the e2L Blog, How We Work Ourselves Out of a Job. This approach provides the opportunity for an e2L coach to coach the instructional coach on how to mentor teachers implementing blended learning best practices. Every teacher implementing blended learning is coached by one of the LISD instructional coaches. As a result, teachers and students are both growing. Check out what two principals and one district leader in LISD have to say about coaching support.
"As a Blended Learning campus, Heights Elementary School has augmented its implementation of best practices for monitoring and improving students' progress. With Blended Learning, teachers not only design standards-aligned assessments with varying depth of knowledge questions, but they also track their students' strengths through the implementation of formative and summative assessments. Additionally, the coaching process has enabled teachers to build capacity in the planning and delivery of their instruction. They differentiate instruction to meet the needs of all their learners during rotation stations, providing varied activities and resources, ensuring that all of our students continue to move forward." – Adriana Padilla, Principal, Heights Elementary, Laredo ISD
"Blended learning has had a great impact in the classroom. It has taken our students to another level of learning. The engagement component, along with the depth of knowledge that they are working at has positively impacted student learning and student success. The classroom flows smoothly as they learn, and students are having fun at the same time. In addition, the coaching process has also helped teachers take their content expertise to the next level. Teachers are becoming more of a facilitator in the learning process." – Melissa Valdez, Principal, Memorial Middle School, Laredo ISD
"The e2L partnership has been a critical component in the successful implementation of the blended learning model adopted by LISD. With their guidance and continuous support, LISD is at the forefront of innovation, providing our students with opportunities to excel in the 21st century. LISD is using these innovative practices to rise to the next level! The learners in LISD will be well prepared for the future." – Israel Castilla, Secondary Education Director, Laredo ISD
Laredo ISD has embraced coaching and created a culture where teachers and students can thrive in a tailored learning environment. Based on the 165 coach touches focused on growth in the e2L Life Ready Best Practices© that have taken place in Fall 2019, LISD teachers are earning best practice badges through the evidence they are showing of implementing those best practices.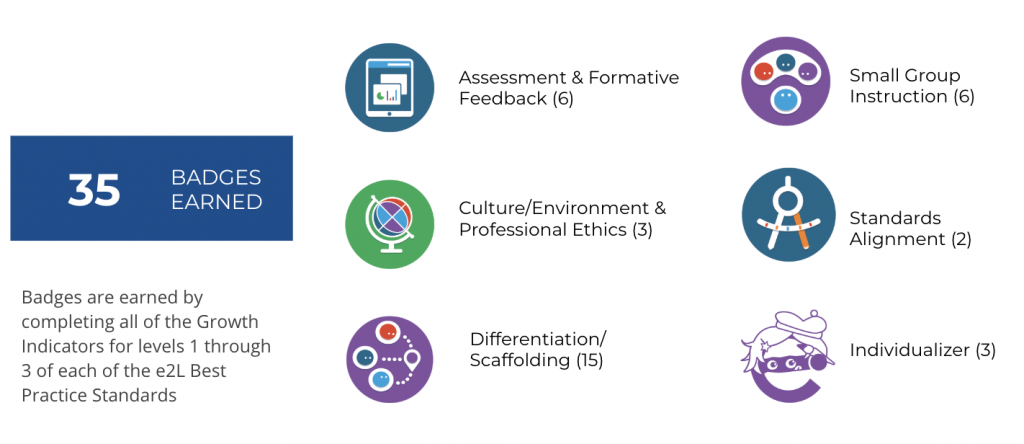 By teachers earning badges in the e2L Life Ready Best Practices© of differentiation/scaffolding, assessment/formative feedback, small group instruction, standards alignment, and culture/environment/professional ethics, there is evidence they are fulfilling their blended learning vision of providing differentiated instruction for students to meet their needs. Laredo ISD is a testament to a district that has a courageous vision of scaling a tailored and innovative learning experience for students, where they are thriving. Physicist William Pollard said it best, "Learning and innovation go hand in hand. The arrogance of success is to think that what you did yesterday will be sufficient for tomorrow."
To learn more about how to scale your vision for personalized learning forward, check out the e2L blog, The New Vision for Personalized Learning at Scale.