Preparing for the Virtual Classroom | engage2learn
Our educational system is experiencing an unprecedented time. Most districts in the U.S. have been advised to prepare for temporary school closures and, in some cases, for the remainder of the school year. Teachers are being asked to create lesson plans to support learning during these temporary closures. Let's take a look at two different models that can be used to continue education while campuses are closed.
VIRTUAL OR FLIPPED CLASSROOMS/DISTANCE LEARNING
This type of learning is ideal for districts with 1:1 availability. In this model, the teacher is responsible for creating or finding a quick lesson for students to access. This can be through a teacher-created video, a live-stream, a Google Hangouts Meet, YouTube videos, or a Slide Deck. Students can access the information and then, complete independent work at their own pace and submit electronically. Teachers can assign work, create deadlines, and track progress using this platform. An easy way to ensure that collaborative opportunities aren't lost is to have students submit responses to assignments using Padlet or Flipgrid and comment on their peers' responses, too. These can be great discussion platforms.
Educators can schedule calls with students or student groups to set up virtual conferences and check in on learner progress using Google Hangouts Meet, Zoom, Skype, or by phone.
Check out these video tutorials to get your virtual classroom started:
Many educational companies are offering free subscriptions through June to support distance learning, and our team of e2L coaches compiled a list of free resources for educators to access as they are preparing for students to learn.
You may be wondering what to do for students that do not have internet access at home. There are solutions to this issue using Chromebooks and G Suite. Be prepared to handle these cases by following these steps.
Enable offline access for all users using these instructions.
Download the Google Docs Offline Extension for Chrome Browser to access Google Docs, Sheets, Drive, and Slides without internet access.
Using these instructions, turn on offline access for the applications you'd like to use before going offline. Students can download notes and lectures to access later if they do not have internet access at home.
ANALOG MODEL
This model is most common for schools or districts with a diverse population and a large number of students without access to devices or internet opportunities. Hard copy textbooks or work packets may be sent home, and teachers are responsible for periodically checking in with students on the progress of their work. Many schools have developed drop off and pick up locations and times for students and parents to gather and return work.
The Analog Model is a great opportunity for educators to provide students with Project-Based Learning opportunities. Even if your students do not have internet access at home, you might find that many of them have smartphones, so sending home links to videos using QR Codes or creating links to YouTube videos for students to quickly access can be provided for additional learning support. Here are a couple of quick resources that may help.
BRIGHT SPOT: A FLIPPED CLASSROOM
An essential part of my job as an e2L teacher coach is to help teachers prepare students for the 21st century, and that includes coaching on digital or blended learning. While technology should never replace the teacher, the vast resources and opportunities that digital learning offers should enhance the learning experience and provide teachers with plenty of time to meet with students in small groups or individually. Take a look at how one Arlington ISD teacher successfully flipped her classroom before COVID-19 was even a threat.
Duaa Farchoukh is currently a 5th-grade Science teacher at Short Elementary, the lowest-performing school in Arlington ISD. Before coming to Short, Duaa was a teacher at the International Leadership of Texas at Grand Prairie, where she began as a self-contained 3rd-grade teacher before moving to 4th-grade Math.
When I first began coaching Duaa, she was hesitant to leave her more traditional style of teaching and move toward a self-paced blended learning experience. "At the beginning of the year, when I thought my students couldn't handle "out of the box thinking," it was due to my traditional mentality. I've always been a supporter and implementer of collaborative learning, but I used to deliver it in a more traditional and overly-structured manner. I soon learned that I was no longer the math expert that was lecturing, but rather a science exploration facilitator." Some of the goals that she set for herself during coaching conversations were to offer a more differentiated learning experience through digital learning opportunities. She began by giving her students a pre-assessment so she would have a better understanding of their knowledge upfront. From there, she created 4 levels of resources and activities using Canvas, their online platform. This became an easy way for her to manage differentiated resources and provide a personalized learning approach without having to mess with 4 different levels of paper copies. Her students had access to videos, practice activities, hands-on experiments, and quizzes that were on their instructional level and would submit work online. They were able to "level up" whenever they passed their exit ticket. While students were independently and collaboratively working, she was facilitating small groups and checking in with students.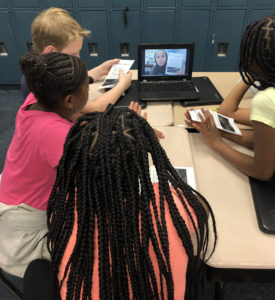 "I think some aha moments that I had through this process would include the moment I really started to think out of the box, and I saw results. For instance, when I began implementing digitally recorded workshops via SeeSaw and allowing students to request topics that they wanted, not topics that I thought they wanted. That was the moment that I began to appreciate the extra work that comes with innovative teaching." Since Duaa started creating digital workshops, students could access them whenever they needed them.
Take a look at this video to see how her students access the material that they need whenever they need it.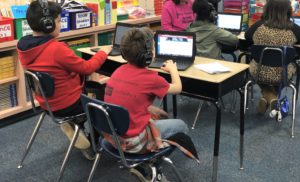 Using this flipped classroom model led to massive gains on district assessments. On her most current benchmark assessment, her students had some of the highest scores in the district: 88% in Approaches, 64% in Meets, and 48% in Masters, proving that differentiating through a flipped classroom was working.
Perhaps Duaa and other educators who have already successfully navigated flipping the classroom can be a model for those that are preparing for COVID-19 learning. Let's do our best to ensure that learning doesn't stop, and students' needs are still met during this historical time. What a great time for all of us to step outside of the box and learn something new!