How to Thrive in the New Paradigm of Distance Learning | engage2learn
As a result of the COVID-19 pandemic, our community schools were forced to make the difficult but necessary decision to send everyone home. Even though schools have had to face many challenges, opportunities abound! Benjamin Franklin once said: "Out of adversity comes opportunity." The learning environment, we traditionally knew, has been drastically transformed into an evolving virtual platform. As a result, we are now facing the challenging and unplanned reality of ensuring that learning continues for all students outside of the brick and mortar environments our schools provided. In this new reality, teachers are delivering instruction virtually to the homes of hundreds of students with expected and needed parental/custodial support and supervision. Siblings are learning together across grade levels, and subject areas, and parents are embracing a dual-role.
Fast and Furious Reality
Among other challenges related to continuing to provide daily meals for students, determining and distributing available tech resources and Internet access, districts are responding to this new reality by realigning resources and personnel to provide teachers with instructional and technology coaching and training. Teachers are also responding to this call to action by engaging in Herculean efforts to provide students with the best possible virtual learning experiences and address students' needs, while also providing guidance and information to parents. Teachers are intentionally striving to prevent the achievement gap between the haves and have-nots from deepening even further. Teachers know what's at stake.

With very little training, prep time, or direction, teachers are designing the best possible virtual instruction for hundreds of students with diverse needs who depend on them to receive a free, public, rigorous, high-quality education. No small task for teachers! In this new virtual reality, teachers are expected to quickly figure out the best way to reach all learners, address their individual needs, and deliver instruction from their homes to the students' homes via digital platforms. Some teachers are familiar with some of these platforms; others are learning them on the go. In support of this need, Robyn Scott, one of our e2L coaches, wrote a helpful and informative blog: Preparing for a Virtual Classroom. This blog provides great strategies and resources any teacher can use to embrace their new reality with ease and comfort.
Opportunity Knocks!
As a Nation, it is in times of crisis when we truly show our indomitable American spirit. So let's move the clock forward and envision the not so distant future when schooling will be normalized again. Will the unforeseen events caused by COVID-19 mark the beginning of the best future we could collaboratively envision and create for our students? Will schools operate in the true spirit of the Information Age? Will teachers continue relying on technology to flip and support learning beyond the brick and mortar classroom? Will we redefine homework as schoolwork? Will businesses continue supporting educational technologies and school partnerships on a long-term basis? Will the role of parents/custodials be forever shaped by our current circumstances? So many unknowns! So many opportunities! Yet, as Abraham Lincoln said: "The best way to predict the future is to create it."
Therefore, I believe that we are being presented with a great opportunity to reshape and transform schooling into fully integrated brick and mortar and digital learning experiences for all students and teachers. The potential for this new reality is limitless! I also believe that we have the opportunity to strengthen the partnerships between home, businesses, communities, and schools. The time is now! We cannot wait. We must seize this unexpected and challenging yet promising opportunity. For starters, all must commit to engage in individual and collective ongoing reflection, collaboration, and communication. By doing so, we will be able to ensure that the individual and collective lessons learned from this unprecedented crisis are fully utilized to shape the beginning of the future we could create together.
COVID-19 has brought a new reality to the educational world, and it is our responsibility to maximize the impact of our collective learning experiences. The tips below provide guidance on how to use this opportunity to effectively manage our new reality, while also taking professional collaboration to new heights.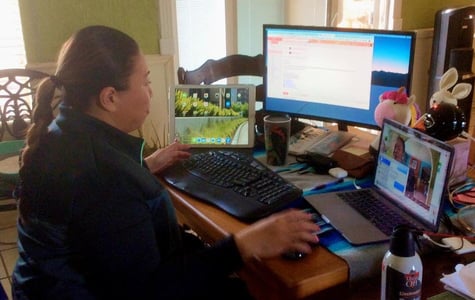 3 Tips for Managing Our New Reality
Keep a working journal (digital or paper) to record the challenges you are facing and what solutions provide you the best outcomes. Consider engaging in collective journaling by sharing your journal with other colleagues. In this effort, you and your colleagues can reflect on successes, challenges, and data. For example, you could document the type of instruction, resources, feedback, and assessments you are providing to students who are classified as Sped, GT, ELL, etc. and the impact these are having on students' academic achievement. Additionally, consider establishing a protocol for students to engage in collective journaling as well. Students can share their virtual learning experiences with you and other students and can also engage in individual and collective goal-setting, reflection, collaboration and support. With these intentional actions, you can collaboratively create new frames of reference and habits that will forever influence the way you and your students will teach and learn post-COVID-19.
Identify your preferred learning platforms, software, resources, etc. There are plenty of resources and software programs out there. First, determine what are the non-negotiables for your district/school. Then, identify which resources can more effectively reach and support your students' learning needs. Incorporate low and high-tech options. Don't let technology become a barrier to learning. Find out what resources, connectivity, hardware, and support systems your students have access to at home. Check with your district for available resources and training to support your and your students' needs. Seek feedback from your students to determine how user-friendly and effective these resources and platforms are. Likewise, determine the best way to provide parents with information and guidance so that they can better support their children while learning at home. Use resources such as Screencastify, which allows you to use a webcam, record your voice, and share your screen, all at the same time. Our team of e2L coaches also developed More Distance Learning Resources, a list of free resources for educators to facilitate learning within a high or low tech learning environment.
Do not procrastinate! In this new virtual teaching platform, before you know it, you will have accumulated a lot of resources and data. So, before it's too late, consider establishing an efficient resource management system where you can effectively and efficiently store, access, and share ideas, resources, protocols, pictures, videos, links, DIYs, etc. Remember that digital cluttering is as counterproductive as paper cluttering. Google Drive provides an excellent format to store and access files anywhere in multiple devices. You can organize items in folders, color-code them, as well as share resources and collaborate digitally in real-time with colleagues, students, and parents. It is free and easy to use; it interfaces well with many school platforms and has excellent security and safety features.
3 Tips for Teacher Collaboration
Based on your experiences and challenges during this time of uncertainty and newness, consider taking an active role in collaborating with administrators and colleagues in designing your school's "instructional continuity" plan during and beyond COVID-19. Remember that it will take every one of you to make it happen. It is important to consider that the lessons learned from this experience can provide valuable insights and data as we rethink and transform education from this point forward. In doing so, and despite how long this crisis may last, we will learn and use technology intentionally and responsibly. In the future, we will be able to collaborate in designing systems that will ensure students learn any time, in any place, on any path, and at any pace. Wouldn't that move us closer to equity and excellence for all students?
Create a "think-tank" of ideas, resources, protocols, DIYs, etc. Share! Share! Thinking outside the box is now an understatement. Instead, we have the rare opportunity to create new frames of reference for teaching and learning. Consider developing a Google Site to capture and share ideas! Empower your students to become co-participants and designers of their learning experience and not mere receptors of it. Incorporate the views and experiences of your students and their parents. By doing so, you will increase students' agency, autonomy, and professional ethics while also strengthening school-home partnerships during Covid-19 and beyond.
Share what you know or what you are learning with your colleagues and administrators. Consider leading virtual professional development, workshops and online support chats, and PLCs by using the same platforms you are now using with your students. Modeling is the best way to teach and troubleshoot together. YouTube tutorials can help you choose and determine your preferred platform. Some examples include Google Hangouts, Screencastify, and so many others. Explore and select those that work best for you and your students. In this effort, remember that even though every single teacher is creating the future of education, some of your colleagues are highly proficient with integrating technology, while others are learning from scratch. Challenge yourself and your colleagues to collaborate and support one another with kindness and professionalism. This is the time to bring professional collaboration to a new high. As the saying goes for TEAM: "Together Everyone Achieves More."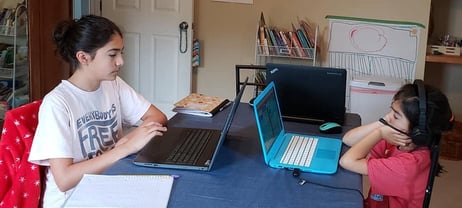 The Time is Now!
With very little warning, the world of education as we knew it has been forever changed. Educators were not given the option to roll out virtual teaching and learning slowly to allow buy-in or to scale professional learning based on individual needs. A striking reality indeed! Although many educators were already integrating technology applications and resources in support of teaching and learning, others have had to quickly learn how to do it. This is unnerving and new for many, but as one teacher stated in a Tweet: "Necessity is the mother of invention!! And we, as educators, are doing a great job at that!!"
As a result, educators are now collaboratively experiencing a total immersion and shift on the way they teach and the way students learn. Educators are already venturing into new territories, new technologies, and new teaching methodologies while also experiencing new ways to collaborate, communicate, plan, deliver instruction, and assess learning in a more individualized and creative manner. However, it is crucial for teachers and administrators to continue receiving support during and beyond COVID-19. Therefore, I also believe that this new reality will also prove the value and return on investment of strategic and ongoing instructional, technology, and leadership coaching.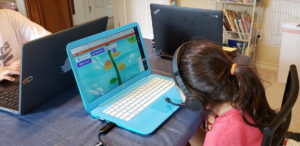 Out of this necessity, educators and school and district leaders are joining forces to create a profound structural and philosophical transformation in education. Sustaining the growth teachers and students will experience, is the real challenge we are now facing. Perhaps, in the not-so-distant future, students will be able to continue learning via individualized, customized, integrated instruction by alternating between face-to-face formats and digital resources, virtual platforms, and evolving technologies. Think of how much everyone could benefit from the lessons learned as a result of the current state of education. So let's not continue "waiting for Superman." Instead, let's become "Supereducators" and make this new reality happen for every student in every school! Together, we can create innovative educational systems by exhibiting courageous, strategic, collaborative, and humanistic frames of references inclusive of all students! The time is now! Remember that if we wait until we are ready, we will be waiting for the rest of our lives!