Design Thinking for Educators
I got interested in Design Thinking during my graduate work at Portland State University in my late 20s. David Kelley founded IDEO in 1978, and by the time I was in graduate school in 1995, user-centered design and Design Thinking had become "a thing," at least on the West Coast! I loved the concept of design thinking because it opened up a whole new way of thinking about how to be an educator. As a teacher, I had been trained to use an instructional model and write lesson plans that would be effective at filling up the 50 minute class periods all from the perspective of my role as the teacher. Once I was exposed to Design Thinking, I saw how focusing on the end-user experience–the learner in this case–rather than what I was going to do as a teacher to fill the 50 minutes, would produce much more powerful outcomes. That's when I became a groupie of Design Thinking, learning, and reading all that I could over the next several years, including The Creative Class, A Whole New Mind, and Change by Design. Later, as an Assistant Superintendent for Teaching and Learning, I designed professional learning for educators using the same backwards design process–thinking of what the outcomes for my teachers or principals would be and what experience they needed to have to get to those outcomes. Eventually, after founding engage2learn, we adopted "Intentional Design" as one of our cultural tenets. With this tenet of our culture, my love affair with Design Thinking was complete. This is our tenet:
Empathy is at the heart of all of our processes. We design solutions and experiences so that people can use their gifts. Everything we do is on purpose.
It is for this very reason, over the last nine years, our team has been creating and refining a collaborative unit design platform that helps educators design learning experiences centered on the needs and experience of the end-user, students. This past year, our development team has rebuilt the entire app from scratch, and we are excited to finally share with you our new learner experience design platform, eLX–that's "LX" for "learner experience."
The quick primer on design thinking below will help to explain why it is so important for teachers to have a platform that embeds design thinking into the instructional planning process.
So, What Exactly is Design Thinking?
This revolutionary approach is actually just a shift in thinking – instead of thinking of the product or service –one needs to consider how the goods, services, or products being developed will impact the person using them.
As IDEO states on their website, Design Thinking "encourages organizations to focus on the people they're creating for, which leads to better services, products, and internal processes." By studying the humanistic need first, the designer is able to design "backwards" from that viewpoint to ensure that the product or service meets the need. The Interaction Design Foundation provides the following detailed definition: "Design Thinking is an iterative process in which we seek to understand the user, challenge assumptions, and redefine problems in an attempt to identify alternative strategies and solutions that might not be instantly apparent with our initial level of understanding."
In summary, Design Thinking:
Is a human-centered approach to problem-solving
Utilizes empathy and experimentation to create
Applies a structured process to nonlinear iteration
Why is Design Thinking So Important to Public Education?
Our current education model has primarily been constructed, like most institutions, from and for the viewpoint of the "manager," or in this case–the teacher. Flipping the design of time, space, content, and method on its head by designing from the viewpoint of the learners can change everything about the experience and ensure better student outcomes. And, in the current context of distance learning, designing from the learner perspective is even more important. This experience of quickly changing to distance learning exposed the opportunity and the need for educators to understand the end-user better in order to better design an experience to engage learners in the virtual space. As a public educational leader recently lamented during a virtual design session: "Our current reality has disrupted our belief that we know what our families need. We must re-imagine what we value and how we serve them beyond traditional accountability measures."
How has Design Thinking influenced eLX?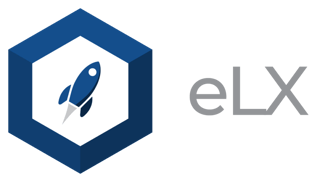 In the original online platform for our partners, we created a platform for design. We believe that teachers are designers, and only as designers can they create experiences that meet the needs of every learner! District-level exemplar curriculum is great, and resources like Texas Resource System are elegant solutions to writing sample curriculum; but, there is no substitute for teachers using these resources to customize learning experiences for their students. If a teacher has designed a lesson or unit, he or she is better able to make adjustments, be responsive to student needs, conduct effective formative assessments, provide valuable formative feedback, and offer timely interventions. If a teacher has not been the designer, he or she will be limited to "the script" that has been created by someone else.
We are thrilled to announce that our all-new unit design app, eLX, is now live and will replace Design Studio as the platform for design in 2020! We named the app eLX to signify the era of the Learner Experience (LX). In this new normal of transition between in-person and distance learning, designing the learner experience with the end-user in mind is more important than ever since the learner is, essentially, in control of their own learning. eLX will provide a simple and stimulating platform to quickly find and clone or design from scratch in alignment to state learning standards and with a plethora of resources at the designer's fingertips.
eLX is the sleeker, more powerful version of our previous Design app, with a robust set of features to support educators in designing curriculum units for their classrooms (even virtual classrooms!) or training units for professional learning sessions. We kept the same features you know and love, such as the Buerk Rubric builder, and also added some exciting new features, such as concept maps, daily lesson-planning, updates to the calendar, and the ability to request critique from anyone you want.
Additionally, we've migrated all previously created units over to eLX, so that our partners still have access to an abundance of units to spark their creativity, along with all the units that they've created previously in Design Studio. Currently, we have over 37,000 standards-aligned units in eLX, and that number is rising every day. Users can filter by grade level and subject to find exactly what they need. They can also filter by district, school, and designer to get inspired by other designers they know! Imagine the benefits as we navigate the unknown of the 20-21 academic year with four possible futures.
But what does that mean for you? For starters, eLX serves as a one-stop-shop for educators to design relevant, engaging, and scaffolded lessons regardless of their grade level or content. No matter your district's LMS, the eLX platform not only directs the designer to employ human-centered thinking, but it also fosters an autonomous learner experience–ideal for our current climate. If you are as excited as we are and want to begin exploring eLX now, log in to eSuite and access eLX from the main home screen if you are a current e2L partner. We've also created a user guide with step-by-step instructions for each feature to get you started! If you are not yet a partner of ours, Start Partnership.
Design Thinking Resources:
Brown, T., & Kātz, B. (2009). Change by design: How design thinking transforms organizations and inspires innovation.
Cross, N. (2011). Design thinking: Understand how designers think and work. Oxford, UK: Berg Publishers.
Design Thinking Toolkit for Educators
Florida, R. L. (2002). The rise of the creative class: And how it's transforming work, leisure, community, and everyday life. New York, NY: Basic Books.
Kelley, T. & Kelley, D. (2013). Creative confidence: Unleashing the creative potential within us all. New York, NY: Crown Business.
Kelley, T., & Littman, J. (2001). The art of innovation: Lessons in Creativity from IDEO, America's leading design firm. New York: Currency/Doubleday.
Lewrick, Link, Leifer, Langensand (2018). The design thinking playbook: Mindful digital transformation of teams, products, services, and ecosystems. Hoboken, NJ: John Wiley and Sons, Inc.
Pink, D. H. (2005). A whole new mind: Moving from the information age to the conceptual age. New York: Riverhead Books.