A District That Thrived During COVID-19 Did These 3 Things…
In December 2019, engage2learn (e2L) began 11 new partnerships with districts across Texas who were working through the Blended Learning Grant Program (BLGP). Throughout January and February, each of these districts engaged with their staff and community stakeholders to solicit feedback on core values and beliefs that ultimately would anchor the design of a student-facing blended learning framework. With so much excitement and momentum building around the design of a community-inspired learning framework, each partner district was gearing up to rollout their newly developed blended learning model in the Fall of 2020.
Then…COVID-19 happened!
All of the sudden, a Fall 2020 rollout was out of the question. These districts, like every other district in the country, needed to pivot and act quickly to ensure students continued learning and mastering content, even while at home. At the time, our partners didn't know that a learning framework that clearly guides and structures the learning experience for both students and teachers is an invaluable tool for ensuring learners continue to thrive no matter the environment.
After nearly 2 ½ months of virtual learning, we started to observe a pattern of success happening across our 11 BLGP partner districts. During our weekly standing meetings, our discussions continued to focus around planning and utilizing their blended learning frameworks to help support their current situation. Each of these 11 districts took a different approach to finding their way when there was no clear path. Some "paused" the learning framework work for the meantime while others went full steam ahead. It was clear that they were all in different places and taking different approaches to find the way forward. One of the model districts was Uvalde Consolidated Independent School District (Uvalde CISD) who thrived through the pandemic by doing these 3 things!
1. Aligned All Learning to Best Practices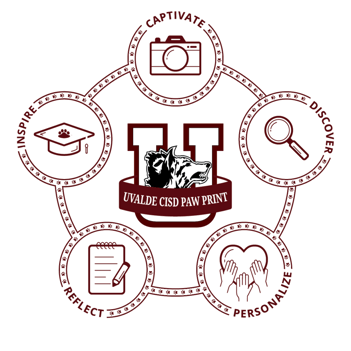 Simply put, best practices for learning are always best practices–even in a virtual environment. Districts that embedded best practices into their virtual instructional plan were able to keep students engaged and autonomous.
When chaos ensues, we look to what keeps us grounded. Part of the Learning Framework design process includes ideating and mapping where each of the 12 e2L Life Ready Best Practices will align to each stage of the framework. Natalia Arias, Project Manager of Blended Learning Instruction at Uvalde CISD, said, "Our team remembered the Uvalde CISD Paw Print; the blended learning framework designed by our strategic design committee for the 2020-2021 school year. The third stage of our framework is 'Personalize,' which challenges teachers to give students more voice and choice in how they learn the content in (or in this case out of) the classroom. We dug into the components and best practices aligned at each stage of the framework and realized that this was exactly what we needed to align instruction at all levels and content areas. BINGO!"
2. Designed Systems to Support Student Autonomy
To set the stage for success, Uvalde CISD provided critical resources to both their teachers and students. With the goal of developing a resource that was easy to follow, they created a student lesson template that walked students through what was expected of them at each step of the lesson, based on the framework stages. The theory of Transactional Distance states that as the level of interaction between teacher and learner decreases, learner autonomy must increase. By creating a student lesson template for Uvalde CISD students to utilize during school closures, teachers were able to build and support learner autonomy, even from a distance.
Natalia and her team also developed a lesson plan template for teachers that aligned with their Blended Learning Framework. Because they did not have time to provide training to their teachers on the framework, this plan help to ensure teachers were able to work through each stage of the framework and identify the embedded best practices and life-ready skills to include in their lesson design. This also invited learners into the process of driving their learning. "We challenged teachers to take the students through the framework on a week-by-week basis. These lesson templates for each week were all placed on our home learning website, so they were easy to access anywhere, while teachers also communicated and posted assignments for students through Google Classroom," explained Natalia.
3. Established Clear Protocols for Learners & Teachers
Through this shift in teaching, educators found themselves teaching from home without the traditional on-campus support they were accustomed to. In response, Uvalde CISD and other BLGP districts created a roadmap for teachers to follow, providing them with the Blended Learning Framework and best practices aligned to learner and educator protocols so that learners and educators knew what to do during each stage of the framework. Quickly, and possibly more quickly if COVID-19 had not happened, teachers were embracing "the challenge of COVID-19, turning what was initially a terrifying situation into one that they could be proud to have overcome." How? By coming back to their anchor – their newly designed blended learning framework – teachers were "fearless in taking on new challenges with confidence, knowing exactly where these new tools, tips, and tricks they learned would fit easily into the Paw Print."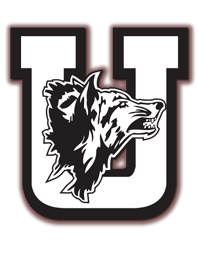 Accomplishing so much in a short period of time, the educators in Uvalde CISD collectively earned over 900 digital certifications, including but not limited to Flipgrid, EdPuzzle, Nearpod, Screencastify, Apple Teacher, and Google Educator Certification and so much more! "They were on fire! I truly believe that our teachers would not have had the confidence they needed to take on these new challenges if they hadn't had our learning framework to guide remote instruction," said Natalia. The blended learning framework instilled confidence in their teachers and was the propellant of newfound courage found during uncertain times.
"I can't say thank you enough to engage2learn for all of the guidance and support we had in the development and alignment of this framework… and I am excited to see how this learning experience positively impacts the future for all of our students at Uvalde CISD."

Natalia Arias
Ready for What's Next
It is our mission at e2L to help the neighborhood public school be the first choice for every family, which we do by partnering with like-minded districts who want to engage learners in the learning experience. In this instance, our partnership with these districts happened just in time for them to create their blended learning framework and use that as support for their teachers and learners to ensure they were doing more than just surviving a global pandemic – they were thriving.
Seeing the impact of having a best-practice-aligned learning framework that leverages clear protocols to guide and structure learning, it's clear that more districts would benefit from this kind support during these uncertain times. Because of this, e2L is hosting a 100% FREE virtual event called, the Redesign Learning Unconference, that focuses on helping school leaders intentionally design engaging learning experiences that work regardless of the learning environment–physical, virtual, or hybrid. If this is something that would help your district, you should definitely consider attending or sharing the event info with someone you think should attend.