Arlington ISD: The Right Way to Create & Scale A District-Wide Vision for Learning
Creating a clear and compelling vision for learning is an essential step towards building a successful school district. It sets the direction and provides a unifying purpose for all stakeholders involved, including educators, students, parents, and community members. However, developing a vision that truly captures the aspirations and needs of the district requires careful planning, collaboration, and effective implementation strategies. In this article, we will explore the right way to create and scale a school district-wide vision for learning.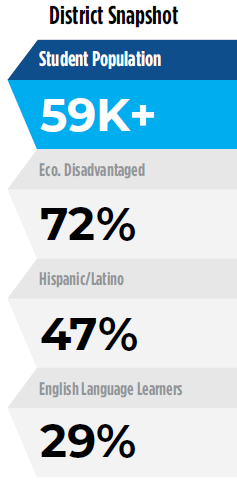 With a student population of nearly 60,000 students, 72% of which are economically disadvantaged, Arlington ISD is not unlike most urban districts. Disparities in income and opportunity in the city of Arlington, Texas lead to vastly different outcomes for students from one campus to the next. But despite the barrier to equity facing the district, in 2015, under the visionary leadership of Superintendent Dr. Marcelo Cavazos, Arlington ISD set their eyes on achieving one very ambitious goal:
100% of Arlington ISD students will graduate exceptionally prepared for college, career, and citizenship.
With this goal, Arlington ISD committed to producing not just good students in their district but good citizens as well. Translating the goal or vision into action required a well-defined plan outlining specific strategies, timelines, and measurable goals to achieve the district's vision.
With such an ambitious goal, Dr. Cavazos and Chief Academic Officer Dr. Steven Wurtz knew the district would need a strategic and scalable plan to modernize teaching and learning in every classroom in the district. They anticipated they would need to allocate resources for professional development opportunities for teachers and technology to support the vision. They knew engage2learn (e2L) was the right partner to help design and execute that plan.

Building an Equitable Foundation for Learning
To create a vision that reflects the needs and aspirations of the entire district, it was crucial to involve all stakeholders in the process. To ensure all Arlington ISD students are exceptionally prepared for their futures, e2L facilitated district stakeholders through a 6-week strategic planning design process that designed the foundational components needed to ensure the district's success. By seeking input and meaningful discussion from diverse perspectives, they ensured that the vision encompassed a wide range of ideas and priorities. The result of this work was three core components the district would use to scale its vision for learning and create equity in the learner experience.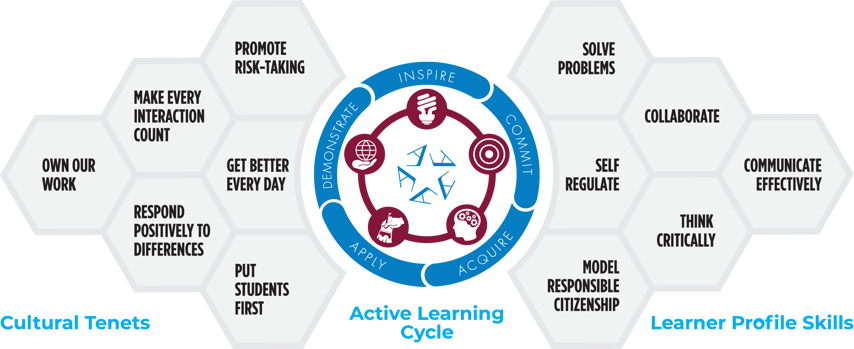 Cultural Tenets
These six Cultural Tenets express the environment, which would foster students to grow their development of the learner profile skills.
Active Learning Cycle
The Arlington ISD Active Learning Cycle encapsulates the learner profile skills and cultural tenets into a framework that leverages very best practices for learning and gives students the opportunity to practice and master the skills needed to be exceptionally prepared for their futures.
Learner Profile Skills
Beyond content mastery, these six Learner Profile Skills depict the skills Arlington ISD students need to be prepared not only for the academic rigor of their education but also to be successful in life.
Responsible Rollout Through Coaching
Arlington ISD
Once their three core components were in place, e2L helped Arlington ISD create a gradual release plan that would shift the culture in the district bit-by-bit until a wave of innovation swept across the district. Each year, cohorts, teachers, leaders, and instructional coaches received training and ongoing, job-embedded instructional coaching on how to implement the Active Learning Cycle and the e2L Best Practices for Learning. From 2016 to 2020, e2L spent time coaching teachers and coaching educational leadership. Taken together, this strategic support helped to transform classroom and campus cultures and ensure every student gained vital skills needed to succeed in life while also mastering their content standards.
The Power of Coaching Data
In the process of modernizing the learning experience in Arlington ISD, Dr. Wurtz also wanted to demonstrate the strong correlation between teacher growth and student achievement, but he did not have a way to capture or show that data; that is until eSuite. Even though the district had multiple coaching models and a variety of ways of documenting instructional coaching, Dr. Wurtz saw the power of e2L's comprehensive professional growth and coaching platform for educators and decided to use this one platform across the entire district to help identify patterns of growth.
The platform would help them use data to inform decision-making, create data informed instruction, and identify areas that require adjustments or additional support. With eSuite reports, like those shown in this profile, Arlington ISD is able to draw a straight line from teacher growth to student achievement.
A Laser Focus on School Improvement
For the 2019-20 school year, Arlington ISD tapped e2L again for a special project to help turnaround seven district campuses that were designated as "Improvement Required." For these seven campuses, e2L provided evidence-based coaching with a laser focus on improving Tier 1 Differentiated Instruction, and the effects of this approach were felt on these campuses almost immediately.
"All of our data is trending with double-digit gains. We are primed to go from an 'F' rating to closer to a 'B' rating just in one year."

Katina Martinez, Principal of Short Elementary, Arlington ISD
Unfortunately, due to COVID-19, Texas students were unable to complete state-level assessments, and the hard work of the staff and students at campuses like Short Elementary could not be quantified using standardized testing.
Creating and scaling a school district-wide vision for learning requires careful planning, collaboration, and a commitment to continuous improvement. E2L understands that by involving all stakeholders, conducting comprehensive needs assessments, and developing actionable teacher development plans, educators can lay the foundation for transformative change that will result in realizing gains in student achievement.