4 Strategies for Teacher Support and Retention | engage2learn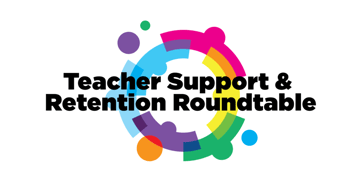 Addressing teacher burnout and attrition is critical for public schools across the country today. As always, engage2learn (e2L) knows that doing it strategically and collaboratively is the best path toward success. In that spirit, e2L hosted the Teacher Retention & Support Roundtable to give district executives the opportunity to share their insights on:
Why teachers are leaving the profession,
What is and isn't working when it comes to supporting teachers, and
How to retain and nurture top talent in the classroom.
A group of 14 innovative district executives from districts across the country, including Dallas ISD and Shelby County Schools, came together to collaborate on teacher support strategies and left feeling united, reenergized, and better equipped to meet the moment. Here are some key takeaways.
What's Working
"We need to remind people that they have permission to just take a minute. It's like running a marathon. We have to create water stations to give people a break so they can keep going."

Veronica Kortan, Assistant Superintendent for Leadership & Innovation, Harlingen ISD
01: Relationship Building
District leaders who spend more time out of the office and on their campuses to connect with teachers and staff are reporting positive feedback. When you take the time to build relationships with your staff, you develop a culture of trust and community that makes teachers feel secure and supported through even the most difficult circumstances.
Simply put, your teachers need you.
"The teachers need to see us [administrators] showing up in the classroom. We need to be out there building those relationships, speaking with them one-on-one, showing them that we care. Financial incentives are great, but the thing that I get the most positive feedback on from my teachers is when I take the time to show up, look them in the eyes, and ask, 'How are you? What can we do for you? What's working and what's not?' Because we're all tired. We're all tired of this. And if we're going to retain our teachers, they need to know that we appreciate them." – Cara Cooke, Aransas Pass ISD
"It signals to teachers that we're in this with them. Teachers have told us they don't just feel like they're out there drowning, trying to figure out what to do by themselves, but that we're there with them to support them." – Dr. Tracie Brown, Arlington ISD
"When we did our Strategic Plan with engage2learn, the research around human capital and teacher retention all came back to that emotional connection. Salary and incentives are important, but the emotional attachment to a place and to people is what makes a huge difference." – Veronica Kortan, Harlingen ISD
To-Do: Get it on the schedule. Block time on your calendar for intentional time with your teachers geared specifically for connection, not evaluation. Establishing and building those relationships will make your teachers feel appreciated, supported, and encouraged to keep going.
02: Strengthening Internal Capacity Through Coaching
Focusing your district's efforts and funding towards strengthening internal capacity is key in improving teacher satisfaction and retention. Through one-on-one coaching, your teachers are equipped with not only the support they need to get through this particularly difficult time, but also with the tools, confidence, and resources to thrive under any circumstance in the future.
"We now have engage2learn coaches for every teacher and administrator in our district, and they're adding some amazing tools to their toolbox. I'm already amazed by what they've been able to do." – Cara Cooke, Aransas Pass ISD
"Right now we're focused on coaching to build capacity and address the learning gaps through four primary engage2learn Best Practices: small group instruction, standards alignment, formative feedback and assessment, and differentiation. All of our math and reading teachers across the entire system – about 2500 teachers – are receiving this coaching. We're using Buerk Rubrics with our teachers to help them master those concepts while also developing our internal coaches so we can perpetuate this learning model." – Steven Wurtz, Arlington ISD
To-Do: Don't just give your teachers more tools; give them the right tools. Use an evidence-based coaching methodology that keeps coaching focused on growth and individualized support rather than evaluation.
03: Restructuring Central Office Staff
Working in public education sometimes means wearing multiple hats. To help mitigate teacher stress and burnout, prepare your central office staff to function as extra support on your campuses. Many districts have dedicated flexible teacher support teams to fill in gaps as they happen, while others have restructured and expanded leadership teams.
At the beginning of the 2021-2022 school year, for example, Arlington ISD shifted its leadership staff structure from four area superintendents to six executive directors. This shift reduced the number of schools in each learning community and now allows EDs to be on their campuses 80% of the time, regularly placing them alongside principals, teachers, and school staff. It also means that the administrative staff that remains in the central office is able to focus on navigating the day-to-day operations and changes while EDs provide direct instructional and emotional support on the ground.
"It's been a huge shift for our system, especially during COVID. We have a more narrow focus on instructional leadership and are able to spend more time at the campuses supporting principals and working directly with teachers and leadership teams." – Dr. Tracie Brown, Arlington ISD
To-Do: Create a culture of shared responsibilities. Restructuring and hiring central office staff can be challenging, but spreading instructional and operational support among more people will benefit your entire district. Lessen the individual burden and build a culture of teamwork and support.
04: Financial Incentives
While we know you can only do so much in the way of salaries, doing what you can to provide as much financial support for your teachers is important. However this looks for your district's budget, an additional financial incentive structure is a straightforward, tangible way to take care of your staff.
Across-the-board raises
End-of-semester bonuses
Restaurant and coffee shop gift cards
Monthly drawings for cash prizes
Increased substitute teacher compensation
"The day we announced our additional bonuses, we hand-delivered bundt cakes to every teacher to give them something sweet and followed up with an email later in the day about the bonuses to say, 'Here's something even sweeter.' It felt really personal, and many of our teachers were grateful that we just stopped by. It was a great opportunity to connect with and check in on them."

Rhonda Wade, Assistant Superintendent, Floresville ISD
To-Do: Commit to and clearly communicate your financial incentive plan. Be transparent with your teachers about what you're doing for them and why you're doing it. Genuinely express your gratitude and appreciation alongside the financial boost.
Final Thoughts
When our teachers are struggling, our schools and students are struggling; that's a lot of pressure. Showing consistent and genuine appreciation for your teachers by way of in-person encouragement, financial incentives, and attentive support will go a long way in maintaining morale and teacher retention in even the most challenging circumstances.
Want to learn more about e2L's customizable services and teacher support tools? Click here.