#e2L Hustle: A Day in the Life | engage2learn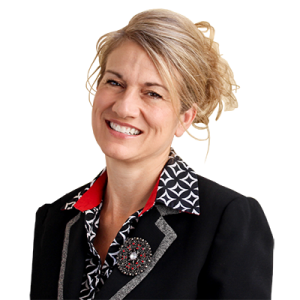 by Shannon Buerk, Founder, and CEO of engage2learn.
When I was the Assistant Superintendent for Teaching and Learning in a district, we often had people ask what we did all day in central office. I decided to offer a professional learning session where anyone could shadow someone in central office for a few hours, see our calendars, and hear a synopsis of a typical week. We called it, "The Days of Our Lives!" It was fun and, for the most part, helped people decide if they were interested in and really wanted to pursue a central office position. More importantly, once the word spread about how hard and long we worked all day, every day, it built trust and understanding between the campuses and central office.
I was reflecting about that recently and thought it would be fun to share a little about a typical week with engage2learn (e2L). As I write this, I am on a plane, of course, and since this week is typical, I will just share what this week looks like:
Monday, March 25th
We have formed PLCs, or Professional Learning Communities, across our organization. Monday was our e2L Ops' (Operational Department's) PLC day. On the Ops side, we meet once per month on a Monday to celebrate, share data, ideate about ways we can be better, and learn from each other. These PLCs are 1.5 hours each and occur from 8:00 am to 5:00 pm; I attend all PLCs.
Tuesday, March 26th
Tuesday was a travel day. After flying into Dallas-Fort Worth first thing in the morning, I had a lunch meeting with one of our DFW partners and an afternoon meeting with another partner to discuss the 2019-2020 academic year. Albert, our e2L Partnership Strategist, met me at the airport and we connected with Jill, our e2L Innovation Strategist, at the first meeting and spent the day together. I made scheduled calls as soon as I landed in Dallas and, again, once I landed at my home airport in Corpus Christi. Between each meeting, my daily agenda included: a one-on-one with one of our Culture Design Strategists, a meeting to determine how, next year, we will structure our e2L version of "20% time" that we call Elegant Innovation, a meeting to discuss a district rollout, and a call with a district Superintendent. On the plane, both ways, I replied to email and almost got caught up! I also drafted this blog.
Wednesday, March 27th
Wednesday was a typical day a e2L headquarters filled with meetings (see Calendar insert). e2L is a virtual company, so we use Google's Hangouts Meet conferencing option, which allows us to quickly access a meeting from anywhere and also to "see" each other. Even though we only see each other face-to-face occasionally, it feels like we work in the same office because of how often we are on video calls together. Because flight times from Corpus Christi to Austin are inconvenient, I drove to Austin for a scheduled meeting with Dell the following day all the while taking more internal and external calls. After work on Wednesday, I was able to meet my daughter, who lives and works in Austin, to select her bridesmaids' dresses for her upcoming wedding followed by a gospel meeting we were able to attend together.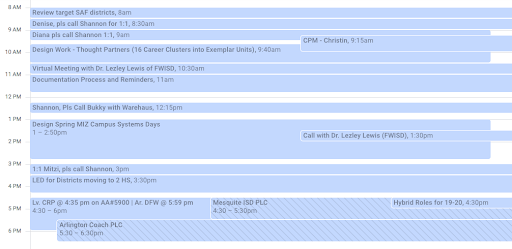 Thursday, March 28th
I was hoping to have breakfast with my son, who attends the University of Texas, on Thursday, but we could not make our schedules match on this trip. I started my one-on-ones early, which is how I start each day when I am not flying; I then attended my other video calls until my in-person prep and meeting with Dell that afternoon. I had several more meetings on the three-hour drive home. This is the time of year when we are planning for the next academic year which includes hiring, training for all of our e2L employees, project mapping our partner projects with coaches, and making updates to our online platform. I am excited to report that we are rolling out the third version of eStudio on June 1st as a progressive web app with all the same great features of our design studio, coaching platform, and personalized online professional learning platform but upgraded with new functionality, simplicity, and a new UI. We constantly take feedback from our partners to iterate in ways they have requested!
Friday, March 29th
I flew to the CoSN Conference in Portland, OR where we are presenting with our partner, Burleson ISD. Our CoSN session, called "Bridging STEAM with Active Learning for Measurable Results," will feature STEAM Middle School Principal, Chris Chappotin, and highlight their methodology for bringing Life Ready technology use to all of their students through an innovative school experience. Dr. Chris Everett, one of our Culture Design Strategists, and Albert will join us there, and we have several meetings with potential new partners while we are in Portland. We will have wrapped up our partners for the 2019-2020 academic year, but we are now looking for five (5) key national partners with visionary leaders for 2020-21 who want our help to scale their vision wall-to-wall across their districts and ensure their neighborhood public schools are the first choice for families.
I feel very blessed to get to spend time with so many mission-minded educators in this work. I hope you have had a wonderful week that is challenging in all the right ways and that you are doing something that makes you leap out of bed every morning!