How We Work Ourselves Out of a Job | engage2learn
We Don't Want to be Your Partner Forever
Most companies don't start off New Business Development meetings with "Our goal is to work ourselves out of a job." However, at engage2learn (e2L), our greatest desire is to see our partners continue to succeed long after our partnership has ended. In our minds, building internal capacity with our district and campus partners is the best way to impact the long-term success of students.

We want every student in the nation to thrive during their 16,000+ hours in public school, so when they graduate, they can fulfill their dreams. Therefore, we collaborate with district leaders to create a 3-5-year plan that begins with e2L doing the heavy lifting to put the systems in place. This allows the district to be the leaders of the innovation as we work ourselves out of a job. Even Sheryl Sandberg, COO of Facebook, recognized that by building capacity so others can lead when you are not there is at the heart of leaders when she shared:
"Leadership is about making others better as a result of your presence and making sure that impact lasts in your absence."

The concept of building internal capacity is not new, but our goal is to be so incredibly effective at growing our partners' abilities they won't need us anymore. This requires us to have a plan for efficiently and effectively providing the processes, resources, and products district and campus leads need to carry out their desired innovation to impact student achievement long after e2L has provided direct support to leaders.
3 Ways to Ensure You Won't Need Us Forever
1. Responsible Rollout Plan
For a Responsible Rollout plan that supports the district's vision, e2L first helps the district determine its guiding principles for rolling out the innovation. Then, the district and campus leaders utilize the guiding principles to brainstorm rollout approaches.

Second, we lead districts through a process of utilizing SWOT (Strengths, Weaknesses, Opportunities, and Threats) to apply to the rollout approach. Once SWOT is complete, the district solidifies the rollout approach and drafts a 3-5-year rollout plan that includes leader and coaches academy coaching.

In 2015, El Paso ISD partnered with e2L to design the El Paso Active Learning Framework. This framework clarified what active learning looks like in the classroom as the district launched its innovation through a responsible, 5-year rollout plan where the Active Learning Framework would be implemented through two feeder patterns each year. The plan was for every leader and instructional coach in the district to receive training and personalized coaching to create the equity of learner experience across the district. The 5-year plan for sustainability looks something like this: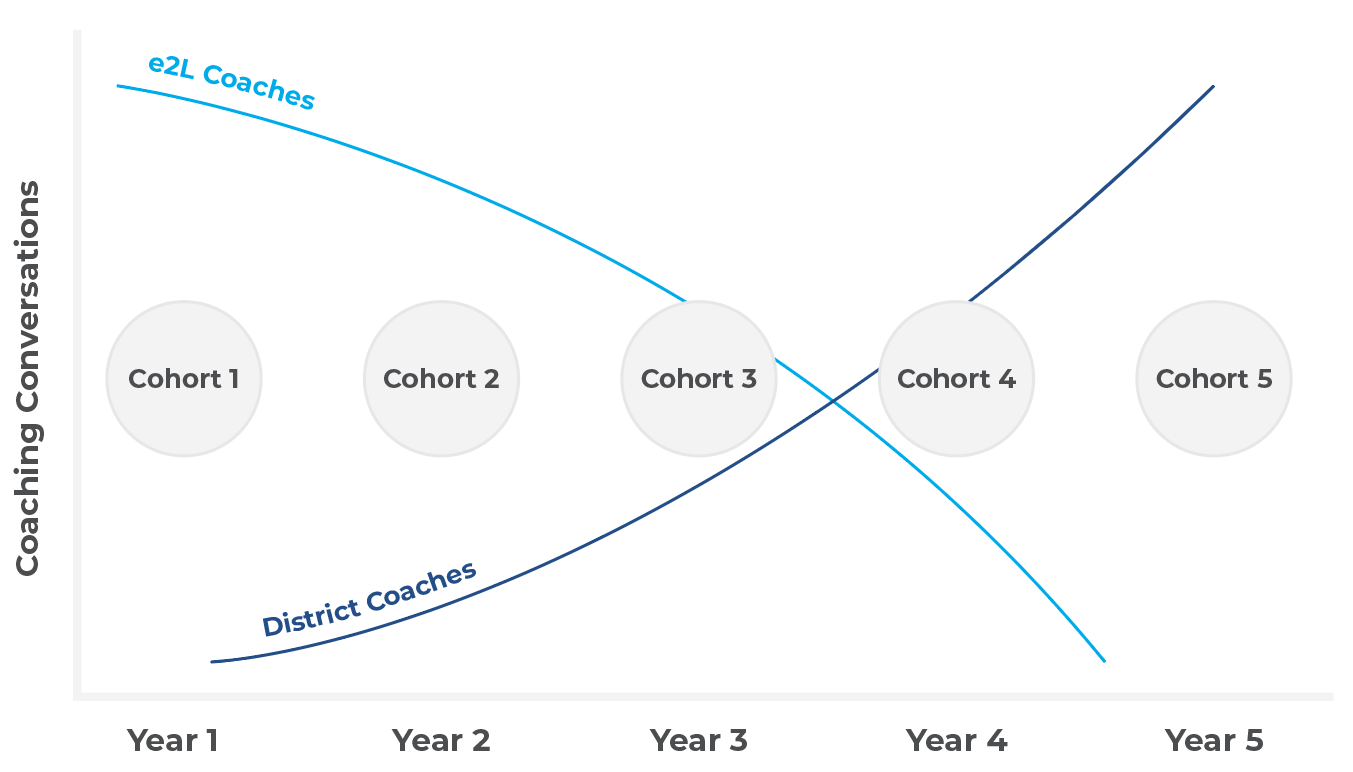 As you can see, the goal is to have e2L coaches do most of the coaching the first three years; by Year 5, the district does not need to rely on e2L coaching at all. In the case of El Paso ISD, e2L facilitated all of the Active Learning Training in Years 1-2, co-facilitated with the instructional coaches in Year 3, and now, in Year 4, the district instructional coaches are on their own and facilitating training on the Active Learning Framework. In addition, all of the instructional coaches from the Year 1-3 cohorts are coaching the teachers on their campuses. It is a true testament to building internal capacity for sustainability.
As a result of their partnership with e2L, through implementing the Active Learning Framework and receiving personalized coaching on the e2L Life Ready Best Practices, El Paso ISD continues to grow and see amazing results.
2. Personalized Coaching
There is a multitude of research that demonstrates the effectiveness of ongoing, personalized coaching has on daily practice (read the latest research here, here, and here). Because of this solid foundation of research, e2L facilitates personalized coaching not only for teachers but for leaders and instructional coaches.

At e2L, we believe in personalized coaching for leaders and instructional coaches to build their capacity to coach teachers. Our coaching is aligned to research-based professional learning standards that have been proven to equip leaders and instructional with the necessary skills to shift the culture on their campus to support the desired innovation. Every leader and instructional coach from the cohort, being coached in a year, participates in eGROWE Coaching Conversations and calibrates with the e2L coach during classroom visits. Both the leaders' and coaches' growth is documented through the e2L online project management system, eSUITE. You can read more about eGROWE Coaching in the blog, The Art of Feedback with eGrowe.

Mesquite ISD is a prime example of a district that supported their teachers and leaders through coaching. Mesquite wanted to increase literacy scores and therefore invested three years of coaching teachers, literacy coaches, and leaders. As a result of coaching, the Mesquite teachers, literacy coaches, and leaders have honed the skills and knowledge necessary to develop and grow others. The investment in coaching resulted in an increase in K-2 DRA reading scores of +9.5%, an increase of +7% of students reaching Tier 1 on ISIP and state assessment reading scores increasing by 3.8% in the masters category. See the results below. The group of Mesquite leaders and instructional coaches have honed the skills and knowledge necessary to develop and grow others. This investment in coaching has proven that you can increase literacy and achievement when you invest in building the capacity of those within your organization.
3. Culture Shift
The third way e2L works themselves out of a job is by training and coaching leaders to shift the culture on their campuses by applying culture-based change management methodology and processes. Over the past seven years, we have learned that when a district can shift the culture to support the innovation, the results are long-term sustainable success. Since 2011, e2L has applied this methodology with more than 225 public school districts at every level of the system. The learning from these experiences, from e2L's own experiences applying change management in districts, and from a continuous and careful review of the literature regarding organizational culture, has been synthesized into the craft of culture-focused leadership, which identifies 5 Culture Catalysts© that leaders can use to intentionally create an engaging, thriving culture.
These 5 Culture Catalysts© are: beliefs, vision, behaviors, strategies, and systems. Leaders who utilize and align these five critical components intentionally create the desired culture of engagement and growth where shared beliefs are the foundation of the vision, and behaviors, strategy and systems are all aligned to that vision.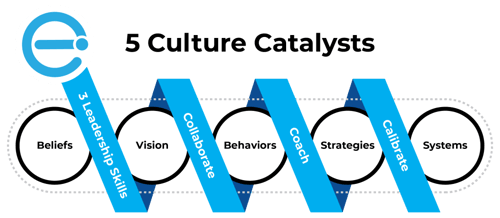 According to research done in the field by e2L CEO, Shannon Buerk, "If a leader does not collaborate to create systems aligned to the other levers, people in the organization will end up complying with evaluation and accountability systems instead of working toward the vision." This is why we coach leaders to align to the 5 Culture Catalysts©.
Arlington ISD is an example of a district that has aligned the 5 Culture Catalysts© beginning with the work they started in 2015 through their partnership with e2L. This work consisted of finalizing a strategic design process, creating a learner profile, and designing a learning innovation framework called the Active Learning Cycle (ALC) as a way to modernize teaching and learning in every classroom in the district. As Superintendent Dr. Marcelo Cavazos says, "The Active Learning Cycle is the way to ensure that our learners can be successful while they are with us and after they exit our system."
The systems to support this culture shift included e2L facilitating the design of a responsible rollout. In year zero, e2L focused on leadership development and awareness and at mid-year, a pilot group of six campus leaders was selected to lead the implementation. Simultaneously, e2L facilitated the district through a series of leadership meetings and stakeholder groups to design a set of Cultural Tenets, Recognition Systems, Communication Systems, and PLC Systems to support Active Learning. As a result, every employee became a contributor to and a coach of the Arlington ISD culture within their department or on their campus.
A Parting Example
Throughout the responsible rollout, personalized coaching and a culture shift utilizing the 5 Culture Catalyst©, e2L partner districts can sustain their vision for learning long after e2L is gone. There are already districts and campuses continuing to ensure the success of their learners once e2L worked themselves out of a job. Take Kostoryz Elementary in Corpus Christi ISD for example. e2L partnered with Kostoryz from 2013-2016 and throughout this partnership, saw tremendous growth in their leaders, coaches, teachers, and students. The Kostoryz Elementary teachers and administrators were so excited about the growth they saw in their campus as a result of their new learning culture and personalized coaching. But at e2L, we are thrilled to see they are still growing two years after our partnership has ended.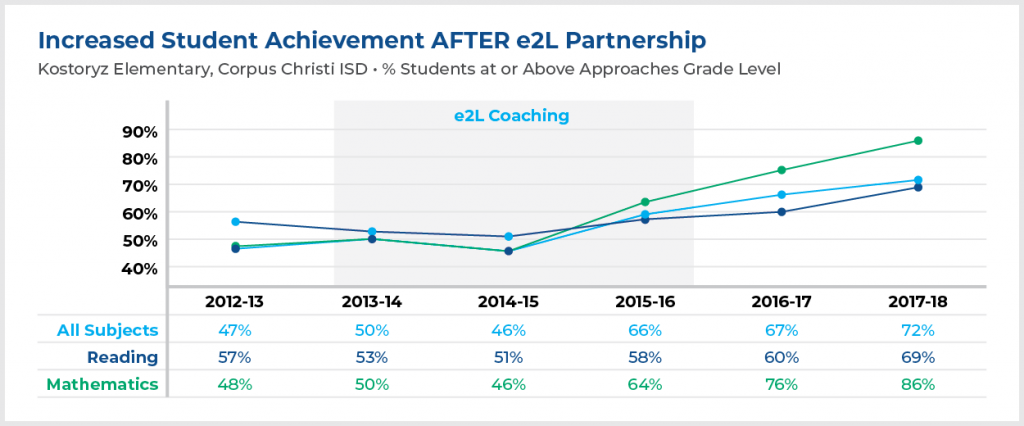 Campuses like Kostoryz Elementary are exactly why we do what we do the way we do it because we do not want our partners to have to be dependant on our services forever. Our partners, after a responsible rollout, personalized coaching, and a culture shift, all have what it takes to continue to grow, thrive, and achieve amazing results for learners, even without us.