Miracle on the Border: The Story of El Paso ISD | engage2learn
There are not many superintendents that start their superintendency by taking over for a former superintendent who has been arrested. But that is how the story of the miracle in El Paso ISD (EPISD) began. The former superintendent was arrested in 2011 and pleaded guilty to defrauding the Texas Education Agency and U.S. Department of Education by cheating on the state and federal accountability assessments to increase scores.
When EPISD's new Superintendent took the reins, in addition to replacing leaders throughout the organization, rectifying the reputation and integrity of the district, and shifting the culture, he saw that there was not engaging instruction in every classroom across every campus in EPISD. El Paso ISD had been focused on test prep for a long time. With El Paso being on the US-Mexico border, there are many areas of poverty, and as with so many districts across the country, in order to fill in the gaps for kids coming from poverty, instruction tended to be rigid and drill and kill.
EPISD shared with the engage2learn (e2L) team that "the statistics show when you come from a home of poverty with uneducated parents, you typically have a 15 to 30 million word gap in the first five years of your life." In order to close the learning gaps, EPISD district leaders knew they needed to find a way to engage kids and get them excited about learning when they first come to school. Not only were students coming to school with gaps, but students also were not meeting the grade-level standards, mastering the state assessment, or gaining the life ready skills necessary to be successful beyond high school. Therefore, the district had a vision for every learner to get a meaningful learning experience in every classroom, every day.
Strategic Design
With the current challenges, EPISD district leadership began by building trust with the El Paso ISD community stakeholders and listening to what they hoped for their children as a result of their time in school. This was accomplished by taking the community's input to develop the El Paso 2020 Strategic Plan. The district leadership team met with thousands of community members and asked them: "What should the EPISD students be able to know and do when they walk across the graduation stage?"
According to the EPISD Chief of Staff, Jose Lopez, "there were not any parents that spoke about wanting their children to master a standardized test or their kids to sit in rows and get lectured to during the school day. However, they did say they wanted creative problem-solvers." As a result, EPISD developed the Student Learning Goals based on what parents and community members said they wanted for their children. The Student Learning Goals are shown in the graphic below. In addition to supporting students as they meet core credit requirements, there is a need to focus on college and career readiness, dual language, entrepreneurial mindsets, character development, social-emotional learning, and employability.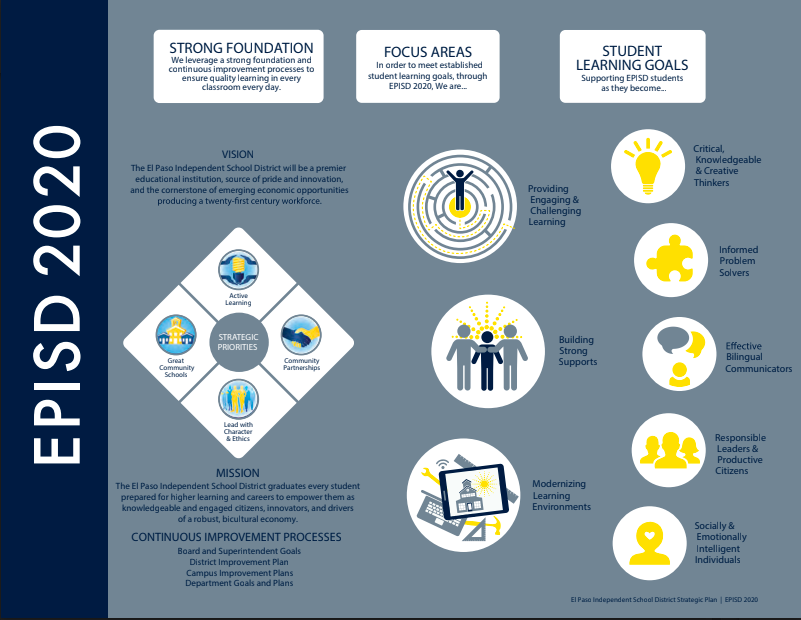 The strategic priorities of Active Learning, Community Partnerships, Great Community Schools, and Lead with Character and Ethics are the focus areas of Providing Engaging and Challenging Learning, Building Strong Supports, Modernizing Learning Environments, and the initiatives outlined in the Strategic Plan, pointing toward a broader set of outcomes focusing on powerful learning experiences and continual forward-looking growth for every student.
Learning Innovation Framework Design
Once El Paso ISD finalized their 2020 Strategic Plan and identified Active Learning as one of the four priorities, district leaders took the approach of ensuring active learning in every classroom in the district. They started by opening some New Tech schools within existing campuses but soon realized that strategy would not reach every learner. While EPISD knew that active learning was the way to ensure a meaningful learning experience in every classroom, he was faced with limited resources and time to ensure the vision was reached. Therefore, EPISD partnered with e2L in 2015 to facilitate the district in designing their own Learning Innovation Framework. The e2L team facilitated a team of EPISD leaders from every department to bring all initiatives into one student-centered way of learning as they designed the EPISD Active Learning Framework.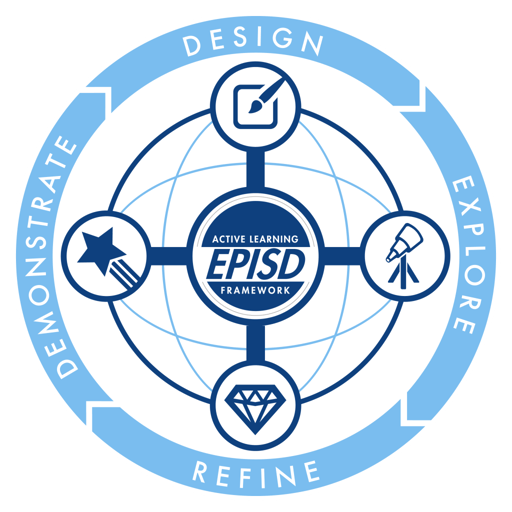 Through these learning experiences, students of all learning styles have opportunities to think creatively and collaborate as they design solutions to real problems. As a result of their learning experience in EPISD classrooms, the five Student Learning Goals should be apparent: Critical, Knowledgeable and Creative Thinkers, Informed Problem Solvers, Effective Bilingual Communicators, Responsible Leaders and Productive Citizens, and Socially and Emotionally Intelligent Individuals. The leaders didn't stop once they had the Active Learning Framework designed. They then made a plan to launch the wall-to-wall modernization of teaching and learning through a strategic district rollout plan, which shows the district's commitment to quality education for all students. EPISD Superintendent sums it up well when he says, "The quality of students' education should not be determined by their zip code."
Responsible Rollout
El Paso ISD's Responsible Rollout plan included a five-year multi-layered process of implementing the Active Learning Framework in two feeder patterns each year. In Year 1, the district chose a volunteer approach to allow for the innovators and early adopters to be the first ones to implement the Active Learning Framework. This resulted in 750 teachers across 68 campuses in the district implementing the framework.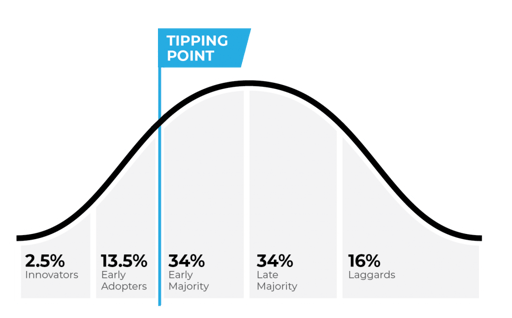 According to the Diffusion of Innovation Theory by E.M. Rogers, once you have about 20% of your staff implementing a new innovation, then you create a tipping point because others like the "early majority" are more likely to engage with the idea as it spreads throughout the district. Then in Year 2, the district moved to a campus-wide approach across two feeder patterns each year that included coaching for 1,000 teachers. Year 3, the district continued with a campus-wide approach across two feeder patterns that included coaching for 840 teachers. Starting in Year 4, the district is still taking a campus-wide approach to coaching, but since they have built internal capacity in their coaches, so they are taking on more of the coaching. Then in Year 5, EPISD plans to support the new teachers implementing the Active Learning Framework through all internal coaching.
While many urban districts use a strategy of choice schools to provide pockets of excellence, EPISD's newly-elected Board of Trustees, and district leadership team were committed to closing the experience gap for every learner, and it is working! You can read more about EPISD's Responsible Rollout in the blog: How We Work Ourselves Out of a Job and see their Responsible Rollout 5-Year Plan below.

Coaching Support
While other districts regularly roll out initiatives without ongoing support or plan to turn around schools by reconstituting the staff, EPISD planned to change the learner experience through a massive talent transformation effort. They believed in building internal capacity and investing in enhancing the craft of the educators in their district. The team had a well-thought-out Responsible Rollout Plan, they still needed a way to support teachers, instructional coaches, and leaders as they implemented the plan. During the design of the Active Learning Framework, the EPISD leaders had learned that one-time professional development wasn't going to lead to the intended change in classroom practices. Therefore, district leadership decided to invest in job-embedded coaching for all of the EPISD teachers since it is the only proven change management professional development.
According to The effect of teaching coaching on instruction and achievement: A meta-analysis of the causal evidence by Kraft, M.A., Blazar, D., Hogan, D. (2016). Brown University Working Paper, "Effects on achievement also are larger than pooled estimates from 27 causal studies of almost all other school-based interventions reviewed by Fryer (2017) including student incentives, teacher pre-service training, merit-based pay, general PD, data-driven instruction, and extended learning time." The district wanted to focus on learning, not just what the teachers are teaching. Through the support of coaching, teachers gain the necessary skills to modernize the learning experiences to ensure students reach the El Paso Student Learning Goals.
Not only did El Paso ISD invest in coaching teachers, they also invested in coaching their Active Learning Leaders to build internal capacity to support the implementation of the Active Learning Framework for years beyond when e2L is no longer working in the district. As you can see from the responsible rollout graphic above, the majority of the coaching shifts to the Active Learning Leaders coaching teachers in the 2018-2019 school year.
The district's vision of meaningful learning experience for every learner in EPISD is coming to fruition due to the internal capacity being built through the Coaches Academy. One of the EPISD mentors, Crystal Johnston, shares how coaching has had an impact on her as a mentor and is impacting the teachers.
"Coaching has helped me be more intentional with my goals as a leader," Johnston stated. "It has helped me be more purposeful by integrating initiatives and collaborating with teachers to make connections."
Johnston goes on to share more of the personal experience she had with coaching and how it is creating meaningful learning experiences for students in Giving Back to El Paso ISD Via the Active Learning Framework: Johnston is a Product of Her Environment.
Finally, El Paso ISD has also invested in coaching their principals in shifting the culture on their campuses to support implementing the Active Learning Framework to create equity of the learning experience for all students. According to a former Board President, EPISD sees, "with the leaders, it is about culture change. It is no longer about teaching our kids in rows, but it is about active learning. When our children graduate from EPISD, we want them to be ready for college, career, or the military."
It is through the triad-approach of coaching teachers, Active Learning Leaders, and principals that EPISD has invested in their own human capital to provide a learning experience that every student deserves!
Results
Due to the research on supporting educators through coaching, District leadership were confident the district would see a return on their investment (ROI). In fact, EPISD saw that every single one of the success criteria measures they determined for the Active Learning Framework (ALF) Implementation was met. As a result of the implementation of the Active Learning Framework through coaching, Board of Trustees President, Bob Geske, said, "student attendance has gone up, discipline has gone down, and test scores have gone up."
Even in the first year of the ALF implementation, student engagement increased and there was a double-digit difference in standardized test scores in ALF classrooms as compared to other classrooms. In Year 2, the ALF feeder patterns showed enough growth that the overall district scores trend turned positive and EPISD received the third most distinctions in the state of Texas. The student growth is due to every teacher, leader, and mentor in the district through the responsible rollout plan receiving training and individualized coaching to create the equity of learner experience across the district. Teachers are growing in the e2L Life Ready Best Practices©, which in return provides student growth in academic and life ready skills. See what students, teachers, administrators, and board members have to say about the growth they are seeing through the implementation of the Active Learning Framework here. EPISD 2019.
While there are so many different data points to share about El Paso's growth, there are a few highlights to share aligned to their board goals. One board goal is to "Increase the percentage of students meeting the Masters Level on the End of Course Exam on Algebra 1 by 15% in 2022."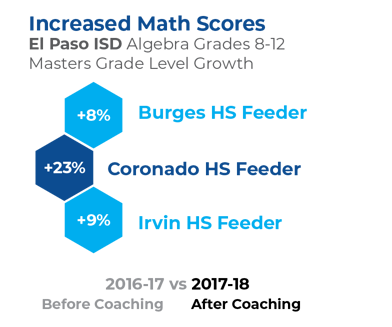 Another Board goal is "By 2022, increase student engagement in the classroom from 48% to 60%." EPISD was able to exceed this goal after their first year of implementing the Active Learning Framework.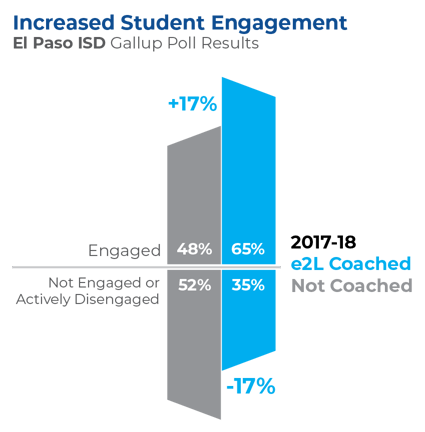 Conclusion
The El Paso ISD Miracle is a story of amazing dedication and triumph. When you choose to involve your community stakeholders, set a clear vision through strategic design, create an actionable Learning Innovation Framework to carry out the vision, and invest in your people through coaching support, then you can create equity of a learning experience for all students. You can learn more about EPISD's implementation of the Active Learning Framework and how they have shifted the district culture to build meaningful learning experiences for students through EPISD Active Learning Framework District "Why".