Houston ISD: Accelerated Learning in Reading Language Arts
Strong literacy and language skills are essential for students to excel academically and thrive in today's information-driven society. Due to school closures from the COVID-19 pandemic, Texas's students' academic development and achievement in critical skills, such as math and reading, experienced significant long-term disruption. School districts across the state are still struggling to put in place adequate teacher and student instructional academic achievement programs. That's where engage2learn stepped up to the test.
According to a Stanford University study published in March 2021, student development of oral reading fluency effectively came to a halt when the pandemic forced sudden school closures in the spring of 2020. Though students worked hard to regain reading skills during the following fall semester, it wasn't enough to make up for the disruption in learning. The study found that students in second and third grade were approximately 30% behind in RLA, for example, with students at lower-achieving schools falling further behind still.
"RLA is the doorway to everything," Houston Independent School District (ISD) teacher Dorothy Coleman Foster explained. "You can't do anything without language arts and reading. It's embedded into everything." Literacy is the foundation upon which all other subjects are built. Investing in RLA instruction and targeted intervention strategies is what it will take to unlock every student's potential in all disciplines.
To keep students from falling too far behind, intensive intervention in student reading skills is critical at the elementary school level. Leading educational thought leaders advocated Including immersive content in instructional written materials and coaching teachers in successful instructional methods in all subject areas.
Understanding the profound impact that this national trend could have on their own students, Houston ISD teachers and staff decided to take swift, proactive action.
Designing Long-Term, Self-Sustaining Solutions
Looking towards the 2021-2022 school year, the district knew such a big problem needed an even bigger solution. Even without the added stress of a global pandemic, working to get students back to a mastery level without adequate support served as a challenge. With this in mind, Houston ISDs leaders turned to engage2learn (e2L) to assist in providing their teachers and students with the tools for success.
engage2learn entered this partnership to provide custom solutions tailored to meet Houston ISD's pressing needs. e2L deployed several solutions to help enrich the instructional coaching program within the Houston ISD educational system with the introduction of a Coaches Academy. Through data-driven instructional coaching, school districts have seen impressive results, including higher teacher retention, accelerated student achievement, and overall improvement in each individual school.
The district implemented a strategy of providing e2L's evidence-based coaching specifically for RLA staff across their K-12 campuses at the start of the school year. Meeting the district's desire to build long-term internal capacity, e2L designed a customized coaching support plan that included not only teachers but RLA managers and teacher development specialists (TDS) as well.
"I started as a coach to my teachers," said Carolina Moore, Houston ISD RLA Manager. "And now I'm being coached, so I can coach my coaches! It's been great for my role as a manager, learning how I can improve and build systems that will make it easier to coach the TDSs that I'm overseeing."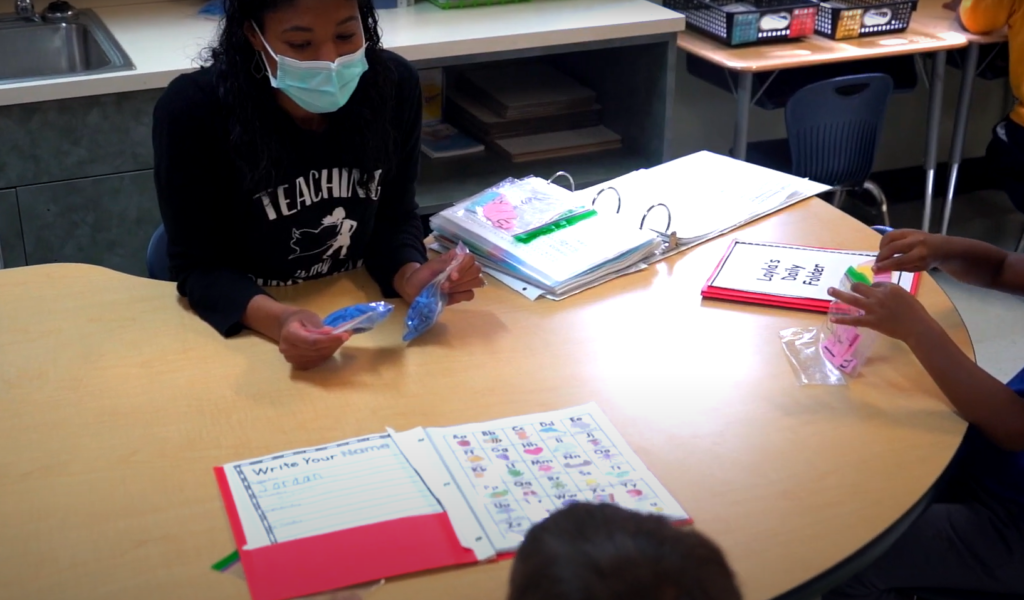 "Rising to the Occasion"
Through ongoing teacher coaching sessions that focus on goal setting and e2L's Life Ready Best Practices, the RLA teaching staff is learning how to design, implement, and assess differentiated lessons and activities. Equipped with tools like the Buerk Rubric, Houston ISD RLA Teachers are able to accommodate every student's needs, ensuring they are not falling into the trap of teaching to the middle. Teachers are already reporting impressive gains in their classrooms.
"It's been really hands-on, coming up with the ideas to make my stations and high-quality guided reading for my students," reported Houston ISD teacher Asia Reed. "My little babies and ones that are below level are getting their letters and sounds. They're grasping it very quickly. I'm seeing some major growth."
As the spring 2022 semester begins, the pandemic's challenges are still very much a reality. Yet within the walls of RLA classrooms in Houston ISD, morale is hig

h.
Coaches
a

cross the district are showing impressive growth, made evident not only by steady student improvement, but also with teacher growth. Through teacher coaching, Houston RLA teachers have earned 150 badges and counting, indicating their mastery of implementing instructional best practices. With a renewed sense of motivation, Houston ISD and e2L staff continue to work tirelessly to close that achievement gap and get
all
students back to where they should be.

Educators are reminded daily how resilient children are, and the pandemic has made this even more obvious. The last couple of years have taught us that without strategy and confidence from the caring educators guiding them, that resilience can only go so far. Provided with the right tools and a large dose of compassion, children get to show us just how resilient they truly can be.
Highland Heights Elementary School principal Bettina McKinney sums it up well: "I have noticed that from teachers being more prepared, from them having more engaging activities, from students being able to respond and have structured conversations,
students are rising to the occasion
."
---
If you're ready to equip your teachers with the tools and support they need to improve student achievement and engagement, learn more about our customizable services here.