Dallas ISD: Instruction Drives Technology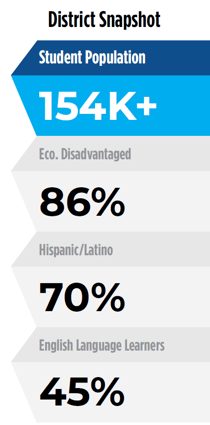 Dallas ISD
Each year, school districts are making massive investments in new technology devices and infrastructure intended to modernize the learning experience and increase student achievement and engagement. But each year, districts are also seeing these same technology acquisitions do little to move the needle for student achievement and engagement. In 2017, Superintendent Dr. Michael Hinojosa knew Dallas ISD was at risk of falling into the same trap of spending millions of dollars on technology that did not actually lead to better results for students.
The Dallas community had approved a 100 million dollar technology bond for the district, and Dr. Hinojosa wanted to ensure (a) district stakeholders had a voice in how the money was spent and (b) that purchases made with bond dollars aligned to the districts desired outcomes for learners and reimagined the learning environment. Dallas ISD partnered with engage2learn (e2L) to facilitate a 3-phase technology planning process that resulted in a 5-year plan for technology purchases that were strategically aligned to a vision for learning created by district and community stakeholders.
Community Engagement
e2L facilitated multiple stakeholder groups in summits, focus groups, and district committees to gather input from 1,252 teachers, families, leaders, community members, and students on their highest hopes for learners as a result of their time in Dallas ISD.
Vision for Learning
Next, e2L met with a design team of 217 stakeholders to create a clear and concise expression of the district's vision for learning that included learner outcomes and the learning experience. 12 Design Principles were also created as a criteria for assessing the efficacy and alignment of technology purchases to the district's vision.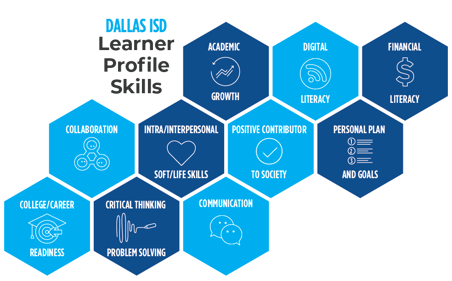 Technology Profile
The design team also drafted a set of technology standards for each classroom in the district. This technology profile was then paired with e2L's district-wide technology and facilities needs-assessment survey that determined the current state of alignment to the district's vision for learning.
The resulting Long-Range Technology Plan provided Dallas ISD a strategic, learner outcomes-aligned plan to guide and inform the district's technology purchases for the next five years. Dr. Hinojosa and his team of innovative leaders knew though that while this plan set a strong foundation for technology purchases, the work of ensuring the effectiveness of the technology was just beginning. Dallas ISD would again partner with e2L on two strategic initiatives aimed at enhancing the digital fluency of teachers and their students.
Content Customizations
e2L created custom professional learning rubrics for Dallas ISD, including a rubric based on the AASL Standards and Best Practices for Virtual Learning aligned to the Dallas ISD Teacher Evaluation system. e2L coaching will focus on the effective implementation with fidelity of the technology purchases, including iPads and Chromebooks.
Reimagining the Librarian
Dallas ISD
There has been a growing trend in recent years to digitize school libraries and replace librarians with other, seemingly more relevant staff positions. But instead of replacing its library program, Dallas ISD's visionary leadership wondered:

What if we coached and supported librarians in creating and implementing innovative programs that align to, extend, and enhance what was happening in the classroom?

In conjunction with the roll-out of its Long-Range Technology Plan, Dallas ISD set out to revitalize its school library program through training and coaching from e2L. Over the course of three years, cohorts of school librarians who participated in the e2L Game Changers Coaches Academy would be coached on the National School Library Standards from the American Association of School Librarians as well as the e2L Coach Standards. The resulting growth allows participating librarians to be utilized as additional teacher support personnel and enables campuses to leverage the assets of the school library program to help drive innovation and school improvement.
2020 & Beyond
AIMing for the Middle
For the 2020-21 school year, Dallas ISD is taking a strategic focus on improving middle school students' outcomes with its Achieving in the Middle (AIM) initiative. Part of the AIM Initiative was the creation and staffing of Instructional Lead Teacher positions who teach a small number of classes while also providing campus instructional support to other teachers on their campus. Deputy Chief of School Leadership, Dr. Mark Ramirez explained that while the district had focused mostly on staffing changes, they hadn't yet seen the improvement they needed; however, this initiative with e2L can integrate the additional components of creating a positive, responsive culture to get the results for learners.
In addition, to enhance the technology proficiency of teachers during COVID, Dallas ISD decided to leverage their ILT positions to provide strategic support at their lowest-performing middle schools. To do this, e2L will train and coach 87 ILTs to implement e2L's proven, highly-efficient coaching system. In the process, e2L will also coach 348 teachers at these same schools on how to best use the various digital tools at their disposal to create and facilitate mastery learning in every classroom in a fraction of the time.