How Unifying Instructional Coaching Tools Reduces Stress, Saves Time & Money, and Transforms Professional Development
Public school leaders' plates are overflowing. From ensuring smooth daily operations to spearheading strategic initiatives, their responsibilities are diverse and demanding. These numerous duties can make focusing on effectively supporting instructional coaching seem daunting, if not impossible.
Yet, effective coaching is critical for fostering a supportive and successful learning environment for both teachers and students. It also happens to be one of the core pillars of transforming public schools through talent development.
Coaching is also supported by a number of studies on the effective actions that are proven to lead to positive student and teacher outcomes. For example, a study by Kraft, Blazar, and Hogan (2018) underscored the significant impact of instructional coaching on teacher development and student achievement. The research found that teachers who received coaching demonstrated improved instructional practices, translating into notable student achievement gains.
Leveraging Technology to Track Professional Development
To truly transform coaching for teachers and students, leaders must implement technology that can effectively manage the coaching experience. This fact is supported by a recent nationwide study of full-time, K-12 public school instructional coaches, who, when asked, "What, if any, additional resources/tools do you need to aid your job?" cited things like:
"...better tools for tracking the attendance of the teachers…"
and
"...a single software for all the services…"
Over the past few years, schools have seen an unprecedented increase in the use of edtech tools, often adding to the workload and stress of teachers and staff. Instructional coaches are no different, often utilizing up to eight separate tools and software applications – each serving a different purpose – in their quest to deliver effective coaching.
Additionally, of the instructional coaches who have access to some sort of coaching software system in addition to their other tools, nearly half of them are not using a coaching platform designed specifically for educators. Unlike GroweLab, the all-in-one instructional coaching platform from engage2learn (e2L), these business coaching platforms are not designed with educators in mind, often creating a stark contrast between what the platforms do and what users need.
The resulting "technostress," stress induced by new technologies, has a negative impact on job satisfaction and employee retention (Tarafdar, Tu, Ragu-Nathan, & Ragu-Nathan, 2007) – something no public school leader can afford in today's challenging staffing environment.
The End of ESSER and the Fiscal Cliff
With fast-approaching ESSER federal funding deadlines, public school leaders are also aware of the challenges they'll face in the next few budget cycles. With an enormous opportunity to still address unfinished learning through innovative professional development practices, it must be done through fiscally responsible decisions.
The ongoing costs of products and programs fueled by federal funding won't be sustainable for long. One way school leaders can address this is by assessing and reducing redundant technology tools, resulting in a solution that unifies multiple, partially effective systems into one elegant system that instructional coaches can use to:
Document any and all professional development, learning, and coaching interactions.

Track data related to professional development and coaching sessions, including frequency, attendance, and growth.

Coordinate all scheduled learning, changes, cancellations, or missed sessions.

Display progress in dashboards, reports, and through interactive data tools.

House a library of asynchronous courses and content aligned to role-specific skills and competencies.

Recognize and reward evidence of practice and increased proficiency in competencies.

Observe and document teacher behaviors and skills in the classroom and provide real-time feedback.

Maintain evidence of learning, course completion, microcredentials, and certifications.
The tools currently in use for these functions, when combined, can amount to anywhere from $700-$900 per user each year.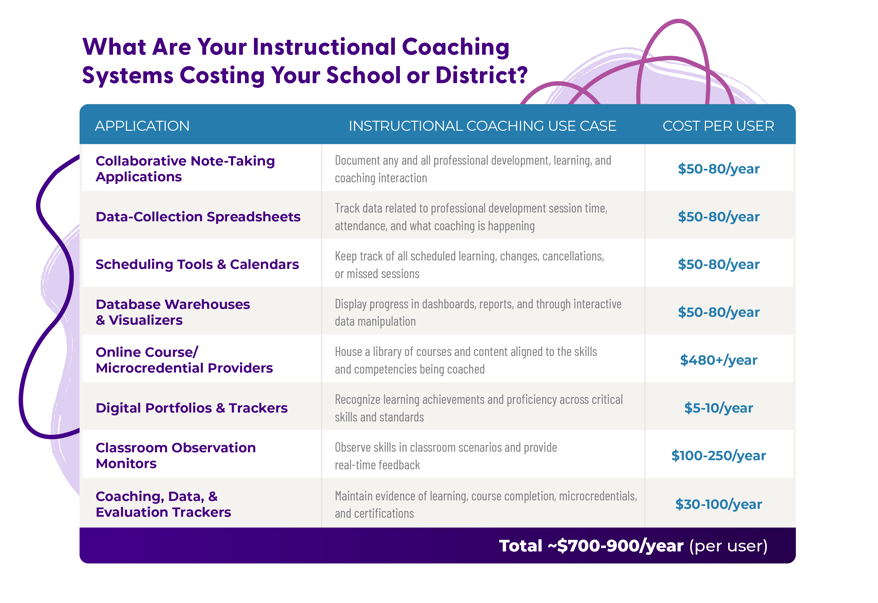 Not a Distant Dream, but a Present Reality
Imagine if coaching functions, expectations, and tasks were woven seamlessly together into one platform, wherein the various tools are not a source of confusion, but rather a harmonious whole. A place where notes and coaching logs are readily organized; coaching data is captured, analyzed, and effectively utilized; schedules are easily coordinated; digital portfolios are systematically managed; and teacher observations are conducted effortlessly.
A single, unified platform that brings these pieces together would support the development and implementation of an effective, individualized professional development and instructional coaching program, enabling school and district leaders to better support educators and staff, increase retention, accelerate student outcomes, and transform school culture. Here's how:
Simplicity and Efficiency: Juggling multiple platforms can be daunting and lead to increased "technostress." A single platform keeps things simple, saving everybody precious time and effort that can be better utilized for coaching, growth, and instruction. The ease of use and familiar interface across functions can significantly reduce the learning curve, promoting faster and broader adoption among staff.
Improved Data Integration and Analysis: Having all data points in one place allows for better integration, analysis, and visualization, enabling leaders and coaches to identify patterns, track progress, and make data-informed decisions more effectively. Additionally, data is more secure and privacy-compliant when managed within a unified system.
Consistent and Timely Communication: Streamlining scheduling and communication within a single platform keeps everyone updated in real time, enhances collaboration, and prevents miscommunication. Invaluable tools like to-do lists, calendar reminders, and coaching session summaries help educators and coaches automate tasks that are typically manual and often overlooked.
Professional Growth Opportunities: A single platform that offers anytime online courses and microcredentials connected to specific skills provides educators and staff with accessible and flexible learning opportunities. This not only aids in their professional growth but also enhances their motivation and job satisfaction, contributing to better retention rates.
Career Advancement Support: A digital portfolio within the platform enables teachers, coaches, and leaders to document and showcase evidence of their professional journey, promoting career advancement. Principals can use these portfolios to better monitor their teachers' career trajectories and preparedness and guide them accordingly.
Effective Teacher Observations and Evaluations: A single platform allows for efficient planning and execution of classroom walkthroughs and look-fors. It also enables the observation and analysis of role-specific skills and behaviors. This systematic approach can inform coaching strategies, helping to provide more targeted and effective support to teachers and staff.
Differentiated and Personalized Support for Teachers: Just as we acknowledge that every student learns differently, it's essential to recognize that every teacher has unique needs, strengths, and areas for improvement. A unified platform provides the necessary tools to differentiate and personalize instructional coaching, supporting a more effective and empowering model of professional development.
Cost and Resource Saving: Instead of investing in multiple platforms, a single, comprehensive platform can result in substantial cost savings, thanks to lower per-user license fees, reduced maintenance costs, efficient implementation, and minimized opportunity costs. The saved resources can then be redirected toward other areas of need within the school.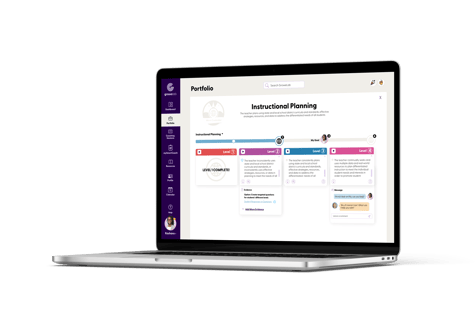 Replacing multiple applications with a unified platform isn't just about improving the technical aspects of instructional coaching. It's about creating an environment wherein teachers feel supported, valued, and equipped with the tools and resources they need to succeed. Ultimately, it's about fostering a school culture that prioritizes growth, collaboration, and efficiency.
GroweLab, the all-in-one instructional coaching and talent development platform, is the definitive solution to replace multiple, partially effective systems that are draining funds. By integrating a comprehensive instructional coaching platform, school leaders are taking a bold step towards a more streamlined, effective, and supportive school environment – a step that promises to enhance teacher satisfaction, increase retention, remain sustainable in the face of budget constraints, and, ultimately, drive improved student outcomes.
Are you ready to take inventory of and learn how to consolidate the tools your instructional coaches are using? Get a demo of GroweLab Now!
---
Sources
Kraft MA, Blazar D, Hogan D. The Effect of Teacher Coaching on Instruction and Achievement: A Meta-Analysis of the Causal Evidence. Review of Educational Research. 2018;88 (4) :547-588.
Tarafdar, M., Tu, Q., Ragu-Nathan, B. S., & Ragu-Nathan, T. S. (2007). The Impact of Technostress on Role Stress and Productivity. Journal of Management Information Systems, 24(1), 301–328. http://www.jstor.org/stable/40398890