engage2learn Names Dewayne McClary as Executive Director of Strategic Partnerships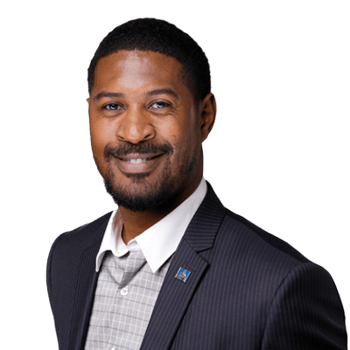 AUSTIN, TX – engage2learn (e2L), an education industry leader partnering with public school districts to provide customized solutions for talent development, welcomes Dewayne McClary as e2L's Executive Director of Strategic Partnerships. Bringing nearly 20 years of education experience to the table, McClary strives to ensure the best for K-12 learners every day. As part of the e2L team, Dewayne will be responsible for nurturing and developing new partnerships with public school districts across the United States.
"Dewayne's mantra 'Doing Right By Students Every Day' is at the heart of our work at e2L," said Shannon Buerk, Founder and CEO of engage2learn. "His passion for and dedication to elevating public education align with our mission to make the neighborhood public school the first and best choice for families. We're excited about the impact he'll undoubtedly have on supporting more leaders, teachers, and learners in school districts from coast to coast in being able to take their vision to implementation."
With two decades of education experience as a teacher, coach, and school and district administrator in the District of Columbia Public Schools, Arlington Public Schools, and Williamsburg County School District, McClary brings a deep understanding of how e2L's services and technology solutions can support and retain educators, accelerate student outcomes, and improve a school's culture and climate. McClary's most recent experience as the Senior Director of Networks and Partnerships at Digital Promise Global has equipped him with a strategic understanding of educational issues and opportunities at the national level.
McClary has received numerous education industry awards, including the 2021 Global Forum for Education and Learning Top 100 Visionaries in Education, 2021 EdTech Digest Top 100 influencers in EdTech, and the 2020 CoSN NextGen Emerging EdTech Leader.
"I feel empowered to work for an organization whose beliefs and values are woven into every aspect of our work," said Dewayne McClary. "I'm thrilled to have the opportunity to dive deeper into the challenges facing public education and the solutions to overcome them."
To learn more about engage2learn's commitment to creating sustainable and meaningful high-performance cultures in public schools through job-embedded coaching and tech-enabled professional learning, visit https://engage2learn.org/.
About engage2learn
engage2learn (e2L) is a solutions provider who partners with public school districts to design, build, and implement comprehensive, customized talent development systems that improve teacher retention & job satisfaction, increase student achievement, and create capacity for instructional and non-instructional staff. Since 2011, we've partnered with over 300 public school districts across the nation to transform traditional PD into holistic talent development solutions. We customize our solutions to maximize partner results by scaling smart professional learning systems that optimize outcomes, empowering leaders with a first-of-its-kind platform that connects professional growth data to any desired outcome to show the efforts and impact of their investments effectively. For more information, visit engage2learn.org or call 1-833-325-4769.
To learn more, follow engage2learn on LinkedIn, Facebook, Instagram, and Twitter.