eSuite Named Best Professional Development Tool in 2022 Tech Edvocate Awards
AUSTIN, Tex. – eSuite, the smart professional learning platform from engage2learn proven to facilitate educator growth, accelerate student achievement, and transform school culture, has been selected as the 2022 Best Professional Development Tool in this year's Tech Edvocate Awards.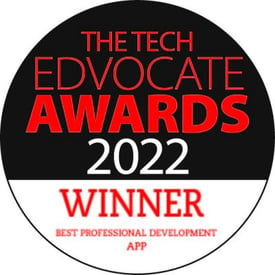 Since 2014, The Edvocate has been a powerful voice in advocating for education reform, equity, and innovation in the American education system – reviving a national love of learning. In that spirit, the 6th Annual Tech Edvocate Awards honors the best of the best in edtech companies, people, and products today, with eSuite among the ranks.
"Today especially, educators don't need anyone critiquing their performance. Instead, they deserve personalized coaching on competencies through evidence-based conversations that give them agency to meet their individual needs, " said Shannon Buerk, Founder and CEO of engage2learn. "With eSuite, we're proud to be part of transforming professional learning in K-12 public schools across the country and are honored to receive this recognition from The Edvocate."
Trusted by hundreds of districts and thousands of educators nationwide, eSuite helps public school districts provide teachers, instructional coaches, and administrators with everything they need to master research-based competencies, implement equitable learning experiences, and improve student outcomes through four key apps:
impactConsole+: Everything in impactConsole, plus the ability to import student outcomes data to better understand learner behavior, identify growth trends and areas for improvement, and correlate teacher growth with student achievement
About
engage2learn is the leading provider of Education Intelligence, powering high-performance cultures in K-12 public school districts through smart professional learning, job-embedded coaching, and integrated technology solutions that give educators the support they need to grow and thrive in their roles. Since 2011, engage2learn has partnered with nearly 300 public school districts, 1,800 schools, and over 79,000 educators to impact the learning of over 4.5 million students nationwide. With engage2learn's evidence-based support systems and edtech tools, districts can build capacity, retain teachers, and improve student outcomes.
To learn more, follow engage2learn on LinkedIn, Facebook, Instagram, and Twitter.