Maximizing the Impact of Instructional Coaching for New & Veteran Teachers
Estimated reading time: 4-7 minutes
In a perfect world, personalized, job-embedded instructional coaching for every single public school teacher would be commonplace. Budget constraints and burnout wouldn't be a problem, instructional coaches would have the tools and bandwidth to provide meaningful support, and continuous educator growth and student achievement would be a given.
Luckily, despite our imperfect world, we absolutely can provide educators at any level of experience or expertise with the individualized support they need (and deserve) to thrive – whether or not they have regular access to an in-person coach. By adopting an all-in-one tool that optimizes your instructional coaches' time, facilitates educator growth, and accelerates student achievement, you'll have a front-row seat to the impact of job-embedded support.
But First: Facing the Realities of a Nationwide Teacher Shortage
As the number of experienced educators resigning in response to immense pandemic-related challenges rises, public school districts around the country are experiencing unprecedented numbers of first-year teachers stepping foot in the classroom. Newark Public Schools, for example, welcomed over 600 new teachers to the district to kick off the 2022-2023 school year. This influx of new teachers means fresh faces, minds, and ideas – an exciting and natural part of our ever-evolving public education system.
On the other hand, new teachers require a level of guidance, attention, and support that third-, fifth-, or twentieth-year teachers don't. That's not to say that more experienced educators don't need support – quite the contrary.
As district leaders face the realities of a nationwide teacher shortage and eagerly usher in a wave of first-year teachers, they must implement individualized educator support that meets the different needs of new, veteran, and transitioning educators.
Through job-embedded instructional coaching, districts can do just that.
The Power of Instructional Coaching
The goal of professional development (PD) has long been to catalyze educator growth and student achievement. Studies show, however, that traditional PD typically doesn't meet individual needs and hardly ever translates to improved practice in the classroom.
In contrast, smart professional learning incorporating 1:1, job-embedded instructional coaching has a 95% transfer rate to daily practice, directly leading to improved student outcomes. Instead of one-size-fits-all PD sessions and workshops that may only be relevant to a handful of educators, individualized instructional coaching prioritizes each educator's specific needs and areas for improvement.
First-year teachers, for example, can receive intentional support on fundamental parts of the job like classroom, behavior, and time management, while more experienced teachers can dive deeper into the instructional best practices they haven't quite mastered yet.
An essential part of the shift from traditional PD to smart professional learning, instructional coaching provides educators with a reliable support system, ongoing opportunities to grow in their craft, and the tools to adapt and teach confidently for years to come.
How can I implement instructional coaching for all my teachers in the face of staffing and budget constraints?
We thought you'd never ask! With the partner success stories to prove it, we know that our eGrowe Coaching Model works, and we wanted to make it accessible and affordable for as many public educators as possible.
With mySmartCoach, the self-guided coaching system built right into eSuite, educators at every experience level receive on-demand, individualized instructional coaching that meets their unique needs. Mirroring the in-person coaching experience, educators can select a virtual coach persona that best fits their learning style to guide them through each coaching session.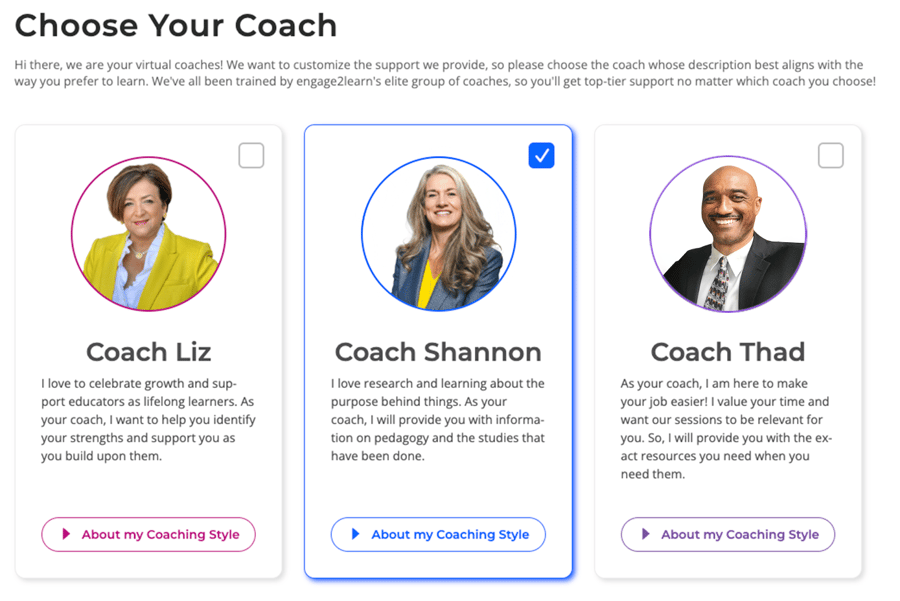 Then, your educators control when, how, and on which instructional best practices they can receive coaching. Backed by research from 800+ academic studies around methods of instruction and student achievement, coaching sessions in mySmartCoach focus on the best practices proven to have the most impact on the learning environment, student achievement, and teacher retention, including Differentiation & Scaffolding and Standards Alignment.
mySmartCoach gives your educators on-demand instructional coaching and ownership over their professional learning goals based on targeted areas of improvement of their choosing. Adaptable, personalized, consistent, and data-driven, mySmartCoach meets the needs of every educator at every level without adding more to anyone's plate.
How will I know if instructional coaching leads to educator growth the way it is designed?
Because mySmartCoach is part of eSuite – the smart professional learning platform from e2L – all educator progress documented during coaching sessions is automatically captured, organized, and analyzed within the platform's impactConsole. There, school and district leaders can track professional growth analytics, including engagement, growth, and areas for improvement, providing a comprehensive view of educator growth trends.
With impactConsole+, districts have the ability to import student achievement data to monitor educator and learner growth alongside one another. This capability provides a clear picture of how educator growth and mastery of classroom best practices drives student achievement. It also provides the hard data to show that your investment in job-embedded instructional coaching is producing the right results.
Is mySmartCoach designed to replace in-person instructional coaching?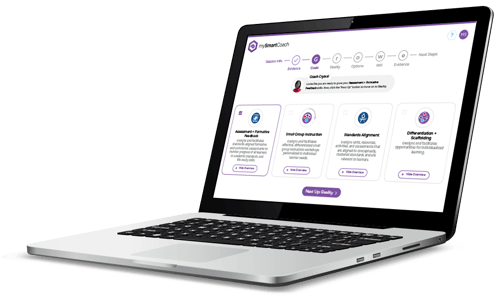 No way. mySmartCoach is designed to maximize – not replace – the impact of your internal instructional coaches on educator and student growth.
No technology-enabled platform can ever replicate the person-to-person coaching experience. Still, it can fill in the gaps to allow your instructional coaching staff to focus their efforts on high-stakes areas. By leveraging mySmartCoach to handle foundational coaching sessions, administrative duties, and data analytics, in-person instructional coaches can dedicate their time to the tasks and challenges that demand more attention.
Turning the Tide with Better Educator Support
Whether your school or district is amidst a staffing, budget, or disrupted learning crisis – or any combination of the three – better educator support is the best first step to take toward restoration. With mySmartCoach, you have the tools to give your educators access to the instructional coaching they deserve, your internal coaches the freedom to focus on high-priority issues, and yourself the ability to quantify, celebrate, and report the impact of investing in your educators.
RELATED: How Coaching on Competencies Reduces Teacher Burnout