Additional Days School Year: Design & Implementation Support | engage2learn
e2L ADSY Culture Design Strategists:
Strategic Design Process with engage2learn (e2L)
e2L is excited about being a TEA technical assistance vendor for Additional Day School Year Planning and Execution Program (ADSY PEP)! We believe in engaging learners through innovative practices that re-imagine the teaching role and create student ownership to increase student achievement and differentiate learning. e2L has engaged with more than 225+ districts in Texas since 2011 to strategically design, launch, and scale high-quality instructional programs, such as ADSY PEP.
e2L is prepared to support awarded ADSY districts as they begin the two-part planning process to evaluate the many elements of designing and launching a new instructional model with additional instructional days (180 up to 230). Using the Strategic Plan Template, e2L will assist the district's or school's planning committee to describe their innovative plans for a full year redesign of an elementary campus(es). We will respond to the strategic plan template guiding questions with a written narrative for the planning categories through collaborative strategic design processes. Additionally, we will work with your planning committee to identify or create artifacts for uploading as evidence to reflect the collaborative work and progress.
Phase 1 work (see table below) will ensure districts have the necessary support to strategically consider and plan for all components of launching an ADSY program to include a local needs assessment, community engagement, and a responsive program design. Outputs from Strategic Plan Part 1 include a comprehensive program launch plan, an associated project plan, and a stakeholder management/communication plan. Phase 1 of the strategic planning process calls for a deep understanding of the district's and school's most urgent needs and vision for teacher and student success. Through our community engagement process, e2L solicits valuable feedback from community stakeholders to inform the district's vision for learning, resulting in the district and school priorities, planning and implementation considerations, and aligned resources to ensure a coherent set of effective strategies are developed to improve student outcomes and accelerate equity.
---
Ready to Redesign your School Year?
---
A very critical outcome of Strategic Plan Part 1 work is to ensure e2L works closely with the ADSY district project managers and steering committee members to meet planning process requirements to be eligible for Strategic Plan Part 2 Planning Continuation Grant funds. Our goal is to ensure districts submit a high-quality Strategic Plan Part One plan for evaluation, followed by the district board approval. e2L has a track record of 100% in working with school districts to submit plans for evaluation in order to obtain execution funds. Through our Strategic Plan Part 2 work, we will iterate the plan and focus on adjustments to the district policies and processes that will enable schools to implement strong ADSY plans. Completion for Strategic Plan Part 2 is April 2021.
Below is an example of Strategic PLan Part 1 and 2 planning components and how e2L supports each:
Strategic Plan Part One (Due Dec 1)
ADSY Required Artifacts and e2L Support
Strategic Program Design
Community engagement to address greatest teacher and student needs and highest priority district level changes to support ADSY.

Completion of the Strategic Plan Part One template to submit for evaluation.

Submission of a preliminary annual calendar.
Data and Continuous Improvement
Project management throughout the entire grant period to include goal implementation trackers for goal and progress monitoring.
Management and Communication
Workspace to select planning committee members and steering committee members. Includes nomination forms and communication plan to create support and buy-in from teachers, leaders, school board and community. Develop and submit stakeholder maps through e2L's stakeholder analysis to obtain a visual representation of the people who can influence the ADSY project to determine the frequency and mode of communication. Submit an implementation work plan based on planning considerations from committees.
Academics and Enrichment
Workspaces designed to reimagine the teaching role, accelerate learning, and strengthen the whole child. Submissions include strategies on the ideal teacher/student experience, district support provided, and school-level investments along with a preliminary master schedule. e2L staff are design and implementation experts in mastery-based learning and can serve as a design partner to reimagine teaching and learning.
Staffing and Professional Development
Submit modernized staff plans to support the ADSY vision and goals as defined by planning and steering committees. e2L can serve as a design and thought partner to inform the hiring process and timeline for ADSY to include developing criteria for staff position regarding staffing, recruitment, and staff selection. Submit a professional development plan to grow teachers, leaders, and coaches to effectively support and implement academic and enrichment strategies through job-embedded coaching.
Budget and Operations
e2L can serve as a design and thought partner to include budgeting workspaces to include identifying adjustments to operations. Considerations include staffing, supplies, and services required to run the full ADSY calendar. Plan for contingencies to mitigate the impact from continued possible COVID-19 impact. Support the submission of a budget spreadsheet for evaluation.
Student Recruitment and Attendance
Support the development of a recruitment strategy and marketing plan to drive family engagement. Will include identifying and monitoring of key milestones, developing marketing materials, operationalizing enrollment processes, and mitigating risks/constraints.

Outputs include a refined brand to support ADSY and a marketing plan that focuses on building community presence, student recruitment, communication channels, and onboarding.
Examples of our strategic design process to achieve completion of the ADSY Strategic Plan template are listed below.
Communications, Project Management, and Academics
Stakeholder Management and Communications support will be a critical success factor to ensure the design and launch of ADSY for your school(s) is well received. We will support your planning committee in identifying and including stakeholders through the process. Using our proven communication workspaces, a communication plan will be developed that identifies both cadence and channels for anticipated communication with staff, families, and the community.
Additional support comes from our proven project management processes, where significant ongoing support is provided for district and school leadership. We do the heavy lifting for you with an assigned project manager, called a Culture Design Strategist (CDS), who is available at all times. The CDS will assist in the organization, coordination, communication, design, and creation all of the tools and processes at the highest level of excellence that our partners have come to expect from e2L. From the beginning kick-off meeting, we establish a system of scheduled support meetings. Additionally, a system of communication called the Executive Status Report is a tool used to communicate between e2L project management and district and school leaders. This report is an additional way to reflect on progress, challenges, and brainstorm solutions. And, we always customize to your unique goals, requests, and context.
e2L has also delivered ongoing support through personalized, job-embedded coaching for both district and campus leaders and has gotten amazing results for years in Texas. e2L provides district and school leaders with the methodology and tools to facilitate continuous improvement and high-quality implementation of ADSY programs. Thinking past the planning phase and into execution, e2L is prepared to provide job-embedded coaching to teachers in remote, in-person, or hybrid learning environments. As their coach, we act as their thought partners using our eGrowe Coaching Model and our results-based guiding questions. Through these interactions either remotely, in-person, or a hybrid of both, we facilitate the creation of engaging lessons around the e2L Life Ready Best Practices using the Buerk Rubric; that, when used with fidelity, both scaffolds and differentiates the lesson.
Why ADSY
Research shows student achievement levels drop over the summer months. This drop is also known as the "summer slide." TEA shared the following graph with supporting research that clearly shows the progression of knowledge and learning throughout the school year, then a decline during summer break. The impacts are great for elementary grade levels and often difficult to overcome without intense programmatic intervention. Unfortunately, the sustainability of such approaches is short-lived and not ideal for systematic, long-range improvements.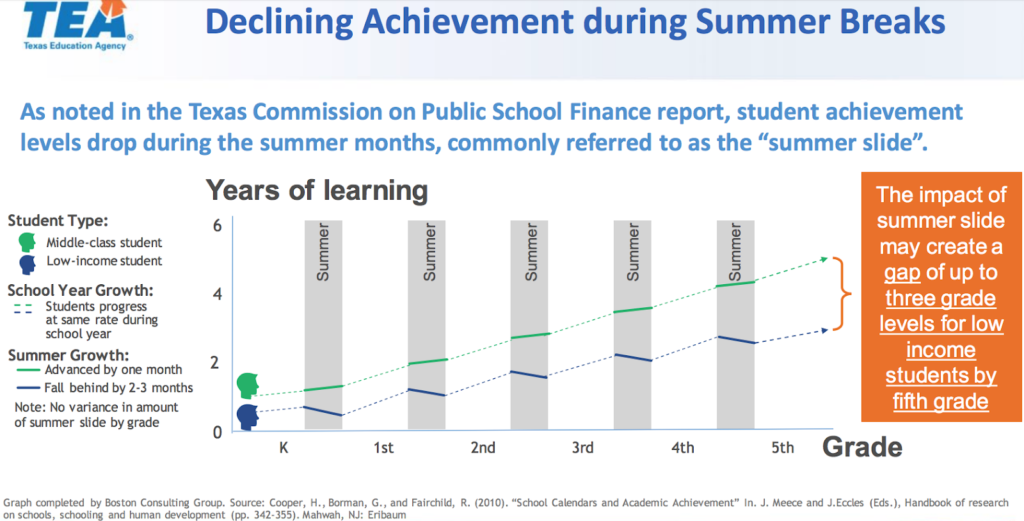 One effective way to address this decline in student achievement is to determine what others are doing to improve this issue. Top performing countries have taken measures to address summer slide byproviding additional instructional days throughout the year. Texas has an average of 173 instructional days compared to Canada with 194 instructional days and Japan with 210 instructional days. This increase of instructional days allows schools to reimagine teaching and learning through strategies that focus on improved teacher planning and student brain breaks.
Full Year Redesign (FYR): Rethinking the School Day
The Additional Days School Year initiative isn't just about extending the school year with more instructional days; it's a unique opportunity for school districts to rethink and redesign what the school day looks like too!
Many elementary teachers can feel overwhelmed with all they have to do in a single day which provides minimal breaks, limited job-embedded planning and work days that easily span to a 12 hour day. By adding an additional 30 days to a 180 day schedule, a district can rethink the school day allowing for additional brain breaks for students and job-embedded planning time for teachers. This "buying" back of time through the additional 30 days allows to capture a series of important benefits that can improve student achievement.
Teacher Planning: improved workday with job-embedded planning, and more breaks
Student Brain Breaks: increased time for brain breaks, play, and enrichment
Academic Improvements: additional time to cover standards and improved productivity each day
Compared to the U.S., who is in front of the class providing direct teach an average of 5 hours a day, most higher-performing countries are providing direct teach instruction an average of 3 to 4 hours per day. Because these other countries are in front of their students less time, they buy back their time which allows them to do other things that are important for students' success. For example…
In Japan teachers get 10-15 hours of lesson study/week. Teachers plan, observe, and debrief lessons together.
In Singapore, teachers have 20 hours per week to collaborate.
In Finland, teachers have one afternoon each week for joint planning and curriculum development.
A question that comes to mind: "if allowing teachers the time to collaborate, plan and prepare during the workday leads to higher performance. Is there also the same correlation between having the time to do these things during the workday and teacher retention?" The statistics would say, "yes."
In Japan, teaching is the first choice career for 82% of teachers. Whereas in the U.S., 59% of people choose it as their first choice career.
In Singapore, annual attrition rate of 3-4% (compared to 8% in the US).
In Finland, 90% of trained teachers remain in the profession for the duration of their careers.
The Additional Days School Year Initiative is designed to provide Texas districts the support and the funds to redesign the school day using the latest research and information about what works for planning the day and year. Districts can choose a TEA approved partner to guide the strategic planning process to ensure that each district considers and chooses options that make the most strategic sense in each given local context.
Conclusion
As a matched TEA partner, we are excited about our work with our partner districts and look forward to supporting them in creating a strategic plan that is right for them and their community!